Restaurants in Scarsdale
---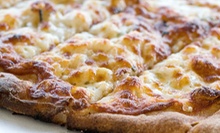 Clean & modern-style decor surrounds Caribbean cuisine freshly plucked from the wood-fired oven
Use Monday 9:30am - 11:30am
---
Recommended Restaurants by Groupon Customers
---
Portofino Ristorante wins over visitors with feasts of baked clams, slow-cooked pork loins, and tender sautéed chicken atop beds of pasta. Perched upon City Island's waterfront, the restaurant cultivates an atmosphere that, like a tractor christening, is simultaneously rustic and urbane. The patio gives diners a view of New York's skyline; the interior evokes the image of a banquet hall in an Italian countryside villa—maroon leather chairs, warm light descending from chandeliers, and walls decorated in a stucco-esque scumbling and murals of Mediterranean harbor scenes. Guests sup on shrimp stuffed with crab meat or sautéed broccoli raab in cozy candlelit booths, break bread in the Piccolo Room or banquet area, or toast goblets of wine at the tucked-away wraparound bar.
555 City Island Ave.
Bronx
New York
718-885-1220
Little Thai Kitchen's chefs decorate porcelain canvasses with a menu of marinated Thai edibles presented in harlequin medleys beneath sprays of decorative bamboo. Stone and dark-cherry walls sprawl behind symphonies of silverware that clink gently like a robot with a rock in its shoe. Sticky sweet rice, veggies, and a variety of meats and seafood bask alongside spicy curries, including a green-chili concoction that the New York Times called "fierce and delicate at the same time." Frosted glass and brushed-steel lights spill warm light onto diners as they chat amid pastoral accents and artwork with Eastern influences.
21 St. Roch Avenue
Greenwich
Connecticut
203-622-2972
The chefs at Goldfish Oyster Bar & Restaurant cook fresh seafood with a Mediterranean flourish, earning Westchester Magazine's award for Best Prix Fixe in 2010. The raw bar's 17 types of mollusks converge from across the United States and Canada, including blue point oysters from Long Island and jorstad oysters from Washington. From the open kitchen, sights and sounds of baking shrimp, grilling steak, and searing tuna stoke the restaurant's lively ambiance.
Bartenders tend to a glowing blue bar, mixing cocktails and dispensing their trademark Goldfish crackers to luckless fishermen. On Friday nights, live music gets toes tapping and oyster shells clacking.
6 Rockledge Ave.
Ossining
New York
914-762-0051
The chefs at Kujaku Japanese Restaurant flip filet mignon and scallops on a hibachi grill, deep-fry tempura-battered shrimp, and craft specialty sushi rolls with ingredients such as lump crabmeat, mango, and avocado. Diners can wash it all back with Japanese sodas, beer, or wine.
84 W Park Pl.
Stamford
Connecticut
La Panetière's elegant cuisine works its way into not only the stomachs but the hearts of those who dine within the restaurant's cozy French-countryside embrace. Tucked inside a 200-year-old building, the "hushed dining room," as it was described by the New York Times, is home to "artistically arranged dishes" straight from the brain of owner Jacques Loupiac. The AAA Four Diamond Award–winning restaurant changes its menus frequently, but consistently remixes French culinary staples with seafood, beef, and vegetables grown in the United States.
Complemented by pours from vintages drawn out of its historic cellar, seasonal dishes may highlight sautéed Maine lobster with minty zucchini and white gazpacho or sophisticated accents of foie gras and escargots. It's La Panetière's unwavering devotion to refinement that makes it a destination for romance and celebration, as well as a proud recipient of the Best French Restaurant award, as voted by the people who read and make origami dragons out of Westchester Magazine. The eatery also boasts high Zagat ratings—food, decor, and service are all in the "extraordinary to perfection" category.
530 Milton Rd.
Rye
New York
914-967-8140
More than half a century ago, the first Epstein's Kosher Deli & Restaurant opened its doors on the bustling streets of the Bronx in New York. In 1973, the Epstein family moved to Yonkers, where they continue to whip up a New York–style menu of kosher sandwiches and specialties—repeatedly winning the honor of Best Kosher Restaurant from the readers of Westchester Magazine. The staff piles plates with generous portions of stuffed cabbage and potato pancakes as patrons slide into bright red booths to nibble on sandwiches assembled from slices of corned beef and pastrami. Accommodating special diets, the cooks make gluten- and lactose-free items and offer health-conscious selections such as whole-wheat breads, fat-free dressings, and lean meat from turkeys who could run five-minute miles.
2574 Central Park Ave.
Yonkers
New York
914-793-3131
---