Things to Do in Schaumburg
---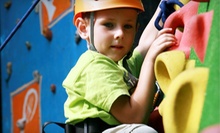 Boost rock-climbing skills, strength, and coordination during lessons or children's summer camp
---
Recommended Things to Do by Groupon Customers
---
Sam Elias knows that being cooped up during long winter days can make people stir-crazy. So in 1993, after moving from Florida, land of palm trees and beaches, to Chicago, land of frigid winds and gray slush, he founded WhirlyBall as a way for people to release pent-up energy even as snow was falling outside. During each competitive WhirlyBall game, which combines aspects of basketball, hockey, and jai alai, players zoom across an indoor 50'x80' court in motorized cars called WhirlyBugs. They wield plastic scoops to toss a wiffle ball back and forth to their teammates before throwing the ball through an elevated goal. Refs keep watch during the games, eliminating score arguments that would otherwise end in sunrise duels. To fuel up for a bout, players nibble teriyaki chicken satay, gourmet pizzas, and prime rib, and swig draft beers, which vary by location.
All three WhirlyBall spots boast off-court diversions such as video games, pool tables, foosball, and air hockey. The Vernon Hills location hosts an indoor rock-climbing wall, and both the Chicago and Vernon Hills locations invite guests into multilevel Lasertron laser-tag arenas, which fill with fog and flashing lights as combatants duck, aim, and invoke Geneva Convention protocols regarding armed conflict.
285 Center Dr.
Vernon Hills
Illinois
US
The hum of Honda GX200 engines pervades both of Chicago Indoor Racing locations, where a duo of tracks takes Bowman go-karts through a series of turns and straightaways at speeds of up to 35 mph. When not trying to clock in top lap times from driver's seats perched 1 inch from the ground, guests can set other objects in motion at billiard tables and shuffleboard tables, which can be rented by the hour or millisecond. Clark's Café at the Addison location and Stewart's Bar & Grille in Buffalo Grove refuel guests with casual American fare and shots of motor oil.
2381 W Army Trail Rd.
Addison
Illinois
630-433-3700
Opening weekend is a time for renewed hope, reordered batting lineups, and refreshing scents of glorious gunpowder in the sky. Catch the Flyers on May 28 for post-game fireworks after the hometown bats light up the Gary SouthShore RailCats, or pay homage to babies named Ruth as you run the bases with the kids on Family Day May 30. On May 31, remix Memorial Day grill-outs by downing two dogs off the bat, and score dollar dogs throughout game. Armed with a starter kit of ballpark eats and ballgame spheres, show the youngsters how to properly grip a fastball, a frank, and a cardboard sign that irrefutably proves fanmanship.
1999 S Springinsguth Rd.
Schaumburg
Illinois
Par-King Skill Golf has been churning out rounds of family-friendly fun for the Chicagoland area since the 1950s. With two separate 18-hole courses, six water challenges, twelve moving obstacles, numerous curbs, and surprising elevation changes, Par-King is a step up from the flat mini-greens of yesteryear, and 3 club-lengths more entertaining than the regulation-sized greens of normal-sized golf. Play a full 18 holes as you gape and gander at twirling clowns, roller-coaster ramps in the vein of Rube Goldberg, elaborately-painted totem poles, and recreations of famous landmarks such as Mt. Rushmore and the Sears Tower. This colorful landscape of golf-based adventure is refurbished and repainted every winter to provide a consistently-beautiful, clean, and safe experience during April to October operations. Although the park is family-oriented, they maintain a stout 48-inch height requirement to play or playact in the playing area; this is enforced purely with safety in mind, as the challenging course terrain may prove hazardous to the diminutive.
21711 N Milwaukee Ave.
Lincolnshire
Illinois
Old Orchard Country Club is tucked behind a wall of thick, mature trees that ensconce guests in a serene golfscape highlighted by a well-manicured driving range and scenic 18-hole course. Golfers can warm-up drivers and stretch-out irons while pelting practice balls down a range bound to the rear by a small creek that doubles as a practice water hazard and stage for tadpoles to rehearse future roles as eventual princes. The range is maintained by a diligent ball collector and hugged to the right by a rolling fairway that prompts range balls to dream of one day being promoted to a tournament ball, and one day retiring on a mini golf course.
700 W Rand Rd.
Mount Prospect
Illinois
847-255-2025
Candy-coated shades of pink, lime, and turquoise coax mini mavens into Glamour Girlz, a kids' makeover mecca perched on the upper level of Northbrook Court. Under the supervision of friendly staff, glittery accessories gild little pigtails, earlobes, wrists, and fingers, and mini makeup kits gloss cheeks and lips with color without the need to melt crayons in an Easy-Bake oven. Divas can opt for one-on-one pampering during an individual makeover package, or invite friends for a full-blown party with photo shoots, dress-up sessions, and mock paparazzi interviews about revelers' favorite limo colors.
817 Stratford Square Mall
Bloomindale
Illinois
630-582-9800
---