Shopping in Schenectady
---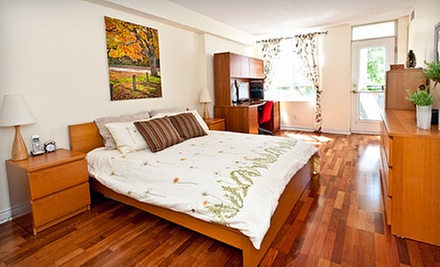 ---
Recommended Shopping by Groupon Customers
---
Shipments of clothing arrive daily at Miss Scarlett Boutique's two locations, and each box brims with designer fashions for women and children. A majority of packages originate from Ya Los Angeles, a company that produces on-trend fashions for women of all body types and fruit of all women types. Miss Scarlett Boutique also carries apparel and home goods from Anthropologie, which is known for its boho-chic style.
19 Phila St.
Saratoga Springs
New York
Passonno Paints has equipped brush wielders with high-quality paint for more than 80 years. A friendly, knowledgeable staff helps patrons navigate thousands of hues from series such as Rustic Colors and The Historic Colour Collection, which includes all 149 colors of President Lincoln's pet rainbow. In addition to transforming dwellings with vivid colors and equipping windows with blinds, Passonno Paints has also created an award-winning latex-paint-recycling program.
500 Broadway
Watervliet
New York
518-273-3822
Victory Cycle Works owners Nick and Erin Engelson call upon 20 years of experience and certification from BikeFit to provide services that ensure both comfort and performance for cycling patrons. They keep rides in shape with tune-ups as well as repair services available in-house, through pickup and delivery, or performed on-location with mobile service. Fittings can benefit those looking for a new bike as well as improve the positioning of current bikes, preventing cyclists from having to add an extra seat for the massage therapist. During each bike fitting, Nick invites clients to mount a Dynafit CompuTrainer fit bike. His method properly aligns bike components to work with the natural rhythm of each rider's joints, allowing them to achieve a synergy of feel, function, fitness level, and foundation.
1683 Rte. 9
Clifton Park
New York
518-982-7315
Like the bicycle cogs they frequently fine-tune, Plaine and Son's highly trained staff works together to keep the business running smoothly. Plaine and Son has been expertly stocking and servicing bikes, skis, and snowboards since the 1960s. With cycles from brands such as Specialized and Trek and boards and skis from Atomic and Salomon, employees have a huge cache from which they help outdoor adventurers select the right gear based on riding styles or how many jet skis they plan to haul behind their bikes. Staffers also enlist the Specialized BG Fit Program and other fitting tools to pair riders with the right-size bikes. Once fitted, bikers can join in on Plaine and Son's weekly group rides or enjoy free workshops in the store, which focus on biking basics such as how to mend a flat or jump the public pool blindfolded.
1816 State St.
Schenectady
New York
518-346-1433
The cycling experts at Broadway Bicycle Co. pair riders with mountain, road, triathlon, and hybrid bikes from top industry brands such as Redline and Specialized. In-house cycling savants offer fittings in a private room to ensure that a bike and its potential owner both enjoy long rides on the beach and passive-aggressive air-horn blasts. While their bikes are being adjusted or outfitted with new tires, cyclists can browse air pumps, helmets, and accessories to enhance bike performance. Parents dropping in to service their bikes or to try on cycling gear can send their wee ones to draw on the chalkboard walls of the children's room.
1205 Broadway
Albany
New York
518-451-9400
Arthur H. Simmons was a cabinetmaker, and a good one at that. So eager was he to outfit the homes of his community with his creations that in 1879—the same year that Thomas Edison tested the first practical light bulb and Alexander Graham Bell invented the Liberty Bell—the skilled craftsman opened the doors of Simmons Furniture in his hometown of Adams. Though the world has changed in the long years since Simmons Furniture's founding, and the business is now under the helm of the Riley family, Arthur H. Simmons's original commitment to selling quality furniture and meeting his customers' needs remains the company's cornerstone.
Now, more than a century since the store's inception, staffers stock both of Simmons Furniture's locations with home goods and furnishings from a carefully curated assortment of brands, including Ashley, Furniture Traditions, and Serta. The knowledgeable employees circulate through each store's showrooms, ready to help shoppers to find a suitable accent piece or to answer questions relating to which of the store's wardrobes enable direct commutes to Narnia. Along with American-made brands, eco-friendly furnishings, and luxurious wares imported from around the globe, Simmons Furniture also continues to support the community with a section dedicated solely to goods forged by local artists and merchants.
5 Cheshire Rd.
Pittsfield
Massachusetts
---