Auto Service in Schertz
---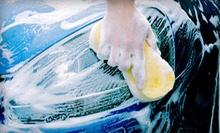 Use Today 9:00am - 5:00pm
---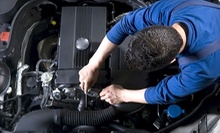 Use Today 8:00am - 5:30pm
---
Recommended Auto Service by Groupon Customers
---
If your shady parking spot rests beneath bird-filled trees, or someone scrawled carpetbagger into the layer of grime on your car window, The Final Touch Car Wash can give your vehicle its original off-the-lot shine. With today's Groupon, you'll get five of Final Touch's Soft Touch car wash packages for $42 (an $84.95 value). This Groupon isn't just great for sprucing up your own car, it also makes the perfect passive-aggressive gift for your dirty carpool driver.
4110 South 1st Street
Austin
Texas
US
512-428-9274
H2O Car Wash and Detail's staff keeps cars in showroom condition with an emphasis on attentiveness and high-quality products. Meticulous hand washes are the team members' hallmark, and they perform each scrub down with soft, wool mitts instead of relying on machines or enormous carnival dunk tanks. To keep every vehicle looking its best, washes incorporate 100% carnauba wax to baby paint jobs and Lexol conditioners to gently maintain inside upholstery. The technicians rid interior and exterior dirt with a suite of washing and detailing services that leaves finishes glowing and interior fabrics looking freshly laundered. While the team does its work, motorists stay entertained in a lounge furnished with free WiFi and cable TV, and a kids' play area complete with video games works even better than hiring the GPS navigator to babysit.
At Genie, nearly a half-century of business success lends an air of wizened experience to locations recently upgraded with $500,000 in renovations. A large staff efficiently shuttles vehicles through a wash tunnel cushioned with foam pads designed to leave exteriors unscratched. Patrons can choose between one of six multistep car washes, or cherry-pick à la Carte services such as leather conditioning, engine cleaning, and headlight restoration. Detailing packages assemble extra touches that subject disheveled cars to white-glove once-overs including trunk cleanings and carpet steam cleanings.
7320 Burnet Rd.
Austin
Texas
512-451-9274
At The Oil Exchange, auto owners stay in the driver's seat, sipping complimentary soda or water as technicians fill the engine with synthetic-blend oil. The drive-thru service center's technicians never act without full consent. They keep auto owners informed with education skits written by middle school teachers as they carry out state inspections or oil, transmission, and radiator services.
6392 Babcock Rd.
San Antonio
Texas
210-699-9093
ith more than 175 locations nationwide and more than 35 years in the business, Car-X Auto Service has earned a prime spot in the parking garage of quality car care and customer service. Started in 1971 by a team of seasoned muffler-shop owners, the service centers have blossomed from their beginnings as specialty exhaust shops to providers of nearly any repair or maintenance service imaginable, from installing performance-enhancing accessories to treating cars to therapeutic trust falls. In addition to promoting safety and long, healthy engine life with brake services and speedy oil changes, Car-X Auto Service reaches out to the surrounding community with regular philanthropic activities, such as recycling drives and participation in the American Heart Association's Heart Walk.
11700 Anderson Mill Rd.
Austin
Texas
512-258-3400
The Texas Detail team shares anecdotes collected over 40 years of shared experience as they ramble through town, polishing autos at homes and offices with hand-washing and detail services. After arriving at their destination, they lather exteriors and apply wax to protect paint jobs and turn cars into statues of themselves. They also purge interiors by pre-treating stains, vacuuming carpets, and coating sun-kissed regions with UV protectant.
2401 South Lamar
Austin
Texas
At The Arbor Car Wash, skilled detailing crews and lube technicians meet drivers' every vehicular need and state inspections, from basic washes to detailing to oil changes. Automatic washers restore squeaky-clean shine to exteriors, and pure elbow grease vacuums carpets and waxes exteriors. In the service center, technicians swap out oil with fresh, premium Castrol oil. Throughout each wash or service job, customers can retreat inside for a handful of popcorn or slink into a comfy chair to whittle a new steering wheel. The Arbor Car Wash also looks out for its community, donating time and money to a list of organizations that includes the American Cancer Society, the Austin Children's Center, and Big Brothers Big Sisters.
10401 Jollyville Rd.
Austin
Texas
512-346-8050
---