Schertz, TX Health and Fitness
---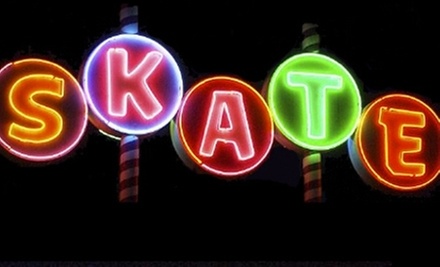 Shearer Hills / Ridgeview
---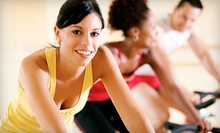 Four-week program gets clients in shape with personal training, supplements, and access to a gym with infrared saunas
---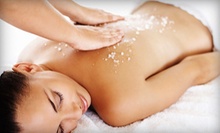 Natural oils, herbs, and minerals exfoliate and moisturize the skin during soothing body wraps and scrubs
---
Recommended Health & Fitness by Groupon Customers
---
At EyeMazing Optical, San Antonio native Gerardo R. Noriega, OD uses his extensive training and two decades of experience to care for eyes with the latest technology. While earning his doctor of optometry degree at the University of Houston, Dr. Noriega participated in externships with the Zuni Indian Health Service in New Mexico and Fort Carson Army Hospital Eye Clinic in Colorado. He now channels this vast experience when providing thorough eye exams and solutions for conditions such as dry eye, and improving patients' sight with laser vision correction or corneal refractive therapy with Paragon CRT therapeutic lenses. The innovative, breathable lenses are worn during sleep, and gently reshape the cornea to temporarily correct myopia or bring Lotto-predicting dreams into sharper focus.
The office's rustic wood furniture and saloon-like doors give it a welcoming and distinctly Texan feel. From within these homey confines, a highly trained stylist complements clients' faces with frames from the likes of Gucci, Kenneth Cole, and Puma, all of which can protect eyes from overaggressive tumbleweeds.
16111 San Pedro Ave., Suite 123
San Antonio
Texas
210-545-5755
Dr. Therese Singson Miranda's combination of general, cosmetic, and restorative services can improve both the form and the function of patients' smiles. Dental bridges replace missing teeth, tooth-colored fillings repair decay while blending in with the rest of the tooth, and dental implants stabilize loose dentures and partials.
5975 Farm to Market 78, Suite 100
San Antonio
Texas
210-661-4211
Many dental practices claim to be family friendly, but Hernandez Dental Center takes that commitment a step farther than most. Run by the father-son team of Drs. Joe Hernandez and Joe Hernandez, Jr., the practice welcomes patients eager to tap into the pair's 40 years of combined expertise. Whether they're conducting dental checkups or executing complicated root canals or veneers, the dentists give each patient one-on-one attention in private treatment rooms. The office decor—from the floor-to-ceiling mural of a scenic lake in the waiting room to the wood-paneled hallway and treatment chairs whittled out of a single block of wood—evokes the great outdoors to ease pretreatment jitters.
1347 Fair Ave.
San Antonio
Texas
US
210-533-8191
---