Schertz, TX Indoor Activities
---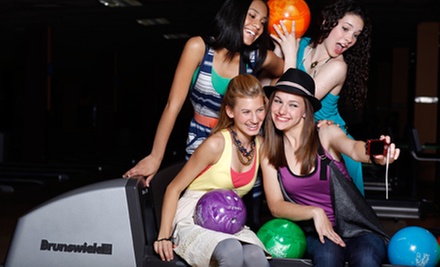 Brunswick Thousand Oaks Bowl
---
Recommended Indoor Activities by Groupon Customers
---
The consortium of professional instructors at Fred Astaire Dance Studios, which was cofounded by the legendary toe tapper himself, shepherds students of all ages and skill levels through lessons that span the style spectrum. Low-pressure private sessions allow enthusiastic teachers to fine-tune individual students' techniques and form, using their expert eyes and mechanical dancing shoes preprogrammed to do the Charleston. Patrons can learn how to cavort through classic waltz and fox-trot romps or swivel through the modern steps of salsa, swing, or samba. For dancers hoping to hoof it up in a social setting, the group practice parties provide a one-night extravaganza of instruction, demonstrations, and amateur firewalking.
115 N Loop 1604 E, Bldg 1, Suite 1200
San Antonio
Texas
210-490-3733
Albert Friedrich poured the first foamer at The Buckhorn Saloon in 1881. Early in his bartending days, Friedrich began accepting horns and antlers in exchange for whiskey and beer, leading to a unique collection now exhibited in The Buckhorn Museum. The historic tavern claims that Teddy Roosevelt once recruited Rough Riders from among its patrons, and it is also rumored as the place where Pancho Villa plotted the Mexican Revolution. An original handcrafted marble-and-cherry-wood back bar and other historic furnishings still reside in the saloon, where guests now swig locally brewed beers and challenge each other to taser duels. Visitors come face to face with the taxidermal heads and other artifacts from more than 520 species, including a 1,056-pound black marlin and a prehistoric irish-elk skull and antlers. The museum also lays claims to a preserved whitetail deer and the rattlesnake rattle artwork of Friedrich's wife, which guests can show to their own pet snakes as a cautionary example of what happens to misbehaving reptiles.
Adjacent to The Buckhorn Museum, The Texas Ranger Museum houses Texas Ranger paraphernalia such as sawed-off shotguns, badges, and photographs. At Ranger Town, young whippersnappers delight in glimpses of life during turn-of-the-century San Antonio, as depicted by a re-created jail, smith, and telegraph office, as well as the Bonnie and Clyde exhibit, where a '34 Ford V8 Deluxe sits anxiously awaiting its next adventure. On their way out, visitors can drop in at a museum gift shop that traces its own origins to 1920, when it was a curios store.
318 E Houston St.
San Antonio
Texas
210-247-4000
Davis Phillips, the president and general manager of Phillips Entertainment, Inc., carries on the legacy of his father and grandfather, who were both involved in tourism and entertainment. What began as a single attraction has now expanded through partnerships and renovations, though it still manages to thrill audiences with family-friendly interactive exhibits. Phillips Entertainment is active in the San Antonio community and the local tourism industry thanks to its location across from the famed Alamo.
217 Alamo Plaza
San Antonio
Texas
The San Antonio Botanical Garden, which rests on 38 acres, not only dazzles visitors with bright sunflowers and roses, aquatic plants, and a glass display case filled with orchids, but it also teaches them about the local and world flora with informative exhibits. Four large, formal beds showcase seasonally rotating displays, and the Texas Native Trail features representative species from Hill Country, East Texas Piney Woods, and South Texas. Encompassing a wider array of biomes, the Lucile Halsell Conservatory boasts collections of tropical fruits and desert cacti housed within glass buildings that surround the sunken tropical lagoon.
Aside from these exhibits, the botanical garden also hosts summer-camp sessions, school-group programs, and classes for adults as well as children. These programs include lectures and hands-on lessons that discuss local plants and which garden insects are helpful and which are harmful.
555 Funston
San Antonio
Texas
Founded by cellist Kenneth Freudigman and violist Emily Watkins Freudigman in 2004, Camerata San Antonio brings together a symphonic roster composed of several of the San Antonio Symphony's principal players and more than a few internationally recognized musicians. More than a dozen acclaimed artists might be on-call for a concert during any given season, and the entourage's diverse concert schedule consequently offers plenty of strikingly different small-ensemble performances.
230 E Travis St.
San Antonio
Texas
On Wednesday, September 14, 2011, the Missions began what would turn out to be the longest postseason game in Texas League history. Playing against the Arkansas Travelers in the league's championship series, the Missions battled to a 5–4 victory that took 20 innings—and a spillover into Thursday—to settle. The win propelled the Missions to a series sweep, earning the franchise its 12th championship since the Texas League was founded in 1888.
Throughout those 113 years, the Texas League underwent many changes, but San Antonio stood firm—the only one of the league's six original teams to play in three different centuries. As the San Diego Padres' Double-A affiliate, the Missions continue their legacy at their home field, Wolff Stadium, a 6,200-seat facility complete with a grass berm in left field where fans can sprawl out to watch the innings and where umpires sunbathe between games.
5757 Hwy. 90 W
San Antonio
Texas
210-675-7275
---