Restaurants in Schiller Park
---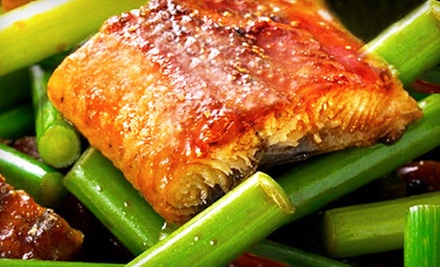 ---
Recommended Restaurants by Groupon Customers
---
Chef Edward Kim is a restless soul. Born and raised in the north suburbs of Chicago, he left home to become a lawyer in New York but somehow found his way to the opposite coast, where he enrolled at the renowned Le Cordon Bleu in Los Angeles. After spending several years honing his craft in locales as far-flung as Seoul, South Korea, Kim returned to his native city to open a restaurant that would draw on his Asian heritage and penchant for gastronomical globetrotting.
Just like its chef, Ruxbin is the product of a hodgepodge of competing influences. To its credit, the BYOB bistro doesn't try to hide this fact—its 32-seat dining room is built entirely from salvaged and repurposed materials. Chef Kim's seasonal menu reflects his own restless nature, and dishes are liable to change as soon as they reach the height of their popularity. This willingness to take risks has attracted a host of devotees, including GQ , which named Ruxbin one of its Ten Best New Restaurants in America in 2012.
851 North Ashland Avenue
Chicago
Illinois
312-624-8509
A Plate on Southport's chefs enlist an array of fresh meats and vegetables to construct a pan-Asian menu that encompasses Thai, Chinese, Indian, and fusion dishes. Stir-fried rice and noodles cling to eclectic ingredients such as fried mini hot dogs and fresh basil leaves, and bamboo strips and creamy coconut milk support savory and panang curries. While sipping hot jasmine-blossom green tea or a self-provided libation, patrons can scale or teleport up a staircase to the BYOB eatery's second-floor dining area, adorned with wooden furniture and tables. Paintings of flowers and children swinging from a tree branch adorn pale butter-yellow walls.
2819 North Southport Avenue
Chicago
Illinois
773-525-6695
Though you might not know it from the outside, the kitchen at Aqua Bar and Grill, part of a hotel building from the 1940s, is the site of a nightly culinary summit. There, flavorful representatives from Cajun and Caribbean traditions meet to form an ever-changing menu that includes cajun sandwiches, penne pasta tossed with three kinds of sausage and jambalaya, top sirloin steak, coconut shrimp, crab-stuffed mushrooms, and crab legs. The chefs concoct a selection of seasonal American fare with emphasis on seafood that complements the bar and grill's well-rounded wine list and selection of more than 25 craft beers. Amid the high ceilings and walls dotted with paintings from local artists, Aqua's friendly owners also prowl the restaurant floor, mixing up signature cocktails at the bar, making friends, and daring people to sing their orders to the tune of "Turkey In The Straw".
1146 West Pratt Boulevard
Chicago
Illinois
773-856-3487
Inside a knotted-wood edifice watched over by a cow statue on the rooftop, Etno Village Grill's cooks prepare gourmet fast food inspired by the street fare of Eastern Europe. Patrons can build custom sandwiches from artisan breads and hormone- and antibiotic-free meats—including traditional cevaps (skinless sausages)—before dressing creations with seasonal produce from the free condiment bar. Signature sandwiches fill out the menu, which spotlights house favorites such as the Cason burger with ginger poached pears and applewood-smoked bacon. Diners can claim stools in front of the picture window and admire exposed bricks between bites, take their eats outside to the patio, or teleport around the corner to nosh in nearby Jonquil Park. As an added bonus, the BYOB establishment offers to pop brought bottles without charging a corkage fee.
2580 N Lincoln Ave.
Chicago
Illinois
773-698-8069
At Ameer Kabob, chefs whip up artfully plated traditional Mediterranean cuisine. Aromas of grilled, marinated beef and chicken waft from sizzling kebab entrees, and a convoy of appetizers includes classic noshables such as hummus, tabouleh salad, and house-made lentil soup. The gastronomers also make their cuisine mobile, catering events for up to 1,000 diners or two hungry giants.
1050 North Milwaukee Avenue
Chicago
Illinois
773-489-8888
At Guys & Wok, cooks simmer up the sweet and spicy flavors of Thailand to make classic noodle and rice dishes. Perched at the heart of Boystown, the restaurant asserts its presence with a neon teal sign and floor-to-ceiling windows stamped with a giant ampersand. Upon entering, an analog chalkboard competes with digital flat-screen TVs to relay menu options such as mango spring rolls and red, green, yellow, and panang curries. Restaurant specialties, such as the Sunset squid with chili-lime-garlic dipping sauce accompany refreshments including traditional Thai drinks and certified-organic loose teas. Facing Halsted Street, stools sidle up to countertops, offering views of the bustling street and its boisterous bar crowds. As a WiFi-equipped eatery, the restaurant invites patrons to settle in at tables, enjoy their fares, and google their second-grade teachers.
3205 North Halsted Street
Chicago
Illinois
773-528-7331
---