Things to Do in Scotts Valley
---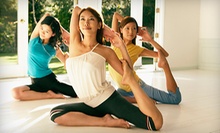 In beginners' Iyengar yoga classes, instructors focus on teaching the dynamic motions that result in classic yoga postures
Use Monday 7:15am - 10:15am
---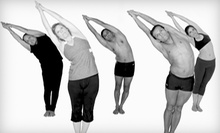 In heated room designed to aid detoxification, up to 90 yogis flow through 26 poses led by Bikram-certified instructors.
Use Monday 9:00am - 12:00pm
---
Recommended Things to Do by Groupon Customers
---
Trudie Ransom knows just how addictive the sensation of standing above the waves can be. After just a few trips out on her board, she not only began training with the standup-paddleboarding master Andy Whitman from Angulo boards, but also opened up SUP Shack. From her experience shadowing Whitman, she decided the best way to introduce people to the sport was with Angulo's soft, 10-foot boards, which serve as an easy surface to learn on while spending a day on the waves or taking one of the shop's classes or tours. Classes never contain more than six students, allowing each student to have the one-on-one attention needed to master the art of balancing and maneuvering the board. Once pupils are sure of their strokes, the shop's instructors lead guided tours that slip out across the rippling blue mirror and past the sights of the harbor or tackle the more advanced paths past sea-lion habitats. Late-evening tours pause as the sun sets over the ocean, filling the sky with color like somebody inciting peacocks to riot.
2214 E Cliff Dr.
Santa Cruz
California
831-464-7467
The team at Tropical Adventures Scuba and Travel teaches classes, repairs equipment, and plans diving trips, all with a focus on building an active scuba community. Seasoned instructors with NAUI and PADI certification lead beginners from the classroom to the ocean, where they meander through kelp forests and master the art of underwater basket weaving. Experts coordinate travel to premier international and local dive sites such as Catalina Island, aiming to make the three to five yearly trips affordable and fun. The crew also recommends new and used gear for purchase or rental, including Oceanic booties, Tusa masks, and radar equipment that helps divers avoid traveling mermaid salesmen.
3921 Soquel Dr., Suite D
Soquel
California
831-475-3483
Bayou Bend Collection and Gardens, the former estate of philanthropist and art collector Miss Ima Hogg, was completed in 1928 according to classical designs by renowned Houstonian architect John F. Staub. The elegant mansion houses the Early American decorative arts and paintings collection of Houston's Museum of Fine Arts, a congregation of nearly 2,600 furnishings, paintings, and ceramics that populates 28 period rooms in the carefully renovated house. The objects date back as far as 1620, letting the viewer observe the evolution of American taste from the Colonial to Victorian eras. Bayou Bend's eye-widening assemblage of still lifes, armchairs, and silver was labeled a "treasure-trove" of Americana by Frommer's, as well as a "must-see" for antiques collectors and gardeners.
The mansion at Bayou Bend is flanked by 14 acres of formal gardens and natural woodlands. Hogg designed the formal gardens as outdoor rooms for hobnobbing and decorated them with statues of a goddess and two muses, inspiring the northern blooms to write sonnets about honeybees. Today, organic gardening methods maintain the flourishing magnolias and crape myrtles.
2591 Main St.
Soquel
California
USA
During the TenniSchools program, Midtown's trained, certified instructors will sculpt beginner swings alike into peak form. If you don't own a racket, Midtown will loan you one. Complimentary access to practice lanes lets you hone your new skills between classes, and full use of Midtown's locker-room amenities ensures you won't have to drive home sweaty. Though it's unlikely you'll develop tennis elbow (which can only be spread through sharing needles), it's quite probable that you'll find a future doubles partner while rubbing elbows at one of Midtown's two complimentary tennis parties.
1126 Soquel Ave
Santa Cruz
California
US
Led by the muscle-building prowess of certified personal trainers, Perfect Fit Personal Training's classes guide athletic hopefuls in group and private training sessions. Coaches consult with their clients and evaluate their performance as they train, providing nutritional advice and occasional power-ups or extra lives as needed. Each workout is customized to the trainee so that participants undergo their optimal regimen of weight bearing, cardiovascular, and flexibility exercises, as well as specialty sessions such as semi-private yoga, Pilates, and outdoor adventure training. Instructors work their muscle-toning magic in a modern gym space boasting hardwood floors and gleaming new equipment.
1126 Soquel Ave
Santa Cruz
California
US
TriYoga's classes guide students through traditional poses supported by rhythmic breathing and a deep, centered focus. The practice's founder, Yogini Kaliji, travels the world to teach her signature style, with occasional stops into TriYoga Center of Santa Cruz to lead master classes. Yogini Kaliji designed her method and classes to shuttle beginners and experts alike toward deep relaxation, attainable elsewhere only by convincing a sea breeze to sing you "Happy Birthday." As students graduate through levels and master TriYoga's wavelike movements, they often note boosted strength, flexibility, endurance, and breath control.
708 Washington St.
Santa Cruz
California
831-464-8100
---