Things to Do in Scottsboro
---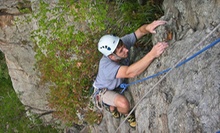 AMGA-certified instructors equip climbers with rented gear and teach techniques during custom climbing trips across Lookout Mountain
---
Recommended Things to Do by Groupon Customers
---
In the late 1970s, a group of forward thinkers hatched an ambitious plan to bring Chattanooga citizens closer to nature. With the help of the Junior League of Chattanooga, the group raised more than $500,000, and in September 1979, The Chattanooga Arboretum and Nature Center was born. Since then, the center has invited more than half a million visitors to explore its 317 acres of forests, fields, and streams as well as raising consciousness with educational programs targeted at schoolchildren, summer campers, and scouts. Their efforts have helped to conserve the approximately 50 native animal species inhabiting the park, including bald eagles and endangered red wolves.
State-of-the-art when it was built, the environmentally engineered main building has remained largely unchanged over the past 33 years. Features such as solar-heating systems, southern-facing windows, and 99% natural R-38 insulation continue to model sustainable-building practices to park visitors and squirrels looking to passively heat their nests.
400 Garden Rd.
Chattanooga
Tennessee
423-821-1160
Leisure Time Dive & Ski Center helps adventurists plunge to new depths and soar down mountainsides at supersonic speeds. The facility stocks an extensive supply of scuba gear and skiing equipment, and makes items from both departments available to purchase or rent. Divers wanting to improve their craft can participate in a variety of different educational lessons, from a rescue diver course to the open-water training classes needed for PADI certification. Leisure Time also doubles as a full-service travel agency, and assists clients in planning exotic scuba diving and skiing vacations.
3520 Brainerd Rd.
Chattanooga
Tennessee
423-622-1335
A U.S. Hang Gliding and Paragliding Association–rated master pilot, Matt Taber has been soaring through the skies since 1978, during which time he's managed to design several of his own gliders. He's also devised and constructed other contraptions, such as glider-towing equipment and lightweight tow planes—both of which his company, Lookout Mountain Flight Park, uses to teach new recruits how to surf the skies. Matt leads a team of USHPA-certified pilots and instructors that coaches students of all levels in basics and advanced maneuvers through on-the-ground training and hands-on tandem flights, during which plots safely guide their charges over the scenic mountains and blurry bushes of Lookout Valley at altitudes of up to 4,000 feet. Conducted on a 55-acre private training facility, lessons can include the overnight use of amenities such as a pool, volleyball court, bathhouse, and cabins.
7201 Scenic Hwy.
Rising Fawn
Georgia
800-688-5637
After spying his first electronic bike while teaching in China, owner Garnet Caldwell vowed to bring the unique and potentially revolutionary vehicles to his hometown. He told the Times Free Press, "These bikes are for people who just want to get out and ride," explaining that they can go about 20 miles before needing to be charged and, like a championship racewalker, can reach speeds of up to 20 miles per hour.
The bikes, available at the shop for rental or sale, come in all sizes and run off a battery that is recharged via a traditional wall outlet. Chattanooga Electric Bikes caries models from Ezip, Izip, Liberty, and Pedego, as well as conversion kits to help traditional two-wheelers to make the jump to electric. Certified technicians ensure bikes are held to the highest safety standards and don't become sentient, and they can service any brand of electric bicycle.
123 Frazier Ave.
Chattanooga
Tennessee
423-475-6569
---