Gourmet & Healthy in Scottsdale
---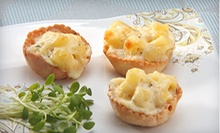 50-piece tray of gourmet mac 'n' cheese bites made from truffle oil and shaved black truffles
---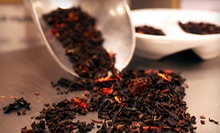 Use Sunday 12:00pm - 5:00pm
---
Recommended Gourmet & Healthy by Groupon Customers
---
With a light flick of the knob, a slow stream of balsamic vinegar flows from the spigot of a steel fusti at Outrageous Olive Oils and Vinegars. It's the final step in a process that began 18 years ago in Modena, Italy, where vinegar makers crushed trebbiano grapes and sealed them in wood barrels—the technique necessary for vinegar to earn a classification as traditional balsamic. These meticulous standards extend to the rest of Outrageous Olive Oils and Vinegars' elixirs. Owners John and Rayna recruit olive oil that has been cold-pressed, extracted without chemicals, and infused with all-natural flavors. Additionally, their expert staff are on hand to help customers navigate the shop's selection of 35 olive oils and vinegars, pointing out each bottle's country of origin, flavor notes, and messages written by castaways. They also draw on their own culinary expertise to suggest recipes and flavor pairings.
7240 E Main St.
Scottsdale
Arizona
480-946-1888
Amid the bright, contemporary decor and open-air seating of Grazie's two locations, the restaurant's chefs roll out fresh, flavorful pizza dough and compile classic Italian specialties. Their menu of pastas and gourmet pizzas—which are crowned with toppings such as prosciutto, capers, and ricotta—complement the tannins of an expansive, all-Italian wine list. The pizzeria doubles as an off-sale wine shop, with each bottle curated by wise wine experts who tirelessly sniff out rare imports with the enthusiasm of grape-fixated bloodhounds. When Grazie's hospitable staffers aren't serving lunch or dinner, students from regularly scheduled Italian-language classes flood the restaurant space with the delicate syllables of useful phrases such as "What's your name?" and "Are you going to finish that lasagna?"
6952 E Main St.
Scottsdale
Arizona
480-663-9797
Comfortably nestled in the shadows of the San Tan Mountains, owner Perry Rea and his family coax silken oils out of the olives they grow in their own groves. After more than 10 years of experiments, they finally settled on planting a few more than 16 distinct varietals, which thrive in the otherwise unforgiving Arizona deserts. Extending thoughtful care to each harvest, they avoid using any pesticides or genetically modified trees, employ water-conserving drip irrigation, and hand-pluck their olives at the peak of ripeness. Within 24 hours of picking, the staff then presses the crop in order to extract oils that taste as fresh as honey taken directly from a bee's pantry.
The fresh oils line the shelves of the mill's marketplace alongside imported wines and locally made goods. In addition to gourmet food items, the store stocks an extensive collection of Italian ceramics, works by local painters, and bath-and-body products infused with extra-virgin olive oil.
Queen Creek Olive Mill's oils also appear on the menu of del Piero, the facility's Tuscan-inspired bistro. Based on the Rea family's own recipes, each entree incorporates organic ingredients whenever possible, including locally sourced meats and herbs from the organic garden.
25062 S Meridian Rd.
Queen Creek
Arizona
Hors d'oeuvres serve as hubs at parties and gatherings, allowing people to orbit slowly and giving them something to talk about. At The Appetizer Store, more than 145 bite-size snacks, appetizers, and frozen desserts span culinary styles from around the world and fuel cocktail-party chatter. The selection ranges from Asian-inspired fare such as potstickers to mini burgers, which showcase the most important American tradition: accidentally shrinking things. Vegetarian and vegan options help hosts construct welcoming feasts for all guests, and a range of cheesecake pops and baklava triangles defrost quickly on dessert trays.
7750 E Redfield Rd., Suite D106
Scottsdale
Arizona
480-471-2601
Frank Martin, owner of Crooked Sky Farms and a believer in ecologically sustainable agricultural methods, developed a profound respect for seeds and their eventual bounty as the child of a farmer and an organic gardener. The farm's humble beginnings date back to 1999, when Frank began cultivating seedlings in his own backyard and showering the plants with water and nightly bedtime stories. The South Phoenix–based farm has expanded to four urban locations, and supplies in-season offerings to local farmers' markets and members of its Community Supported Agriculture (CSA) initiative. Each week, members of the CSA visit the farm to collect their eight portions of fruits and vegetables, ideal for culinary pursuits or heightening the realism of Carmen Miranda fashion tributes.
Crooked Sky Farms' crops spring from the Earth without the addition of chemical insecticides, herbicides, fungicides, or fertilizers, earning them a certified naturally grown accreditation. The farm's abundant lanes of dense plants glean their enrichment from compost produced by the farm or sourced from organic providers, as well as natural and time-tested agricultural methods such as crop rotation, the use of protective buffer plants, and serenading clouds to make them rain. The picturesque planting grounds serve as a backdrop for seasonal events featuring cuisine crafted from the farm's produce and live entertainment under the romantic glow of the desert sky.
2134 S 16th Avenue
Phoenix
Arizona
623-363-7422
The Bull Market's owners Paul Savage and Clint Oliver have nearly 50 years of meat experience between them, which they draw upon as they meticulously curate cuts of pork, veal, lamb, poultry, and beef. Before hand trimming each steak the meat connoisseurs age it under regulated temperatures and conditions for a minimum of 21 days, ensuring optimal tenderness and taste. Unlike traditional grocery store beef cuts, the market's Angus beef must meet quality and marbling standards so rigorous that only 12% of the country's beef qualifies to stock their premium Angus steak. Similarly high standards govern the shop's dry-aged beef and USDA prime beef, as well as its other meats, to ensure patrons never encounter excess gristle or meat-wrapped softball tees masquerading as T-bone steaks.
8763 E Bell Rd., Suite 102
Scottsdale
Arizona
US
480-656-4777
---