Pet Services in Scottsdale
---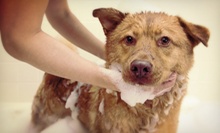 Self-serve dog-washing sessions equip owners with everything they need, including shampoos, towels, and brushes with no cleanup required
---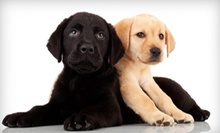 Dogs cavort in a kennel-free play space supervised by trained canine lovers who professional groom coats; 8-week obedience training class
---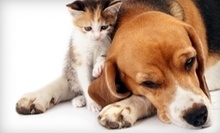 Use Friday 8:00am - 5:00pm
---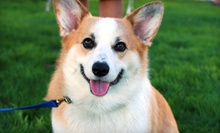 Dogs are grouped with like-mannered playmates in supervised and air-conditioned indoor play areas
Use Friday 7:00am - 9:00am
---
Recommended Pet Services by Groupon Customers
---
Featuring four spa-style dog-wash stations stocked with John Paul pet products, Pawzapalooza has provided dog-grooming services for more than 15 years. Self-serve washes include shampoo (seven varieties), conditioner (apricot or unscented), towels, aprons, blow dryers, eye and ear wipes, tooth and gum wipes, brushes and combs, and spray cologne (think Axe for doggies). Pawzapalooza's stand-up grooming stations are equipped with hand-held showerheads and tall tub walls that minimize splash back. Customers can also browse a variety of dog products and accessories for home-based scrubdowns.
10953 N Frank Lloyd Wright Blvd.
Scottsdale
Arizona
In 1955, 50 horses and their handlers gathered on the grounds of the Arizona Biltmore Hotel for the first Scottsdale Arabian Horse Show. Over the next 58 years, the event moved twice—first to Paradise Park, then to WestWorld—and grew to nearly 2,500 participants. Today, the 450 members of the Arabian Horse Association, which was incorporated the same year as the horse show, help to oversee the annual flagship event. Many of the members also serve as competition judges, work to foster youth participation in the equestrian arts, and raise awareness about which tiny hats look best on thoroughbreds.
The annual Scottsdale Arabian Horse Show draws competitors from local Arizona farms and across the country. The showcase gathers thousands of horse enthusiasts for seminars, competitions, galas, international cuisine, and more than 300 vendors. Though the Arabian Horse Association holds the show as its main event, it also oversees the Arabian Breeder Finals, a halter and breeding showcase; the annual qualifying America Cup Championship; and yearly endurance rides and stallion auctions.
16601 N Pima Road
Scottsdale
Arizona
480-515-1500
In 1989, Roger and Cheryl Naumann became the proud parents of a lemon beagle they dubbed Pogo. The pup's playful demeanor was clouded by a host of congenital health conditions, each handled with unrelenting love by her owners. Pogo brought joy to Roger and Cheryl for 16 years and left her stamp on the world in the form of Pogo's Place, a pet-adoption facility in the lobby of Second Home Pet Resort.
Inspired by their beloved pooch, hotel executive Roger and his wife Cheryl, president and CEO of the Arizona Humane Society for almost six years, combined their talents to open the pet lodge. Nestled into a mountainside like a billy goat's summer cottage, the 16,500-square-foot haven boards cats and dogs in luxury suites, with staff onsite 24 hours a day.
Air-conditioning and heating systems maintain comfortable temperatures in cats' and dogs' separate quadrants and play areas. Pooches being boarded or babysat at doggie daycare frolic around an area that spans 1,000 square feet, with more than an acre of grassy knolls and playground equipment surrounded by 7-foot walls. Under supervision, they explore the Splash & Play water park's decks and waterfalls to cool off or practice their synchronized-swimming routine. Kitties scale trees and paw at scratching posts in the cat atrium. Pet cams accessible via the internet at any hour and extra care for special-needs pets give owners peace of mind, and grooming offered onsite pares down their to-do lists.
747 E Thunderbird Rd.
Phoenix
Arizona
602-997-6600
The Arizona Humane Society has provided shelter and rehabilitation to homeless and abandoned animals since 1957, watching over more than 46,000 dogs, cats, and smaller critters every year as they await new homes. After proving their eligibility for adoption and consulting with the shelter staff, new owners can choose a companion from any of the pets prowling the menagerie, from puppies and kittens up to 9 months old to adult dogs and cats. Rabbits and ferrets also scurry about, searching for farmers' carrots carelessly planted in an animal shelter. For current owners, the society provides low-cost spaying and neutering services as a public service, as well as education and outreach programs to promote compassion and ensure a safe home for all creatures.
1521 W Dobbins Rd.
Phoenix
Arizona
Dog trainers Danny and Silvia Wilson founded Bark Busters Home Dog Training in Australia in 1989, hoping to help reduce the number of dogs abandoned or euthanized because of their behavioral problems. More than two decades later, their business has grown to incorporate more than 400 franchises worldwide and has helped more than 750,000 dogs live harmoniously with their human counterparts. Rather than bribing pups with treats or applying punitive methods such as shock collars, Bark Busters' therapists follow a training system based on canine communication and pack behavior. Dogs instinctively respond to these body-language and voice-control techniques, which therapists customize to suit each dog's personality and each family's needs and lifestyle. Over the course of the training, therapists curb behavioral problems such as aggression, barking, jumping, gambling, and digging while teaching canine owners the leadership skills they need to make their pets feel confident and secure.
Bark Busters' confidence in their services allows them to offer a lifetime-support guarantee. If the dog's behavior does not improve, therapists will work with the client for one year or for the lifespan of the dog—depending on the service purchased—at no additional charge.
4043 E Gail Ct.
Gilbert
Arizona
480-588-0817
A locally owned and operated business, Goober Pet Direct keeps dogs, cats, birds, and other domesticated confidants in peak physical shape with thousands of high-quality, natural products. Brand-name foods, supplements, and treats team up to address a wide range of nutritional needs, infusing diets with ingredients that hoist health above all else. Treatments for allergies, joint issues, and weight management fill in the cracks for animals with more specific needs, and organic soaps and shampoos safely rinse away any dirt particles or neighborhood children lodged between tufts of fur. For added convenience, Goober provides free home delivery for orders exceeding $20, and the expert staff is there to answer any questions.
220 S Mulberry St.
Mesa
Arizona
480-668-4994
---