Seabrook, TX Health and Fitness
---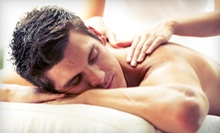 Custom Swedish massages ease aches and promote relaxation
---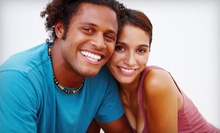 Dentists clean chompers with fluoride and unearth urgent dental issues with x-rays
---
Recommended Health & Fitness by Groupon Customers
---
If your eyes are the windows to your soul, your teeth are the white-picket fence-posts that protect the soul from oversized bites of taffy. Strengthen your defenses against attacks on the soul with today's Groupon to clean and healthy teeth. For $69, you'll get an exam, x-ray, and cleaning at 4Smiling Dentistry, led by cosmetic dentist Dr. Eric Ellis (a $572 value).Follow @Groupon_Says on Twitter.
4600 Fairmont Pkwy., Suite 204
Pasadena
Texas
US
Texas Boot Camp Fitness's certified trainers fortify physiques with an ever-shifting compendium of exercises performed in an outdoor setting. Attendees of all fitness levels sprint and jump toward fitness goals, lifting their own body weight when performing pushups, chin-ups, and acts of levitation. Arms hoist weights, resistance bands stretch between partners, and friendly competitions reveal hidden stores of stamina and strength. Pushing beyond pure leadership of boot-camp classes, instructors supplement workouts with nutritional guidance and lifestyle advice. In the interest of safe and easy mirroring, coaches emphasize clean technique rather than speed or the benefits of cloning.
7500 Fairmont Pkwy.
Pasadena
Texas
Board-certified orthodontist Vijay Bhagia has built a practice at Space Center Orthodontics that harnesses the latest digital technologies to correct patients' smiles. He uses cone-beam 3-D diagnostic imaging to capture detailed panoramic views of oral anatomy, such as bones, airways and sinuses, and rows of extra shark teeth. Once the terrain has been mapped out, the doctor helps to straighten misalignments in teeth and jaws. He and his staff fit adults or children with corrective equipment such as metal or clear braces, Invisalign aligners, and TMJ mouth guards.
The practice also puts an emphasis on patient comfort and enjoyment by outfitting the office with a slew of amenities. Its waiting room entertains patients in line for the dental chair with both Wii and PlayStation systems along with children's movies and fly-through visits by balloon geese. The office staff sews delight into mature crowds with a selection of intriguing books, news and entertainment magazines, and in-house ice cream to calm sweet-tooth cravings.
1140 Clear Lake City Blvd., Suite C
Houston
Texas
281-286-8945
Doctors and nurses at Physicians Weight Loss Centers guide width-whittling in medically supervised weight-loss programs. The programs give clients a jump-start on healthful eating and fitness habits, putting an end to diets composed solely of deep-fried wedding cakes. Diet counselors help clients reinvent their eating habits with the assistance of multivitamins and mineral tablets, which aim to suppress cravings for sugar while boosting metabolism. Vitamin-B12 and Vitamin Cocktail injections seek to increase energy and possible benefits also include strengthened concentration and a more chipper mood.
Some of the more intensive programs include complete doctor's exams, biometrics analyses, lab work, and EKGs. These programs can focus on the reduction of either carbohydrate or fat consumption.
5119 Fairmont Pkwy., Suite B
Pasadena
Texas
281-487-7952
When Kristen Horler had her first child, she, like many new mothers, found that the time demands of parenting made it difficult to exercise. The only workout options open to her were to hire an expensive personal trainer or call a babysitter each time she wanted to go to the gym. Luckily, Horler wasn't just a mom—she was also a group fitness instructor, personal trainer, and triathlete. She soon devised Baby boot camp, a stroller-fitness program that lets new moms and mothers to be engage in challenging workouts while interacting with their babies. StrollFit, the camp's most popular class, leads women through cardio drills, strength training, and gentle stretching routines, ending it all with an intense ab workout designed to whittle down baby weight and redefine the meaning of "tummy time." They also host Strollga, a yoga-inspired fitness class that uses strollers as props, and even lead an eight-week 5K training program.
1201 Lake Woodland Dr.
The Woodlands
Texas
713-480-3599
Dr. Cobbs and the staff at Charisse Cobbs, D.D.S. believe that individual attention is the key to long-lasting professional relationships, which is why they perform general and cosmetic dentistry based on each patient's health-related, financial, and social requirements. They help maintain mouths with procedures including bridges, crowns, limited root canals, and oral surgeries. Cosmetic treatments, such as Invisalign, Zoom whitening, and veneers, help to rearrange smiles, far surpassing the old technique of taping pictures of smiles over one's mouth.
17030 El Camino Real
Houston
Texas
281-488-1227
---