Restaurants in Seabrook
---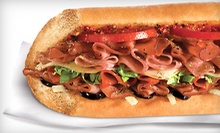 Toasted rolls encase fillings such as mesquite chicken, Black Angus beef, and peppercorn prime rib at this national sandwich shop
Use Sunday 11:00am - 7:00pm
---
Recommended Restaurants by Groupon Customers
---
Though John Ly grew up helping out in the kitchen of his family's restaurants, his parents never wanted him to become a chef. The restaurant industry is competitive, they warned him—a lot of hard work with little recognition. Heeding their advice, Ly began pursuing a degree in computer science at the University of Texas, but soon realized that he longed for the creativity and chaos of the kitchen. Propelled by his passion for food and cooking, Ly renounced his degree and enrolled in culinary school. After years spent working his way up through scrubbing floors, washing dishes, and absorbing his managing chef's techniques, Ly finally spearheaded La Strada Restaurant & Bar—naming the restaurant after the word for "different layers" to reflect the diverse international influences of his cooking.
As executive chef, Ly captains his kitchen crew as they artfully plate innovative, contemporary fusion dishes using seasonal ingredients, earning the restaurant Hungry in Houston's Best Restaurant award in 2010. His pan-seared sea bass, cinnamon-rubbed rib eye, and spicy habanero-infused sausage dishes have also enticed the taste buds of reporters from the Houston Press. Ly staffs his modern dining room with a friendly team of servers, while offering up an expansive outdoor patio, an ideal spot for a date night or celebrating recent acquisitions of rival rent-a-bobcat businesses.
122 Vintage Park Blvd., Suite A
Houston
Texas
281-379-2889
Aiming to up the availability of hand-plucked, juicy goodness, The Fruit Palette incorporates fresh, never-frozen fruit in all its selections. Fresh fruit crepes can be crafted in accordance with your dreams with create-your-own-crepe options ($3.99), while The Fruit Palette's hot chocolate, made from all-natural cocoa, provides a tummy-warming alternative to swallowing lava ($2.99 for 16 ounces). On the original menu you'll find 16-ounce fruit-spiked waters, including exotic aqua with strawberry, coconut, or pineapple ($2.99 to $3.49) or try a 24-ounce premium pour with watermelon, lime, and melon ($3.29 to $3.69). For heartier fixes, opt for a green salad ($6.50)—go for the avocado passion with goat cheese, grapefruit, red onion, orange, and mixed romaine tossed with lime vinaigrette; or try the signature salad with strawberry, feta cheese, candied walnuts, and jicama (a sweet edible root). You'll also find fruit salads ($5.99), more than 20 flavors of frozen fruit bars ($3.29 to $3.69), and fruit teas.
2413 Rice Blvd.
Houston
Texas
Steak and seafood are at the heart of many favorite dishes, and Joyce's Seafood and Steaks is the diary entry that houses that heart's most savory spewings. In addition to fried underwater favorites such as the calamari appetizer ($7.95) and the fried jumbo-shrimp platter ($14.95), Joyce's serves up a full menu of creative seafood dishes that will make your belly slosh with joy. Blackened-catfish enchiladas topped with six-pack sauce are a house specialty ($11.95), as are the New Orleans–style barbecue shrimp sautéed with Shiner Bock beer ($18.95). The filet mignon dishes up 5 ounces of aromatic protein, prepared with certified Premium Choice tenderloin and happily grilled in a port demi-glaze ($23.95). The menu also offers numerous options for recovering seafood and steak addicts, including the delicious Chicken Divia, lightly floured and sautéed with citrus butter and capers ($14.95). If you seem to have a bovine quantity of stomachs, fill up your third belly with Frangelico-soaked pecan crème brûlée or white-chocolate bread pudding.
6415 San Felipe Road
Houston
Texas
With five sizes of burger, 28 free toppings, and up to 378,000 possible flavor combinations for shakes and malts, Cheeburger Cheeburger is a perfect stop for picky eaters and brilliant statisticians alike. This national 50s-style burger joint is notable for its sweeping menu of sandwiches, platters, and shakes, as well as its commitment to quality ingredients, such as Naturewell natural Angus beef. Everything is cooked to order, including the fresh-cut fries ($2.29–$4.29) and battered onion rings ($2.99–$4.99). Burgers range from the Classic ($5.29), weighing in at 5.5 ounces before cooking, to the signature Famous Pounder, a 20-ounce slab of bovine ecstasy ($10.99). Champion beefeaters can earn their photograph on the "Wall of Fame" for slaying this burger behemoth. Herbivores can opt for the grilled portobello-mushroom melt with sautéed onions and swiss cheese on rye ($7.49), or the veggie burger ($6.99), whereas lovers of air-meat can indulge in the My Bleu Chicken ($7.49), a grilled chicken breast smothered in swiss and blue cheese. Carbophobes can avoid filling up on bread with bun-free CheePlatters, sandwich fillings served with choice of cheese, toppings, side, dipping sauce, side salad or coleslaw, and sautéed onions ($9.99), or meal-sized, custom salads (starting at $6.99).
106 Vintage Park Blvd.
Houston
Texas
Dark wood and glowing lamps create an inviting atmosphere inside The M&M Restaurant & Bar, maintaining the building's place as a local institution in three centuries. Built for $500 in 1844, the restaurant has served generations of diners and even withstood the deadly hurricane of 1900. Changing hands and identities across the years, The M&M served as a saloon at the turn of the century, a grocer through Prohibition, and a boarding house during community productions of Oliver!. Today, chefs put together a menu that focuses on fresh seafood and juicy cuts of seared meats complemented by a rousing selection of libations. Families gather around tables topped with white linens or booths lined with green and brown fabrics, and summer months coax guests out onto the spacious patio.
2401 Church Street
Galveston
Texas
US
409-766-7170
The menu at Bakkhus is loaded with traditional Greek recipes with modern twists and shouts. Start off a meal with an appetizer such as fire feta dip, which adds Serrano peppers, olive oil, and spices to the Greek cheese for a spicy pita-chip-dipping delight ($7.95), or a hot plate of loukanika, the Greek sausage ($8.95). Evening diners sup on a traditional gyro platter ($13.95) or the snapper Santorini ($21.95). But Bakkhus's lunch specialties perform the Herculean feat of freeing Prometheus from plastic-baggie handcuffs. From 11 a.m. to 3 p.m. during the week, come in for a Mykonos burger (half pound Angus patty marinated in red wine and topped with jalapeños and pineapple, $8.95), a plate of kefte pasta (angel hair with Greek meatballs and crumbled feta, $9.95), or an old-school gyro pita complete with tzatziki ($7.95) with a side of spanakopita ($4.75).
605 6th St., Suite A
Kemah
Texas
---