Theme & Amusement Parks in Seabrook
---
Theme & Amusement Park Deals
---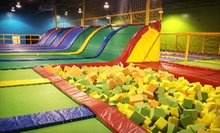 Use Today 11:00am - 9:00pm
---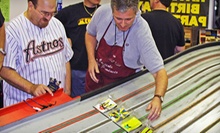 Use Saturday 11:00am - 9:00pm
---
Recommended Theme & Amusement Parks by Groupon Customers
---
With the sound of fast-approaching engines roaring in your ear, you jam your foot down even harder on the gas pedal and narrow your eyes at the upcoming left-hand turn, determined not to let up even for an instant. If you do, there's a good chance that your new view will consist of your competition gloating triumphantly while they zip past you on the track. You may only be driving a GT-5 Sodikart, and not a tricked-out racecar, but you absolutely refuse to let any of the other adult or—gulp—junior drivers beat you.
Track 21 lets speed-demons careen around one of three indoor go-kart tracks at speeds of up to 40 mph as they try to edge past other karts, competing with fellow birthday partiers or coworkers to reach the finish line before it decides to become a finish wall. In case competition gets too fierce, the karts are surrounded by heavy nylon bumpers and rubber blocks designed to absorb impact from all sides.
Friendly rivalries continue on foot inside Area 21, a two-story laser-tag battleground beset with fog, obstacles, and space-age scenery. Sharpshooters zap each other's targets in pursuit of a grander mission, such as capturing the opposing base or stealing the enemy's supply of light, before matches end and scores are tallied on a stats sheet. Glowing decor also illuminates a jungle-themed nine-hole mini-golf course, where gorilla and lion statues bask in the black lights. Track 21's arcade demands timing and button-smashing dexterity from gamers, and a track-side casino sets up rounds of blackjack, poker, and craps.
4815 Hwy. 6 N
Houston
Texas
281-200-2600
Becoming a stock car racer requires commitment and hard work, but at MSR Houston, all you have to do to ride in a stock car is open its door. Alternatively, visitors can hop aboard 9 HP Honda go-karts, rounding the 0.7-mile karting track's 17 turns and zooming down its quarter-mile straightaway at top speeds of more than 45 mph. These drives follow a precedent set by professionals; the 383-acre center is a sanctioned test site for the Izod Indy Car Series, Firestone Indy Lights, and Formula 2000, among many others.
1 Performance Dr.
Angleton
Texas
It's not everywhere that a full speed collision results in peals of laughter—and it's kind of rare to see a roller coaster rise and fall under a roof—but at It'z Family Food and Fun expectations tend to shatter. The muffled crashes of bumper cars swell and dissipate near the soft clatter of a small roller coaster, while youngsters scale a nearby 20-foot rock-climbing wall and grip the controls of more than 150 blinking, buzzing video-game consoles. But this utopic play land isn't for children alone. Adults can tap into their inner kid during a game of laser tag or regret never having equipped their sedan with a nitrous booster after a speed-courting spin in a go-kart. One of the multi-state franchise's most popular features, though, is bowling. Each location spreads out regulation-size Brunswick lanes equipped with black lights, automatic scoring, and lounge areas brimming with comfort couches, as well as mini lanes for children and adults who need a height-affirming self-esteem boost.
To keep their guests fueled, the staff also operates a buffet, where visitors choose from more than 40 salad fixings, al-dente pasta in an assortment of signature sauces, and oven-baked pizzas topped with italian sausage, basil, and jalapenos. Four dining rooms enhance meals with different themes: the vintage diner with cosmic black and silver chrome, as well as a stage and film screen, or the cartoon-themed cafeteria with checkered floors, Technicolor walls, and red benches.
18355 Tomball Pkwy.
Houston
Texas
Shankz Black Light Miniature Golf has two locations that encompass 18 holes apiece, with each course set aglow in neon and covered with exotic creatures. As they travel through the indoor facilities, each putter must navigate around wrecked pirate ships, shoot between stubby dinosaur legs, and wrest their clubs from the mouths of tigers in what typically amounts to a 35- to 60-minute round of golf. To accentuate the course's glowing artwork and scenery, golfers can opt to put on a pair of 3-D glasses. Beyond the neon greens, Shankz also features the Balladium and Ballaster game rooms, in which competitors fire Nerf balls from air cannons at targets and at each other to score points and ward off encroaching Nerf army tanks.
3091 College Park Dr.
The Woodlands
Texas
936-273-4569
The jungle would be a safer place if the chin-high grass, towering trees, and wild animals were painted on the walls and everything three-dimensional was inflatable. This dream of a danger-free nature preserve comes to life at Jump N Jungle. Voted the Best Kids' Party Place in the Bay Area Citizen Reader's Choice Awards, the jungle lets kids leap toward the rafters on inflatable jumpers, test the bounds of gravity on giant slides, and navigate an unending labyrinth of mazes and obstacle courses. Both locations play host to weekend birthday gatherings by supplying invitations, plates and plastic cutlery, as well as staff supervision in the party room and play areas. Additionally, its childcare services include an educational curriculum for toddlers and preschoolers, as well as before school and afterschool activities for older children.
20810 Gulf Fwy.
Webster
Texas
281-557-0700
A massive gorilla snarls from the rafters above Putt-Putt Fun House's café, powerless to snatch the ice-cream cones and hot dogs from smiling kids' hands. Indeed, kids are control at the family fun center, leading parents through a variety of indoor and outdoor attractions ranging from mini-golf to laser tag. Waterfalls, ponds, and flowerbeds surround two 18-hole mini-golf courses, 22-foot climbing towers recreate the experience of scaling limestone, and bumper cars teach reckless young drivers to safely exchange insurance information.
806 East Nasa Parkway
Webster
Texas
281-333-0579
---