Seaside, CA Health and Fitness
---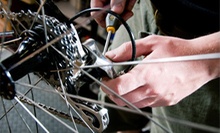 Bike shop with friendly staff & merch divided into "experience areas" makes shopping easy for cyclists ranging from beginners to experts
Use Today 3:00pm - 6:00pm
---
Recommended Health & Fitness by Groupon Customers
---
The compassionate practitioners at People's Integrative Medicine & Acupuncture perform holistic wellness services with integrity and humility, frequently collaborating with one another in the open clinic setting. Inside a sunlit studio, they help sooth sore muscles and straightened misaligned qi through massage, craniosacral therapy, naturopathy, and acupuncture treatments, which place all patients in the same quiet space rather than in private treatment rooms. They also outline plans to achieve long-term health goals and prescribe ethically harvested herbs and supplements to accompany these plans. All of these efforts chase a company-wide mission to help patients navigate the path to personal wellness, since it has yet to be added to the databases of most GPS systems.
4170 Gross Rd. Extension, Suite 6
Capitola
California
831-464-1605
Though the phrase "bone harvesting" may sound more at home in a science-fiction movie than a dental office, Creek View Dental Group's experienced technicians are quick to set their patients' minds at ease. In dentistry, they explain, bone harvesting is merely a procedure that can give a thin jaw the thickness it needs to support dental implants.
The office's trio of dentists specializes in bone harvesting and other general, cosmetic, and restorative procedures. A friendly staff assists the dentists, diffusing any anxieties with warm smiles and gentle touch. If that's not enough, the office offers a range of oral and IV sedation treatments that can help patients overcome their fears of pain and of their mouths being invaded by buzzing, insectoid tooth fairies.
9059 Soquel Dr., Suite A
Aptos
California
831-688-6531
Dr. Jasbir Cheema knows his way around general- and cosmetic-dentistry treatments and technology, and his expertise guides the team of managing and associate dentists. His skill with Invisalign systems has earned him Super Elite Invisalign Provider status from the makers of Invisalign, who awarded him this designation as he's treated 3,000 patients with the clear braces and treats at least 500 Invisalign patients every six months. With the i-CAT 3-D cone-imaging system, he can peer into noggins to see his clients' tooth configurations and the constantly expanding universe inside of them with meticulous clarity.
5645 Silver Creek Valey Road, Suite 201
San Jose
California
US
408-270-8000
Dr. Suman Kumar leads the staff at Accu Dental in nurturing patients' oral health with the latest health systems. Digital x-ray machines attached to high-definition monitors gift them with meticulous images for diagnosis. Precise, clean cuts are made with soft-tissue lasers that decrease healing time and entertain bicuspids suffering from ennui. This dedication resonates with patients and professionals alike—the office receives praise regularly from current patients, and in 2012 was named an Elite Preferred Provider by Invisalign.
1171 Homestead Rd., Suite 175
Santa Clara
California
408-247-2612
Dr. Kusum Atraya leads the Gilroy Family Dental Center's staff as they keep mouths healthy and smiles beaming with family-focused dental care and cosmetic procedures. Standard dental services restore and maintain mouths, and beautifying services such as whitening keep chompers radiant enough to light homes during blackouts. Dr. Atraya attends dental courses throughout the year to keep up with the latest trends, and talks with each patient about proper oral hygiene during visits. During most treatments, patients can listen to music or nap while they dream about a possible career as a toothpaste spokesperson. Gilroy Family Dental Center also offers Invisalign and Lumineers.
700 W 6th St., Suite D
Gilroy
California
With massaging dental chairs, flat-screen televisions, and expansive windows, Butterfly Dental Care puts creature comforts at the forefront of all their treatments. The clinic's dedication to distractions, be they pre-treatment massages or meditative music, benefit patients visiting for a routine cleaning, implant, or root canal. To expedite the checkup process, the staff uses technology such as intra-oral cameras and computerized check-in services. Even the number of office visits is minimized with their free consultation service, which gives patients the option of expressing dental concerns over the phone, via webcam, or during heated Pictionary tournaments.
4302 Moorpark Ave.
San Jose
California
408-255-7767
---