Seattle Gyms and Fitness
---
---
Seattle Gym, Exercise, And Weightloss Guide
Seattle is one of the most active cities in the United States, so it should come as little surprise that quality Seattle gyms can be found throughout the city. Residents like to keep in shape so that they can get the most out of the abundant running, biking, skiing, and hiking opportunities that the city and its surroundings present. Thus, top-notch exercise and weightloss instruction and equipment are never far away. Many Seattleites find that yoga is a great way to keep their minds, bodies, and souls tuned in a single workout. Seattle yoga studios throughout the city enable them to practice a variety of different disciplines, including Ashtanga, Bikram, Hatha, and Vinyasa. All levels are welcome in Seattle's best studios such as
Spira Power Yoga
in West Seattle and Seattle Yoga Arts on Capitol Hill. The Samarya Center in the Central District even offers occasional free classes in addition to their otherwise reasonably-priced courses. Seattle pilates studios also help city residents stay healthy and fit through classes of varying intensity. LAB5Fitness on Capitol Hill is especially welcoming to neophytes of the discipline, offering free classes to help them get started. The attentive and knowledgeable instructors at Inspire in Queen Anne ensure maximum efficiency during workouts and quick results. For those trying to shed a few extra pounds, Seattle has some fantastic weightloss programs. The fitness experts at the Ballard Health Club in Ballard and Zum in Belltown help clients accomplish their goals quickly and reserve judgement. Crossfit has also hit the city in a big way, and those who prefer its higher-intensity approach to getting in shape can sign up for a course at CrossFit 206 in Madrona or O.G.E.R Crossfit in Belltown.
Seattle pilates studios also help city residents stay healthy and fit through classes of varying intensity.
Gym, Exercise, Weightloss Deals
---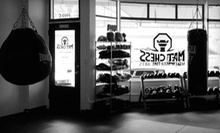 Gym led by 3 experts in respective MMA disciplines offers 2+ hours of open mat every day for work on striking, wrestling & ground work
Use Today 5:30pm - 9:00pm
---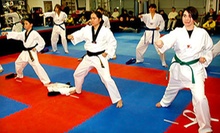 In studio led by ninth-degree black belt, exercises, kicks & simple routines according to each individual abilities build focus & fitness
Use Tuesday 9:00am - 4:00pm
---
Recommended Gym, Exercise, Weightloss by Groupon Customers
---
Aside from covering your body with pepper and entering the fetal position, the human knows a limited number of self-defense techniques. Today's side deal educates you in the Japanese martial art of aikido with eight classes, a month's worth, at Washington Aiki Kwai for $40. With two classes a week—Mondays from 7 p.m. to 9 p.m. and Saturdays from 11 a.m. to 1 p.m.—you'll work with instructor John Kanetomi to learn to defend yourself while not inflicting pain on your attacker, thus making you a benevolent almost-victim.
4501 Interlake Ave N #6
Seattle
Washington
The sounds of stretch-induced groans and enthusiastic high-fives echo throughout the workout rooms at New World Fitness, an all-purpose facility that opens its doors to members of any age and fitness level. Though each of the gym's group fitness classes blends a results-oriented workout with a healthy dose of social interaction, the similarities tend to end there. Toning workouts such as the Ab Blaster target core muscles with short, intense exercises—a marked contrast to the relaxed stretches of a yoga session that slowly eases tension out of overworked limbs. Feet lead the way through aerobics classes based on the movements of martial arts and dance. The gym's indoor pool hosts an aquatic-therapy program alongside joint-friendly Aquafit classes, after which guests can dry off with a sprint around the indoor track.
3511 NE 105th Street
Seattle
Washington
US
206-658-7658
Founded in 2010 by a group of veteran badminton players, including former head coach of Team USA Wendy Carter, Seattle Badminton Club provides plenty of space and opportunities to enjoy the fast, exciting sport. Ten regulation-size courts host bouts between players of all skill levels during drop-in matches and organized leagues. The gym also offers lessons for children and adults, imparting both the basic techniques to make proper shots and the competitive skills to wrestle birdies away from hunting dogs' mouths.
10858 117th Pl. NE
Kirkland
Washington
425-889-5958
After his high-school and college sports careers ended, Nathan Schroeder was bummed out, but hardly done with being active. He turned to boxing as a means to keep his body spry. Eventually, he also immersed himself in CrossFit, which contributed the strength-building component that his cardiovascular punching workout had been lacking. Having since amassed boxing prowess, knowledge of functional-fitness maneuvers, and a host of nutrition strategies, Nathan felt compelled to share his program through a specialized venue: Ballard Barbell and Boxing Club.
Today he ushers clients of all backgrounds toward their conditioning goals with hourlong classes. His routines change daily to blend boxing combinations with CrossFit elements such as Olympic weightlifting, prepping his most advanced students to wield barbells as hidden weapons in the ring. An impressive list of certifications—including such titles as Level 1 CrossFit instructor, USA Boxing coach, and nutritional therapist practitioner—backs Nathan's commitment to the club's members
1107 NW 54th St.
Seattle
Washington
206-384-8026
Chris Ransier, Gary Blackburn, and Aaron Egbert are unified by their belief that the latest fitness trends fall flat. To offer an alternative to the ubiquitous ineffective fad workouts, they combined their extensive experience and knowledge to found Forward Fitness, welcoming clients to meet their health and weight-loss goals through functional fitness. The trio's high-intensity Trx power-circuit classes draw on cardio and resistance training to condition bodies with functional-training equipment including Trx suspension bands, free weights, and exercise balls.

Each of the trainers' brains brims with health and fitness knowledge. Chris, who served in the Marines for eight years, boasts multiple certifications from the National Academy of Sports Medicine—which is where Aaron received his personal-training certification to build on his kinesiology degree. Gary Blackburn is a certified chiropractic sports physician and a founding member of the ICA Council on Fitness and Sports Health Science. If their academic training hasn't equipped them to motivate patrons of all fitness levels, their experience has. Among the three of them, they've led a combined total of more than 13,000 personal- training sessions and have said "Great job!" 65,869 times.
216 S Tobin St.
Renton
Washington
425-970-3492
Redmond Athletic Club stands as a ziggurat built in honor of fitness. The 7,500-square-foot space resonates with music, vibrant colors, and natural light as personal trainers walk the spacious floors helping exercisers zero in on fitness goals. The open layout inspires exercisers as they gaze over rows of Precor ellipticals and exercise balls, stretch in the warmup area, or jog on treadmills. A strength-training room teems with equipment such as plate-loaded machines and free weights. Dry saunas and complimentary towel service soothe sore muscles after adventures in sweating and sculpting. From a childcare staff that watches over kids at the Kids Club while parents work out to the group of trainers, RAC's crack team of employees dehassles the gym experience.
8709 161st Ave. NE
Redmond
Washington
US
---