Hair Salons in Seattle
---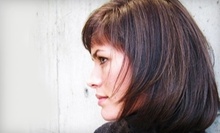 Use Today 10:00am - 5:00pm
---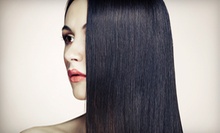 Equipped with products from brands such as Marcia Teixeira and Moroccanoil, stylists trim and highlight hair between powder-blue walls
Use Today 10:00am - 9:00pm
---
Recommended Hair Salon by Groupon Customers
---
Revive your roots and tend to your tresses with today's Groupon. For $50, you get $100 worth of salon services at Haven, a secret garden-like salon that Seattle Magazine calls "an oasis of calm," not "the second-best Beatles album."Running From: Ghosts or monsters Potential Haven: Boarded-up old mansion
5810 24th Ave. NW
Seattle
Washington
US
Whether you need a new 'do for your next album cover, or you want to make a good impression at a job interview for the album photographer position, Emerson Salon can give you a cut, color, or style that's easy to care for and looks great even when you style it yourself. Located in the Capitol Hill area, Emerson Salon has a fun and casual atmosphere, with rich wooden interiors and large storefront windows. Watch the hustle and bustle of the city from the comfort of your chair as the masters of style give you the perfect look. Services range from a standard style cut ($40) and hue-enhancing highlights ($55), to deep conditioning ($25) and updos (contact salon for pricing). Each of Emerson's stylists is a master hair shaman who knows how to snip, dye, and charm the most distraught bristles, frizzies, and Medusa head-snakes. They sense your innermost hair yearnings, then direct their careful scissors in tune with your thoughts and dreams, letting their creative forces flow wildly onto your scalp for a haircut that revolutionizes the way you look in the mirror—inside and out. Afterward, in the streets, you might find that your magnificent mane busts the binds of its bowler hat and leaps into sunshine, dappling the dark alleyways of careless coiffures.
909 E Pike St.
Seattle
Washington
US
Aversion to expensive haircuts is a natural reaction when only thousands of years ago pet sloths snipped our locks with sharpened rocks for free. Today's Groupon makes hair styling affordable again with a haircut, styling, and blow-drying at The Gilt Edge Society for $25. A new society-approved look will inhabit your cranium like a bonobo in a vegetable garden.
2312 4th Ave.
Seattle
Washington
US
While your sock collection may be a direct rip-off of the miniature socks that lined your dollhouse's holiday mantle, your hair is a one-of-a-kind player that shines on its own strict terms. The follicle team behind all of Sassoon's salons will assess your personal style to create a custom look that flatters your face-shape, complexion, and X-Files fandom. Alter previously conceived notions of length with a professional haircut ($80+), or welcome in the summery breeze of a blow-dry with a treatment cut ($95+). For hair that is too much of one color and not enough of another, a thorough color change transforms your visage ($75+).
1405 Fifth Ave.
Seattle
Washington
Amid a welcoming and relaxed atmosphere, BaBaLouise patrons can acquire top-notch hair trimming and waxing services that will leave them prim and sleek enough to bait complimentary remarks from coworkers and dolphin. The salon's talented staff of stylists and voodoo hair-hexers will expertly shape coiffures and diminish bushy follicle foliage among lads and lassies alike. Men can achieve a sustainable hair farm with a buzz cut ($10+), while locks of a more ladylike length can get judiciously edited with long cut or bob ($36+). Beards or bangs can be trimmed for $5, while monochromatic manes can be transformed into Technicolor tresses with a coloring ($55+). BaBaLouise is also quite adept at blowouts and updos ($45+), foils and bleaches ($65+), and conditioning treatments ($25–$35).
616 NW 65th St.
Seattle
Washington
The aroma of percolating coffee drifts from the espresso bar past sleepy-eyed Buddha statues as the in-house DJ spins a never-ending sonic web of music. Though these decadent details lend the sprawling, deep-brown surroundings the chic feel of an art gallery or café, it is SEVEN Salon that calls the space home. Focused on bolstering energy and rejuvenation rather than relaxation, a seasoned crew of stylists bustles about the refined salon throughout the day, drawing on styling skills they learned under the tutelage of Graham Breakwell, former stylist to the likes of Paul McCartney and The Who.
101 Bellevue Sq., Floor 1
Bellevue
Washington
425-289-1777
---