Schools & Tutors in Seattle
---
---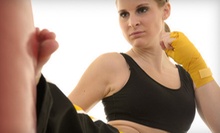 While bolstering fitness, instructors impart defense skills designed for real-life situations and used by Israeli Defense Forces
Use Saturday 8:30am - 11:30am
---
Recommended Schools & Tutors by Groupon Customers
---
Since 1995, Best in Class Education Center's instructors have aided students of all ages—from pre-K tots to high school seniors—in their academic journeys. They calibrate small-group and private math and English lessons that push each student at an individualized pace, helping struggling students catch up to speed or edifying advanced pupils seeking more of a challenge. The tutors give homework assignments for the kids to work on throughout the week, as well as administer weekly tests to assess their progress.
In addition to boosting success in current classes, the staff helps older students ready themselves for post-secondary schooling with SAT prep classes and college admission workshops, which help applicants decide on the right place, craft an impressive personal statement, and shimmy into their dream school's mascot costume before campus visits.
2100 E Spruce St.
Seattle
Washington
206-341-9914
Bearing the titles of Master of Photography and Photographic Craftsman from Professional Photographers of America, David and Ally McKay embody the keen vision and aesthetic prowess that separated good photographers from great ones. They share these skills during classes at McKay Photography Academy, where they train eyes, fingers, and imaginations to work in tandem as a snapshooting dream machine. Their classes help aspiring photographers progress from neophytes to seasoned pros; the Beginning Digital Photography course teaches students to harness the intricacies of their instruments, and the Pro Academy offers inside tips on how to successfully snap wedding portraits, pose recent grads, or tease out candid emotions. When not busy instructing the next generation of shutterbugs, David and Ally also devise photo safaris, which send small teams of photographers to capture shots of famed landmarks including San Francisco's Golden Gate Bridge; the Lincoln Memorial of Washington, DC; or Yosemite's 60-foot statue of Yogi Bear.
20610 44th Ave. W
Lynnwood
Washington
A poorly trained barista in front of a top-notch espresso machine is like an 8-year-old behind the wheel of a car—he has no idea the power before him, nor how to use it. Enter owner Bob Burgess—a specialty-beverage entrepreneur for more than 39 years—and his team at Seattle Barista Academy. For just less than a decade, Burgess and company have taught intense hands-on training programs that focus on crafting coffee, espresso, cappuccino, macchiato, and mocha drinks using advanced techniques and equipment. From learning the life cycle of a coffee bean to mastering grinding methods, extraction techniques, and latte art, students walk away with a wealth of knowledge that makes them more employable. Like deeply unpopular one-man shows, the classes consist of one-on-one attention, since class sizes are limited to no more than seven participants. The school provides educational materials and CDs for each course, and complimentary shuttle services are available both to and from the class.
Seattle Barista Academy's staff members—all of whom have been coffee-shop and kiosk owners at some point in their careers—also provide consultation services for owners and soon-to-be owners of coffee establishments. These sessions provide clients with the coffee-making and marketing knowledge they need to grow their coffee cart, kiosk, or fort built from coffee beans.
1621 Central Ave. S, Suite 26
Kent
Washington
US
800-927-3286
West Seattle Fabric Company's sewing emporium extends to the new Stitch and Sew Studio, which is located down the street from the fabric store. Within this creative haven, guests are encouraged to flex their imagination with the studio's collection of easy-to-use sewing machines and ample work surfaces. In the bright, open studio, instructors teach patrons of all skill levels—during classes, events, and parties—sewing and quilting tips and tricks. From alteration lessons to quilt binding and mending, new Stich and Sew Studio provides clear and simple instruction in a friendly and casual atmosphere. And during open sewing sessions and sewing classes, staff members dispense pro tips as students harness the studio's patterns and tools to whip up pillow shams, dresses, and curtains to shade their stuffed animal cloning lab.
2210 California Ave. SW
Seattle
WA
US
206-257-1083
---