Theme & Amusement Parks in Seattle
---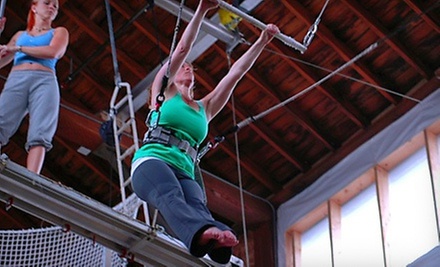 ---
Theme & Amusement Park Deals
---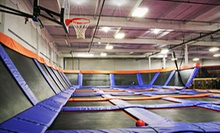 9,000 square feet of trampolines & foam pits let visitors jump, flip & burn calories; evening events serve pizza & water
---
Recommended Theme & Amusement Parks by Groupon Customers
---
The buzz of motors rises and falls as bright-red blurs zip around the track at PGP Motorsports Park. Here, in the shadow of Mount Rainier, racers ages 15 and older loop around an 8/10-mile track at speeds of up to 48 miles per hour, leaning back in the ergonomic seats of Italian-built Birel N35 karts. The 30-foot-wide asphalt track can be altered to take on 12 different configurations and is centered in a velodrome, which puts spectators at an elevated angle so they get a good line of sight no matter where they sit.
For safety reasons, drivers should wear long sleeves and pants and closed-toe shoes. Drivers are equipped with helmets and driving suits, and since races take place rain or shine, they will also be provided with rain gear that includes waterproof gloves and booties.
31001 144th Avenue SE
Kent
Washington
253-639-7223
Not only is the Seattle Aquarium the ninth largest of its kind in the United States—with more than 22 million visitors since its opening in 1977—it is also an integral center for marine conservation and education. The exhibits display stunning creatures of land and sea, and staff biologists study the aquatic tenants to conduct critical research on giant Pacific octopuses, sixgill sharks, sea otters, and other indigenous animals.
Though the Seattle Aquarium is an advanced center for research, it isn't all serious business and otters wearing lab coats—it also hosts numerous interactive exhibits and displays to please young and old alike. The Marine Mammals exhibit puts visitors up close with sea otters, playful river otters, harbor seals, and fur seals. The Pacific Coral Reef exhibit displays visually stunning and vibrant tropical fish, and the 120,000-gallon Windows on Washington Waters exhibit provides a floor-to-ceiling view of hundreds of Puget Sound fish, including salmon, lingcod, rockfish, and wolf eels.
The Seattle Aquarium also stays actively involved with the community. The aquarium's biologists partner with local divers to take an annual octopus census, and each year the center trains more than 150 volunteers to teach visitors about the ecosystems of local beaches.
1483 Alaskan Way
Seattle
Washington
Traxx Indoor Raceway measures out adrenaline in seconds. It takes a go-kart just 23 seconds to careen around the indoor 1/5-mile track once, and 45 seconds for it to crest the 1/4-mile outdoor track's hill and swoop around its smooth turns back to the starting line. Drivers can reach speeds of 35 miles per hour in the SODI GT2 gas-powered karts, so the track provides helmets, jumpsuits, and notes from their mother to keep the racers safe. All contests last 20 laps or up to 15 minutes, except for the Traxx 100, a monthly marathon when 10 drivers rumble around the outdoor track 50 times.
Although drivers on the main track must be at least 14 years old, the team is committed to spreading the excitement around. Kids aged 3–10 gear up and hop into electric cars, zipping around their own four-turn track under the watchful eyes of attendants. Among other carnivalesque distractions, the colorful facility boasts an arcade and a 24-foot climbing wall to thrill jaded teenage thumbs, as well as a checker-themed banquet hall that seats up to 150 people for parties and team-building events.
4329 Chennault Beach Rd.
Mukilteo
Washington
SkyMania! Trampolines' general manager Nancy Burritt believes she's found a formidable tool to fight childhood obesity: the trampoline. Jumps and flips atop its springy surface fuse excitement with a heavy dose of exercise, melting away pounds without the mini-humans even noticing. But it isn't just children that gain slimmer physiques and a newfound respect for kangaroos amid SkyMania! Trampolines' 9,000 square feet of wall-to-wall trampolines and foam pits. The facility plays host to everything from corporate team building to graduations and bachelor parties. "Our main goal is to give people a safe place to spend an evening and have fun," Ms. Burritt says.
This commitment to fun leads the staff at SkyMania!—many of whom have lost weight themselves—to incorporate traditional sports and exercise to the trampoline-filled environment. They host dodge-ball tournaments and lead volleyball matches. SkyRobics, one of the more popular classes, incorporates weights, bands, and mid-air fist bumps into a low-impact workout. Though the activities are diverse, Ms. Burritt thinks each one accomplishes a shared goal: "To make people happy."
11801 NE 116th St.
Kirkland
Washington
425-825-7599
GameWorks fosters friendly competition between kids and adults by surrounding pizza, draft beer, and half-pound burgers with a mosaic of interactive pursuits. Each location holds more than 150 arcade-style games, which include racing and shooting challenges from Sega as well as lower-tech classics such as pinball.
1511 7th Ave.
Seattle
Washington
206-521-0952
Jumpin Jack & Jill fills its 2,500-square-foot floor with a medley of tot-friendly attractions anchored by three plush inflatables. The three bounce houses form a cushiony community in one corner of the floor, replete with a slide, an enclosed shelter for carefree jumping, and a tunnel for clandestine exchanges of action-figure hostages. An area reserved for toddlers facilitates more placid play with simpler toys including a hobbyhorse and sliding-bead play centers. The space also encompasses an arcade area, an air-hockey table, and three snack tables for mid-play replenishment. As kids buzz through the fun center like juice-box-charged particles, parents can relax in the glow of a flat-panel TV or harness the waves of the complimentary wireless network. Jumpin Jack & Jill shutters its doors for private party packages and rents out bounce houses for at-home celebrations in customers' own yards.
15718 Main St. E
Sumner
Washington
253-826-5867
---