Beauty & Spas in Security-Widefield
---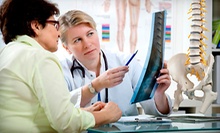 A chiropractic team exposes pinched nerves with exams and relieves them with gentle adjustments, massages, and therapies
---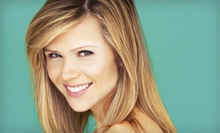 Haircuts benefit from a deep-conditioning treatment, shimmer with semipermanent color, or show off new dimension with partial highlights
---
Recommended Beauty & Spas by Groupon Customers
---
Laser light is a quick, painless, and effective method for removing unwanted hair. A long-pulse, high-energy laser emits a gentle beam of light that harmlessly passes through the skin and directly targets follicles, effectively treating unwanted hair. Unlike the lasers utilized by popular film hero and 2010 California gubernatorial hopeful Iron Man, these friendly beams are easy, comfortable, and treat hair follicles faster than other methods. Treatments are spaced out over a four-to-six-week interval, depending on skin type and sensitivity, and are good for hair removal on one of the following areas: the chin, upper lip, side burns, back of the neck, under arms, or bikini area.
202 E Cheyenne Mountain Blvd.
Colorado Springs
Colorado
At Touch of Class Nail Salon, recently merged with Nails by Tonya, Tonya Hudnall guides a staff of professionals who gussy up digits with a full palette of different polishes. They transform nails with traditional manicures and pedicures, adorn them with acrylic tips and French polish, and banish calluses with sugar scrubs. In addition to traditional services, they offer glitter polish for added sparkle and gel formulas that not only resist chips, but can still be removed by acetone or really menacing growls.
3609 Austin Bluffs Pkwy #18
Colorado Springs
Colorado
Fountain of Youth Skin Care's skilled aestheticians restore skin to a glowing, youthful state with vitamin-infused serums and organic scrubs. Their popular organic enzyme facial, for example, hydrates and rejuvenates skin cells with natural enzymes and fruit extracts. Though they pride themselves on using all-natural ingredients, the spa's aestheticians don't shy away from advanced treatments such as chemical peels and MicroPhototherapy facials. The latter of these combats signs of aging with collagen-stimulating pulses of heat and light energy, and its lack of abrasives means that no downtime is necessary for recovery.
Facials may be front and center on the spa's menu, but the staff also tends to skin elsewhere with cocoon-like body wraps designed to erase cellulite and help shoulders sprout their nascent wings. Waxing treatments keep freshly groomed faces and bodies free of unwanted hair.
2140 Academy CIr., Suite A
Colorado Springs
Colorado
719-229-1014
Using a combination of whitening gel and FDA-approved blue accelerating lights, the DaVinci teeth-whitening system can leave teeth an average of up to eight shades whiter. During office visits, clients apply the signature whitening solution—an organic plant- and mineral-based gel—to chompers. A specially designed LED laser light is used with the food-grade hydrogen-peroxide gel to lift lingering stains. Once the tonal transformation is complete, patients may walk away with the graffiti of tobacco, wine, coffee, and age erased from the highway overpasses of their smiles. To continue the process, patients can also take home a personal whitening kit that includes 12 gel applications, custom-fitted trays, and remineralizing and desensitizing gel to care for enamel.
818 S Tejon St.
Colorado Springs
Colorado
719-209-8875
The bright-white letters of Kinfolk pop against the blue exterior of the building to welcome clients inside, where a crew of stylists—some like Amy, with extensive Redken training—works scissors to transform manes into chic dos. Stylists each have their own booth inside, where they can color strands with Redken hair products and swaddle locks with Eufora, an aloe and essential-oil haircare line that aims to leave hair shinier than a gold-leafed Barbie.
708 S Tejon St.
Colorado Springs
Colorado
719-649-2335
Structure Therapeutic Massage and Body Work owner and founder Jeanette Falu-Bishop began her massage-therapy career on U.S. military bases in Germany, where she provided more than 1,000 hours worth of massages for wounded servicemen. In recognition of her dedication and work, Jeanette received a Presidential Volunteer Award in 2006, signed by former president George W. Bush. Jeanette is also the founder and executive director of the Structure For Wounded Warriors non-profit organization, which helps wounded warriors, veterans, and military widows deal with injury and emotional recovery through massage, bodywork, and counseling at no cost to them.
Today, she and her staff mollify muscular discomfort with soothing therapeutic treatments and relaxing massages in a variety of modalities, including medical, deep-tissue, Swedish, sports, and hot-stone therapy. The team uses refreshing essential oils to complement treatments, which can increase blood flow, improve skin tone, promote joint flexibility, and restore the body's ability to escape awkward situations by melting and seeping under door cracks.
2107 Templeton Gap Rd., Suite D
Colorado Springs
Colorado
---