Sedalia, MO Outdoor Activities
---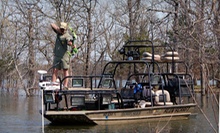 Expert bowfisher helps guests seek swimming targets on a custom-built boat, complete with three shooting decks, snacks, and drinks
---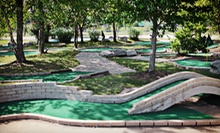 18-hole mini-golf course emulates holes at famous golf courses and features water hazards and other obstacles
---
Recommended Outdoor Activities by Groupon Customers
---
The Bouldering Garden presents a thriving, indoor oasis of climbing apparatuses, including a pair of copious caves, a 45-degree wall, and a large stalactite. Designed primarily for bouldering, the facility brims with training opportunities for advanced climbers, as well as learning opportunities for students of the sport. Professional instructors consistently roam the grounds to maintain a safe environment, and soft landing pads strewn across the floors absorb falls in a cushy manner that justifies their annual spot atop the Christmas lists of crash-test dummies. In addition to its rocky endeavors, The Bouldering Garden also leads zip-lining adventures, and its onsite shop stocks visitors with the latest in climbing gear.
5400 St. Charles Rd.
Columbia
Missouri
573-474-4997
Powell Gardens is Kansas City's botanical garden, just east of KC on Hwy 50. With two cafes, a chapel, the nation's largest edible landscape + acres and acres of gorgeous gardens, it's an outing the entire family will enjoy.
1609 NW US Hwy. 50
Kingsville
Missouri
Along the pristine waters of the Niangua River, banked by lush, green foliage and colorful, mature trees, visitors and locals leisurely float in kayaks, rafts, and canoes supplied by the team at Riverfront Camp Canoe. The staff is eager to share its passion for the outdoors and the splendor of the Missouri Ozarks with visitors to their more than 200 acres of scenic campsites along Niangua's riverfront. The sites welcome families and friends to pitch a tent or pull up in their RVs for a tranquil experience hiking nature trails, swimming, tubing, and sleeping under the stars to the soundtrack of a rushing river. To assure campers enjoy a comfortable stay, the grounds are equipped with hot showers and bathrooms, as well as a convenience store stocked with snacks, beverages, bait, tackle, and Bigfoot repellent.
13 Riverfront Trl.
Lebanon
Missouri
417-588-3386
Under the helm of the eponymous Captain himself, Captain Mike Fink's Marina's friendly crew of youthful staff––well-versed in the art of boating––helps guests sprout their sea legs with a well-maintained fleet of rental boats and jet skis. Nestled alongside the fish-filled waters of Lake of the Ozarks, the marina serves as a jumping-off point from which nascent captains can pilot their buoyant steeds out onto the serene lake to partake in sun-bathed revelries or practice their sea-monster-lassoing skills. As longtime locals, Captain Mike and his team happily dole out thoughtful recommendations regarding area attractions and restaurants to inquisitive guests, pointing out all manner of hidden gems from waterside bars to tasty breakfast joints.
1100 Bagnell Dam Blvd.
Lake Ozark
Missouri
573-216-0104
The artificial-pond curators at Washington Park Ice Arena cultivate year-round winter sports with a smooth, indoor ice rink designed for blade-footed glides. Public-skate sessions pop up day and night, and private rentals make for memorable birthday parties or helping pet rocks make the curling team. Ravenous ice dancers can gently stride over to an attached food dispensary to replenish on a sampling of food available for purchase. In addition to daily public-skating sessions, the arena and its helpful staff offer lessons for youth ice trotters, speed skaters, and pubescent snowmen learning to shave with skate blades. The oft-zambonied arena also plays home to a yearly smattering of University of Missouri hockey games, entertaining recitals, and seasonal festivals.
711 Kansas St.
Jefferson City
Missouri
573-634-6580
Since launching off from the shores of Fort Myers Beach in 1982, Paradise Parasail's signature smiley-face parachutes have become an iconic image in the sky, now flying high above the waters of both the Gulf of Mexico and the Lake of the Ozarks. USCG-licensed captains navigate each of the company's boats as riders trail behind at heights of up to 500 feet. With feet flopping in the wind, thrill-seekers are free to wave to their friends, family, and nearby migratory birds. Parasailers can also pose for photos and videos captured by the company's onboard photographers.
1100 Bagnell Dam Blvd.
Lake Ozark
Missouri
573-365-6757
---