Restaurants in Sedona
---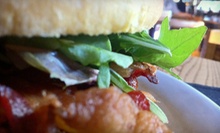 Wings, burgers, and tacos; festive dining area with flat screens, tropical decor, and weekly live-music performances
---
Chef Vlad Costa treats diners to southwestern fare such as fish tacos, relleno burritos, tamales, sandwiches, 1/2-lb. burgers & salads
Use Sunday 9:00am - 8:00pm
---
Recommended Restaurants by Groupon Customers
---
On Rare Earth Pizza and Wine Bar's outdoor patio, servers transport hand-tossed pizzas and glasses of wine in the flickering glow of outdoor fire bowls. Conversation buzzes as guests take in views of technicolor sunsets and the surrounding landscape of Pinnacle Peak. Inside, they can sidle up to the tall wooden bar to take a look at hand-chalked specials, or gather around tables to take turns singing lists of gourmet ingredients from the menu.
28190 N Alma School Pkwy.
Scottsdale
Arizona
480-513-6252
Stabilized by a protective layer of sticky rice, raw fish explodes in a shockwave of flavor when exposed to munching mouth-bone agitation. Sushi, cooked fish, and beef entrees frolic along with the creative appetizers, salads, and udon and soba noodles on Ebisu's menu. Start with garlic soy edamame ($5), Ebisu ribs ($8), or a squid salad ($7) before entangling taste buds in a web of nabeyaki udon noodles with shiitake mushrooms, green onions, eggs, konnyaku, cabbage, fishcake, and shrimp tempura ($12). Main courses include the Ebisu sushi platter, served with seven nigiri sushi rolls, one special roll, and miso soup ($20), and kombu-grilled salmon with miso cream sauce ($17).
39510 Daisy Mountain Road, #160
Anthem
Arizona
For the location of the first Dillon's Restaurant, Rich Dillon and George Valverde chose a 1940s Thunderbird Road structure that a writer for the Phoenix New Times described as "a cute, converted old house that looks like grandma's parlor." Since then, they've opened four more eateries in locations that are as appealing as the signature flame-kissed and slow-smoked meats served inside. Wildlife World Zoo & Aquarium's shark tank flanks the dining room of Dillon's at the Zoo, and the boat-accessible Scorpion Bay location opens onto the waters of Lake Pleasant so that diners can chortle as fish attempt to develop democracy. Live music and karaoke lend additional social vibes to the smokehouses.
10970 W Peninsula Rd.
Morristown
Arizona
Successfully polishing off one of Blu Burger's signature creations isn't always an easy feat. Described as "delightfully messy" by Metromix Phoenix, the meaty towers and onion buns teeter under the weight of generous portions of applewood-smoked bacon, caramelized onions, and melted cheeses dripping with housemade sauces. Though some diners try to tackle the five signature selections, others extend their culinary creativity to design their own burgers, choosing from an eclectic variety of bases—including Black Angus or Kobe beef, bison, and portobello mushrooms. Customers further customize patties with their choices of buns, cheeses, specialty toppings, and more than 10 types of sauces, which join the selection of 12 craft beers on tap.
In the bustling dining room, tinted windows cast a blue hue on funky artwork and colorful hanging lights. Outside, blue umbrellas speckle the courtyard, protecting diners from both the elements and the notice of paragliding Hamburglars.
32409 North Scottsdale Road
Scottsdale
Arizona
480-575-8040
Sunlight spills across Sedona's red rocks, causing the sandstone to glow with brilliant reds and oranges. Shugrues Hillside Grill sits by a nearby hill, its walls of windows and its outdoor patio enveloping customers in the area's natural beauty. This scenic locale is the workplace of Chef Michael Mullins, his wife Shelly, and two of their children, but it's also home to the chef's critically acclaimed seafood menu. Inside, visitors can peek at the restaurant's Best Seafood of Sedona Awards, which its website claims it has won more than 20 years in a row. It's an impressive feat, but perhaps not a surprise to anyone who's met Chef Mullins, or snuck a surveillance device into his chef's hat.
To complete his menu, the chef flies in fish from around the world, bringing a taste of the sea to Arizona. On any given night, he can be seen grilling, sautéing, and blackening ahi tuna, or stuffing fried tilapia with crab, though diners aren't restricted to seafood. He also braises racks of lamb, grills steaks, and whips up a full weekend brunch menu with favorites such as buttermilk biscuits and gravy. Imported wines, beer, and specialty cocktails also complement each dining experience.
671 State Rte. 179
Sedona
Arizona
US
928-282-5300
Rosati's literally began with one man. When he started his first restaurant in Chicago as an Italian immigrant more than a century ago, Ferdinand Rosati worked as the cook, waiter, dishwasher, and host. Despite the hectic schedule, the passionate restaurateur still found time to prepare each guest his signature pizza a'olia, a soul-warming blend of cheese and housemade sauce served on a crispy thin crust. From that cracker-thin foundation, Rosati's has grown to incorporate slabs of baby-back ribs, baked pastas, and Italian sandwiches to its menu at locations across the country. A family-friendly establishment, Rosati's mixes cocktails for adults from a full-service bar as kids play games and puzzles designed to distract them from the rounds of pizza frisbee.
10989 E Dynamite Blvd.
Scottsdale
Arizona
US
602-918-5004
---