Sedro-Woolley, WA Outdoor Activities
---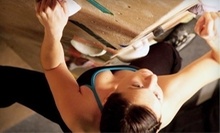 Adult adventurers learn effective ways to safely climb rock walls & belaying basics during group night classes
Use Monday 4:00pm - 7:00pm
---
Recommended Outdoor Activities by Groupon Customers
---
To FlyBC Paragliding's founder, Jim Reich, paragliding represents freedom. Not only does it free riders from the restrictions of gravity, it liberates them from the typical inconveniences of flight, such as expensive airplane fuel and restrictive air traffic regulations. Through Reich's school, he now teaches newbies the sport, as well as other aerial arts such as hang gliding, paramotoring, and flapping your arms until you sort of levitate.
Reich and his instructors, all trained and certified by the Hanggliding and Paragliding Association of Canada, base their training and recreational flights out of a 25-acre training facility. Dubbed Eagle Ranch, the facility features an on-site hill and is nestled between two rivers. Beyond training, the school can outfit students in gear from brands such as Ozone, SkyCountry, and Gin, or lead them on paragliding trips that journey to scenic locales in Mexico,.
1253 Kilby Rd.
Harrison Mills
British Columbia
604-618-5467
Rolling patches of endless landscape below. Mountain ranges rising ever higher in the distance, far from civilization's buildings and burning stacks of Beatles records. Trees, clouds, and wind—this is a typical day spent with Fly Gravity Sports.
An HPAC-certified pilot, David Llewellyn helps make these human flights possible. In his 15 years of hang-gliding, he has ascended thousands of times over Canada, the United States, and Latin America. Today, he uses Fraser Valley and the surrounding lower mainland as his backdrop during family-friendly tandem flights. He and the Fly Gravity Sports team also provide continuing education for experienced gliders, introducing them to the facility's modern winch-tow technique that requires no effort in becoming airborne.
62724 Airport Rd.
Hope
British Columbia
When most of the local boating club's members decided to venture into sailing large cruisers and racing, a small group of sailors remained loyal to their first love—sailing dinghies. This tightly knit crew formed Rocky Point Sailing Association, which today encompasses a fleet of about 40 boats and a staff of more than a dozen Sail Canada instructors.
At their headquarters inside of Rocky Point Park's Old Mill Boathouse, the sailors instruct kids as young as 4 years up through adults in all levels of sailing. Rocky Point's team also extends membership privileges, such as the use of a restored Columbia 27 cruiser, the Orane. To indulge competitive spirits, RPSA's crew also maintains a race team.
2715 Esplanade St.
Port Moody
British Columbia
604-931-1734
At Panther, tall cedars and thick brush help to conceal the tactics of opposing shooters, who dive into the real-dirt trenches and other hiding spots that characterize the facility's 57 acres. Drop-in players as well as party groups can sling their BBs across no fewer than 12 variously configured battlefields strewn with tires, beaver-dam bunkers, dirt mounds, and other obstructions. The fields lend a realistic ambience to Panther's scenario-play events, during which vigilant referees oversee themed play. Panther recently added airsoft to its arsenal, which doesn't weigh down players with big hoppers or bulky air tanks.
19022 16th Ave.
Surrey
British Columbia
604-533-0890
The Fraser Valley Trout Hatchery Visitors Centre aims to educate and entertain visitors with programs and events centred on the world of water-breathing animals. The centre's indoor and outdoor facilities allow guests to observe live fish in aquariums as well as in their natural habitat. Educational programs, which are designed to reach specific age groups, include It's a Trout's Life for grades K–2, What's That Habitat? for grades 2–5, and Trout Fast Food, in which visitors in grades 2–5 analyze the insects that trout seek out when their waterproof refrigerators go empty. In the all-ages Learn to Fish program, aspiring anglers learn how to identify fish and use different lures to attract specific species. The program also focuses on responsible fishing ethics and proper fish-handling techniques to increase survival during catch-and-release.
34345 Vye Rd.
Abbotsford
British Columbia
604-504-4716
BC Power Sports mixes sightseeing with adrenalin to yield intimate views of hard-to-reach nature spots. Trained in first aid and approved by the Canadian Safety Council, their tour guides escort riders on ATV tours through an array of British Columbia's verdant landscapes, from the ghosts of Stave Lake's old cedar forest to Eagle Point, where roughly 2,000 bald eagles regularly swoop into Harrison River to adopt a pet salmon. The shop also outfits guideless adventures with vehicles chosen from their fleet of ATV rentals, which includes four-by-fours such as the 2011 Polaris Sportsman 400 HO or the two-seat 2011 Polaris Ranger. Each of the ATVs requires certification to ride, which visitors can obtain during the six-hour CSC safety course taught by a CSC qualified instructor. In addition to matching riders with four-wheeled friends, the staff also splashes through the path less taken during wakeboarding and wakesurfing tours.
2226 Lougheed Hwy.
Agassiz
British Columbia
778-288-8325
---