Restaurants in Sedro-Woolley
---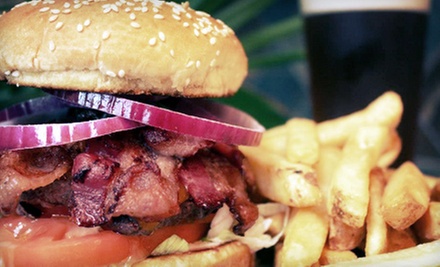 ---
Recommended Restaurants by Groupon Customers
---
The Hronopoulos family, owners of Sokela Restaurant and Lounge, call upon Greek, Italian, Moroccan, Spanish, and French influences to create a menu that represents a mélange of Mediterranean flavours. Sokela was born when the owners decided to turn the image of their traditional Greek restaurant, Alekos, around by reversing its name. To reflect this new philosophy, the Greek plates share menu space with chorizo, gnocchi, and West Coast seafood dishes to please palates and confuse U.S. customs employees. Beige and brown accents, tiles, exposed wood, and short cylindrical hanging lamps create a casual atmosphere and surround patrons as they dine in the main room or the lounge.
1001B Austin Ave.
Coquitlam
British Columbia
604-931-2544
In Vedder Mountain Grille's family-run kitchen, local chefs bustle to and fro, whipping up breakfasts, lunches, and dinners from locally sourced ingredients. Free-range eggs from the local and organic Six Masters Farms transform into signature eggs benedicts, and gluten-free sandwiches pair with freshly cut fries. Their burgers, chicken fingers, and schnitzel are all wheat-free as well, and the chefs gladly substitute vegetarian alternatives in many of their sandwiches. Dedicated to preserving the environment, the staff dutifully recycles and composts their leftover materials.
In the informal, cozy dining room, glimmering chandeliers gently light wooden tabletops and chairs. Framed pictures hang above shelves packed with oddities and antiques, and vases of flowers sit atop a piano in the corner, who is determined to one day be able to finally play itself. A few chairs and tabletops sit outside the cheerful blue storefront, ideal for outdoor dining during warm sunny days.
42239 Yarrow Central Rd.
Chilliwack
British Columbia
604-823-6563
From its perch alongside the Pitt River, Gillnetter Pub serves up crab cakes, halibut burgers, seafood stew, and PEI mussels that complement a view of the tranquil water, best enjoyed on the open-air patio that hosts revellers all summer long. Winter visitors get a similarly cozy treatment with an enclosed patio complete with a stone fireplace, toasty heaters, and an awning that folds back when the weather allows. Inside, diners feasting on baby back ribs or clam chowder can take in sports on one of several HDTVs or the pub's big screen, with games from the Canucks, Whitecaps, and BC Lions making regular appearances on the screens and in the strange dreams that customers have later that night.
1864 Argue Street
Port Coquitlam
British Columbia
CA
604-941-5599
Since May 1986, the Chronakis family has crafted authentic Greek cuisine at Minoas Greek Taverna. Dinner platters teem with Hellenic morsels such as grilled chicken souvlaki, creamy hummus, and the rice-stuffed grape leaves of dolmades. The wait staff also serves entrees à la carte, so diners can dig into plates of steaming moussaka and avoid jealous struggles with the pastitsio, which would only get tomato sauce all over the pristine white stucco walls. Lush ivy winds up the walls and traverses the ceiling, tablecloths in the cobalt blue of the Greek flag dot the interior, and traditional folk music drifts through the air, transporting diners to the Mediterranean without requiring a gas-guzzling teleportation device.
3823 Kingsway Ave.
Burnaby
British Columbia
604-430-2545
Nestled alongside the lapping waters of White Rock Beach, Slainte By the Pier serves a host of authentic Irish and West Coast fare forged from locally sourced ingredients including Salt Spring Island mussels, local greenhouse tomatoes, and wild sockeye. Behind the slate-blue walls of the dining room, the kitchen bustles as culinary wizards whip up Irish staples such as fresh fish and chips fried into a golden state by all-natural lightning bolts. Musicians take to the restaurant's stage on weekends, employing instruments such as guitars, bodhráns, and mellifluous vocal cords to tickle ears with Irish and folk music. On balmy evenings, Slainte also offers alfresco dining on their outdoor patio, which basks in the rays of a retreating sun while surrounding trees make nonchalant attempts to steal bites of dessert from unattended plates.
15057 Marine Drive
White Rock
British Columbia
778-294-0066
A cozy picture of Tudor revivalist design, the lakeside Hart House Restaurant purveys creative menus full of exquisite dinner, lunch, and brunch delicacies lauded for their casual elegance. At the helm of these sophisticated dishes is executive chef Alana Peckham, who grew up in Vancouver and applies her knowledge of Pacific Northwest ingredients when crafting dishes such as steelhead salmon with green beans and a pea purée and Fraser Valley duck breast. During warmer months, guests can enjoy Chef Peckham's creative fare on the patio with a Pimm's Cup or a local wine before cracking into an espresso crème brûlée.
Seasonal events, such as the Lobster Supper, celebrate fresh, local fare. Hart House's glass-walled lakeside cottage, sprawling green backyard, and second-storey private rooms also make it an ideal location for business meetings, weddings, and reenactments of The English Patient.
6664 Deer Lake Ave.
Burnaby
British Columbia
Canada
---