Restaurants in Seekonk
---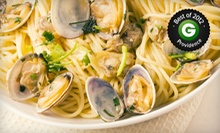 Chefs hand-stretch flatbreads to grill in wood ovens and hand-make gnocchi with spinach and ricotta
---
Recommended Restaurants by Groupon Customers
---
The sounds of cheers and high-fives from youth baseball and softball teams sponsored by Grumpy's Restaurant & Pub punctuate the hush of patrons tucking into feasts. Five big-screen televisions chatter overhead, tuned to athletic events or emergency broadcasts aimed at whoever keeps taking the mayor's lunch out of the fridge. Plates clatter onto tables, bearing juicy burgers stuffed with cheddar and jalapeños and buffalo-chicken-topped pizzas. On weekend nights, the twang of guitars slipping into tune fills the air as musicians prepare for live sets, and glasses click together at the full bar.
190 Pulaski Blvd.
Bellingham
Massachusetts
508-883-0101
The staff at Sullivan's Publick House cherishes three things: good food, good beverages, and good company. These pillars of traditional Irish hospitality shape the restaurant's day-to-day business, beginning in the kitchen, where chefs prepare authentic beer-battered fish 'n' chips and shepherd's pie. At the bar, the barkeeps pour one of 24 on-draft brews, such as Young's Double Chocolate Stout or Hoegaarden. To fulfill the good company portion, the restaurant hosts trivia events and build-your-own burger nights that spark lively conversation about whether cheese belongs on top of a beef patty or securely in one's front pocket.
572 Armistice Blvd.
Pawtucket
Rhode Island
401-725-0082
Smoked bacon. Guacamole. Chili. A whole fried egg. With a simple tick mark, these and dozens of other toppings appear atop a beef, turkey, chicken, or veggie patty. Rare Burger Bar's build-your-own-burger menu gives patrons the opportunity to make a fully custom burger. Those feeling less inventive can select from specialty burgers such as the Texas burger, which combines an all-Angus beef patty with bacon, barbecue sauce, and a homemade onion ring etched into a tiny spur. Non-burger menu items include hand-cut fries, chicken sandwiches, salads, and buffalo wings.
2197 Mineral Spring Ave.
North Providence
Rhode Island
US
401-349-5411
Chicken wings, littleneck clams, and garlic bread introduce Fall River Grill's spread of Portuguese cuisine. From top to bottom, the menu is packed with meat and foreign words—bifana, grilled pork cutlets in a sandwich; bife, which means steak; whole grilled chicken known as frango grelhado; and the traditional sausage called chouriço. Seafood makes a big splash at the restaurant, too; there's enough salmon, boiled cod, and shrimp to convince most people that marine life really does exist. Before you start stuffing yourself, plan to leave just enough stomach space for sweet desserts such as passionfruit pudding and coconut tarts.
363 2nd St.
Fall River
Massachusetts
US
508-673-9151
---