Things to Do in Seekonk
---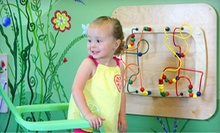 Toddlers romp in playroom painted with pastoral scenes & filled with mini slides, cloth tunnels & games to refine motor skills
Use Monday 9:00am - 12:00pm
---
Recommended Things to Do by Groupon Customers
---
Perfectly picturesque with white wooden fencing, a bright red barn, and lush, green pastures, Grandview Farm's storybook surroundings provide a welcoming setting for riders to hone their horsemanship skills. Once awakened from their standing slumber inside the 16-stall facility, Grandview equine employees and their certified human handlers teach students saddle seat, hunt seat, and Western riding styles in both private and group lessons.
2978 Elm St.
Dighton
Massachusetts
508-410-5877
As neon obstacles glow under a series of black lights, teams move through two levels of mazes and catwalks as they avoid the photon blasts of opposing players' and the pitfalls of the 7,500 sq. ft. arena. While sprinting up ramps and seeking cover, players must avoid strategically placed laser mines that flash and beep before tagging anyone within reach, which effectively deactivates their equipment and James Bond trivia knowledge for 12 seconds. Players can earn points by blasting the mines first, while bases and targets offer chances to earn even more tally marks.
After futuristic battles conclude, guests can putt through an 18-hole mini golf course surrounded by alien planets and dinosaurs. Off the course, visitors can also sling skee balls and pop tokens into games in the arcade to win tickets redeemable for prizes. With a laser maze where players navigate beams of light and four party rooms added to the mix, Lazer Gate becomes the ideal spot for birthday parties or training camps for lethargic clones.
288 Plymouth Ave.
Fall River
Massachusetts
508-730-1230
Devised in 2001 by a Brown University medical student in order to support Hasbro Children's Hospital's Asthma Camp, the annual Breeze Against Wheeze 5K run and 3K walk raises a quarter of the funds the camp needs each year to educate youngsters about managing a disease that stands as the leading cause of child hospitalization nationwide. At the start of the race, athletes trek across the Brown University campus and down Blackstone Boulevard, speeding past other runners or strolling at a heart-healthy pace to show their anti-asthma verve. The top competitor in each age bracket, plus the three fastest men and women overall, win a bounty of gift certificates and sports gear to help fuel their future challenges, while postrace raffles lend the chance for any participant to be crowned a winner. Before the adult events, kids can race for free, testing their endurance and agility without crawling through the TV screen into their favorite video game.
171 Cushing St.
Providence
Rhode Island
In 1958, Ryan Family Amusements founder James A. Ryan opened a simple, eight-lane bowling alley, planting the foundation for a slew of entertainment centers throughout Massachusetts and Rhode Island. At 10 locations, visitors enjoy a variety of arcade and skill games in addition to traditional candlepin, tenpin, or duckpin bowling. Every Friday and Saturday evening from 9 p.m. until midnight, bowling lanes take on an incandescent glow, allowing bowlers to experience futuristic entertainment without the inconvenience of rising jetpack-fuel prices. Bumper bowling is available for younger players, and an onsite concession stand refreshes responsible adults with glasses of beer and wine.
115 New State Hwy. Rte. 44
Raynham
Massachusetts
508-822-2304
Ann and Michael Martini have long shared a love and familiarity with Rhode Island's culinary landscape. Ann left her post at Rhode Island Monthly to work with chefs, restaurants, and food events, and Michael, a professional chef, has let his knives fly at upscale Rhode Island eateries for more than 25 years. Together, they bring outsiders into New England's culinary gems to sample signature dishes, tour kitchens, meet chefs, and get lucky guests' tongues autographed. Ann coordinates each tour, then sends Michael off with up to a dozen people to receive insider access to restaurants, gourmet shops, and other palate-pleasing stops. For two hours, groups cover about 2 miles of ground at a leisurely pace. There are treats to sample at each stop—although, according to the Sun Chronicle, "What's almost as good as the food is the fact that the chefs welcome tour guests into their kitchens, which in many cases have sous chefs and other personnel beginning to prepare for dinner service."
121 N Main St.
Providence
Rhode Island
401-787-4058
After winding its way past Foxborough and Mansfield, the Rumford River gurgles to a brief rest in the Norton Reservoir where 530 acres of shallow waters ebb around coves and a small cluster of islands. Amid the bald eagles and ospreys that frequent the reservoir's edges, the guides of the Norton Kayak Company lead kayaking and fishing expeditions from May 1 to October 31. Whether undertaking everyday tours or hatching special seasonal trips to watch the harvest moon or celebrate holiday weekends, guides make sure that paddlers of all ages and ability levels stay safe and engaged. They also helm fishing trips for anglers aged 15 and older with valid fishing licenses, floating groups to spots where large-mouth bass, pickerel, and panfish lurk like schools of sunken fishing waders. Since the leaders depend on Mother Nature for their livelihood and letters of recommendation, they enforce a carry-in/carry-out practice that ensures guests leave no litter behind.
237 Mansfield Ave.
Norton
Massachusetts
508-740-7728
---