Things to Do in Seguin
---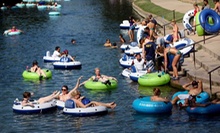 Tree-lined shores slip past spring-fed Comal River on leisurely two-hour float through 72-degree waters, with free parking
---
Recommended Things to Do by Groupon Customers
---
The artisans at Stained Glass Crafters Workbench live by a simple maxim: don't throw stones. While they may not live in glass houses, their works are all made of stained, leaded, fused, and mosaic glass. So, instead of tossing rocks, they spend their time training the next generation of artists in glass-artwork classes, where they teach students how to fashion everything from colorful light switches to standalone wall pieces. Students create art pieces, such as plant hooks and pendants, as well as custom artwork that brightens moody dens or tastefully hide the miniature black holes they didn't notice before they moved in.
7515 Eckhert Rd.
San Antonio
Texas
210-647-7475
Bavarian Luxury Rentals, the country's first all-BMW rental company, ensconces travelers and auto enthusiasts alike behind the well-engineered wheel of brand-new German luxury cars. Co-founded by BMW auto mechanic Brian McKinney and Corey Evers—the customer-service-savvy founder of Central Texas Valet—the local enterprise fills roads with its standing fleet of BMWs that includes a 5-series, a 3-series, and a 1-series. On breaks from the open road, renters' BMWs entitle them to sumptuous amenities at businesses throughout the city, and 24-hour roadside assistance guards drivers against difficulties such as flat tires and toll booths manned by bridge trolls.
319 Congress Ave.
Austin
Texas
512-373-0400
Wazoo's 15,000-square-foot facility invites kids 13 and younger to let their imaginations loose while playing on eight inflatable attractions. The sound of laughter emanates from the bouncy castles, fills obstacle courses, and silences the pleas of candy-filled animals in the piñata zone. Towering over the facility, a 24-foot slide harnesses the power of gravity to create kid-friendly thrills. Elsewhere, the aptly named Toddler Town boasts age-appropriate toys and inflatables that let younger ones in on the fun. Wazoo's other features include a concession stand and big-screen TVs that keep parents up to date on the political climate of nearby bouncy castles.
8816 Cullen Ln.
Austin
Texas
512-282-5867
When photographed just right, the bend of a wrought-iron beam or the curve of a stalk of wheat can look just like a letter of the alphabet. This creative observation captured the attention of photographer Crystal Copeland––a graduate of the New York Institute of Photography––who became inspired to seek out more outdoor features that could double as letters. With the help of her business-savvy husband, Lee, Copeland strung these letters into words and began selling them at an online store—Frame The Alphabet.
The site's interactive letter bank houses a vast collection of Crystal's photos, which can be used to spell out names and words. You may wish to work in visual thematics, crafting names entirely out of sports images for the family athlete or creating an ironic counterpoint to words such as nature with images of city signs, industrial faucets, and spinning cogs. The selected word is then encased within a brown or black frame made from real pinewood or printed onto a single, wooden gallery block, which comes ready to hang. The signature-board option further customizes the piece with a blank matte board and an 8"x10" space where you can insert a personal picture.
600 Congress Ave., Suite 6-270
Austin
Texas
Giggle N Jump's bright, clean, 11,000-square-foot play center thrills frolicking young ones with a massive collection of bounce houses, interactive stations, and slides. As children burn off excess energy and make new friends in the engaging environment, parents can supervise little ones' progress from outside the play area or join kids in the fun. A separate section entertains infants and toddlers, the tiniest kiddies, keeping them safe as they explore and bounce.
1102 College Street
Bastrop
Texas
512-321-5867
A triangular form soars across blue skies and swoops over Texas's sprawling terrain. But the flying figure isn't a bird or a frustrated geometry student's homework—it's one of Thermalriders' gliders, which let novices master the art of flying under the guidance of U.S. Hang Gliding and Paragliding Association-certified instructors. During aerotow flights, instructors and students can then break free from gravity's tight grip as Dragonfly planes tow them to heights of up to 2,500 feet. Thermalriders' instructors also have the ability to capture each flight on video.
2953 N Magnolia, Hangar 6
Luling
Texas
210-381-5193
---