Severn Automotive
---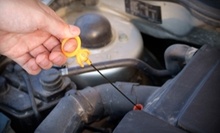 Use Tuesday 8:00am - 3:00pm
---
Recommended Automotive by Groupon Customers
---
Ready your ride for pending holiday road trips and holiday demolition derbies with today's Groupon to A1 Auto Three Brothers Car Repair. You'll get an oil change, safety inspection, fluid fill, and air-pressure adjustment for $17 (up to a $35 value). And if you're crazy prepared like Batman, or actually Batman, the helpful staff at A1 Auto will help you plan ahead by scheduling appointments up to 90 days in advance. A1 Auto will happily service your vehicle Monday through Friday from 8 a.m. to 5:30 p.m. and Saturday from 8 a.m. to 2 p.m.Follow @Groupon_Says on Twitter.
3041 Frederick Ave
Baltimore
Maryland
US
Baltimore City Paper also named Canton Car Wash Best Car Wash on its Best of Baltimore list in 2009:
1101 Ponca Street
Baltimore
Maryland
Leading Edge's auto body and mechanical repair shop offers aid to broken, busted, and bumped-up cars of any make or model. With this deal, customers get an oil and filter change ($19.95), a front-to-rear tire rotation ($40), and an exterior car wash ($12) that will leave the car's shell clean enough to lick, even if it doesn't undo the emotional damage from the ink-filled egg incident. An oil change keeps the car's bloodstream free of corrosive buildup, and a tire rotation elongates the lives of the tires and ensures treaded safety. In addition, Leading Edge will inflate tires to proper pressure levels, top off fluids, and visually check brakes. A $6 Environmental Protection Agency fee is also included with this deal.
5807 Falls Road
Baltimore
Maryland
True to its name, On the Spot Detailing—in addition to having an actual location—provides mobile detailing. On the Spot dispatches fully equipped teams to various locations to provide quick and professional car-cleaning services. They perform full detailing—removing bugs and tar, degreasing doorjambs, and cleaning up any mummies resting in the trunk—or quick washes with microfiber mitts and streak-defying chamois cloths.
10000 Old Columbia Rd.
Columbia
Maryland
443-864-8671
Excessive Detail's car caretakers polish roadsters of all shapes and sizes. When they aren't scouring cars, motorcycles, RVs, and boats, they're repairing windshields, removing dents, and shielding paint jobs with protective films. They also ready vehicle peepers for safer nighttime jaunts by installing HID headlights or purging old lamps of haze for clearer beams, reducing the risk of collisions with families of yield signs trying to cross the street.
3036 Oak Green Cir., Suite A
Ellicott City
Maryland
410-505-4297
AutoStar Car Wash takes care of all your vehicle's aesthetic needs with a range of washing, detailing, and accessory services. An automatic wash tunnel blasts away dirt, muck, and bugs during five wash packages, from the express to the ultimate, which includes an interior vacuuming and dashboard wipe down.
Rides can take advantage of more extensive cleaning with an express or full detail package, including hand waxing, clay-bar treatments, and paint sealant to lock in luster. Aside from restoring vehicular cleanliness, the AutoStar team removes hazy spots from headlights and patches up scratched surfaces. Expertly applied window films save interior upholstery from UV rays that can cause fading, and custom painted pinstripes ready cars for impromptu drag races or appearances in court.
3231 Automobile Blvd.
Silver Spring
Maryland
240-449-8268
---