Coffee & Treats in Severn
---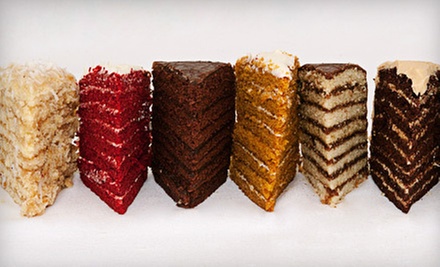 ---
Recommended Coffee & Treats by Groupon Customers
---
Spice Rack Chocolates' co-creators Paul and Mary Schellhammer left long-standing careers in order to make their shared culinary interests a full-time occupation. Before Spice Rack Chocolates fully evolved as a business, Mary worked as a personal chef. She developed an intimate knowledge of herbs and spices along the way, and started to invent unusual pairings of chocolate and herbs, which she left as after-dinner treats at the parties she catered. Her intrigued clientele began to come back to her shop, wailing like zombies for more chocolate, and the business became a cacao-centric endeavor.
In 2008, just two years after making Spice Rack Chocolates' confections publicly available, the Schellhammers' artisanal chocolates won the state's Department of Agriculture and Consumer Services's "Best New Food Product"—an award which they clinched again in 2010. Today, the Schellhammers create 29 flavors of Belgian chocolate infused with herbs, spices, coffee, and peppers, and can hand-paint color accents or tiny limericks onto the candies using color-infused cocoa butter. The spot also creates confections that have been certified vegan, vegetarian, and gluten-free.
6320 Five Mile Centre Park, Suite 315
Fredericksburg
Virginia
540-847-2063
On a warm August day in 1938, a father and son unveiled the first sample of what was to become Dairy Queen, selling 1,600 samples on the first day, a feat as unheard of as a dragon that breathes ice. Its ensuing prolific expansion was fueled by its frozen treats, which propelled the dessert shop from 100 stores in 1947 to 1,446 in 1950. Today, their dessert recipes remain largely unchanged, and Dairy Queen has added hearty grilled hamburgers, hot dogs, and fried chicken to its menu. Dairy Queen's enormous dessert menu boasts treats ranging from soft-serve cones and blizzards filled with cookies to takeaway ice-cream sandwiches and cakes.
207 Kings Hwy.
Fredericksburg
Virginia
540-373-6721
The bakers at The Breadery have a daily routine. They begin by stone-grinding red and white Montana wheat (which they've chosen for their high protein content) to make their whole grain breadsand, using the entire seed to turn wheat into flour. After forming the loaves by hand and allowing them to rise, they pop them in the rotating bread oven which holds up to 450 loaves. Then they survey their shelves to make sure they have all the garden herb, cinnamon raisin walnut, grains galore, orange cranberry pecan, cheddar parmesan, and more. They also offer authentic style Artisan breads like real French baguettes, Italian ciabatta, focaccia, and Greek olive bread. Pair pastry treats like scones, fruit tarts, and sticky buns with with small-vineyard wines and artisan spreads wine.
418 Oella Ave.
Catonsville
Maryland
410-203-2221
An edible rainbow stretches behind the counter of each Robeks Fruit Smoothies & Healthy Eats, tempting taste buds with a vibrant array of blueberries, kale, wheatgrass, strawberries, carrots, bananas, and other fresh fruits and vegetables. They recently unveiled 20 new additions to their menu, including Age Buster and Replenisher smoothies, the kid-friendly PB&J Delight, and the Fast Break bowl, which blends fruit, pineapple sherbet, and greek yogurt with strawberry and banana slices. Blended into bases such as natural nonfat frozen yogurt and sherbets, these nutritious morsels transform into smoothies and juices bursting with flavor. The menu also extends to coffee smoothies, kid-friendly options, and smoothie bowls.
8359 Leesburg Pike
Vienna
Virginia
US
Inside its modern, brightly colored cafés, bluberi dispenses swirls of natural, nonfat yogurt before guests pile on spoonfuls of fresh, fun toppings. Confections in flavors such as rich matcha green tea, amazing strawberry, and peachy delight form sweet peaks in cups, dappled with toppings such as fresh kiwi, chewy cheesecake bites, and coconut flakes. Guests can also opt for custom smoothies with plentiful fruit and yogurt options, or steam-clean eyeglasses with the aromatic vapors of organic, healthful loose-leaf Tavalon teas.
5760 Union Mill Rd.
Clifton
Virginia
703-825-1977
Sweetchills serves up swirls of frozen yogurt in an array of lip-smacking flavors, such as mango sorbet, orange Valencia sorbet, and birthday cake. The store is open until 9:30 p.m. nightly.
10427 North St., Ste. 103
Fairfax
Virginia
703-352-5693
---