Shopping in Severna Park
---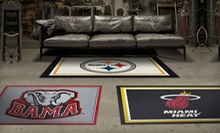 A 10-year warranty backs all sizes of Stainmaster nylon rugs that proudly display NFL, MLB, NHL, NBA, and college team logos
---
Recommended Shopping by Groupon Customers
---
Maryland China Co. has a long tradition of ordering fine china pieces from around the world: over a century long, in fact. Today, the staff maintains the shop's reputation by carefully vetting every item in the 1,250-piece collection, which comes from eight countries and four planets. Quality is paramount, so the shop demotes items to the seconds room for minute imperfections, such as slight color variation. A single piece of hand-painted china, such as a cup and saucer decorated with intricate loops and whorls, can take hours to complete. Full tea sets, then, celebrate the careful craftsmanship and leisurely traditions of the Old World.
Despite the large selection of hand-painted wares, undecorated white china and porcelain vases, pots, cups, and bowls dominate the shelves. Sometimes designed with ornate details, such as scalloped edges or antique-style handles, the items are otherwise blank slates for artists. Customers can purchase a small paint set with their china to transform it into a modern work of art with colorful chevrons or 2011 1040 forms.
54 Main St.
Reisterstown
Maryland
410-833-5559
Poppy and Stella's knack for curating a stylish, eclectic inventory has not gone unnoticed. "The people behind Poppy and Stella just get shoes," according to the Baltimore City Paper, who named Poppy and Stella the Best Women's Shoe Store in 2009. In 2011, CBS Baltimore praised Poppy and Stella for its "atmosphere, selection and service."
That atmosphere is found in a tidy, eclectic boutique, where customers can peruse a stylish array of designer shoes, boots, handbags, and apparel from brands such as Dolce Vita, Pour La Victoire, Sam Edelman, and Frye. Throughout the store, neat displays highlight both seasonal trends and classic designs, all of which can keep friends and neighbors from giving you disparaging nicknames like "old-shoes Jack."
728 S. Broadway
Baltimore
Maryland
US
410-522-1970
Just a tiny repair shop at its inception, Rollin' Cycles has since blossomed into a full-service store offering quality bikes and maintenance services. From Fuji road bikes and hybrids to Breezer and SE cycles, their inventory contains fits for all riders. In addition, technicians keep bikes in tiptop shape by providing regular tune-ups, performing cleanings, and playing lullabies with brass bike bells.
1314 14th St. NW, Suite A
Washington
District of Columbia
US
202-525-3712
As an AT&T authorized retailer, Wireless Outlet of course can equip customers with smartphones packed with apps and features. But the shop is also big on accessories: car chargers and ear buds make devices easier to use, and cases keep gadgets off of E!'s list of 500,000 Worst-Dressed Phones.
6920 N Braddock Road , Suite N
Annandale
Virginia
US
703-609-6156
---