Museums & Galleries in Sevierville
---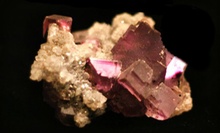 Members receive free admission and discounts at a science museum with more than 4,500 mineral specimens, including more than 1,000 gemstones
---
Recommended Museums & Galleries by Groupon Customers
---
At Wheat Union Station, volunteers restore and maintain the Southern Appalachia Railway Museum's four diesel engines. Authentically outfitted conductors and staff keep one shiny shoe firmly in the past as air-conditioned coach cars and an open-air baggage car rumble past Poplar Creek, Watts Bar Lake, and Highway 327. The museum conducts seasonal rides and theme rides, including dinner trains and murder mysteries. Secret City Scenic Excursion train rides chug along rail lines that stretch out from K-25, a site of World War II's Manhattan Project.
2010 Hwy. 58
Oak Ridge
Tennessee
865-241-2140
Heralded by Cycle World, American Motorcyclist, and comedian Jay Leno, the Wheels Through Time Museum recently picked up even more exposure on an episode of History Channel's American Pickers. In "The Belly Dance," hosts Mike and Frank come to the museum in need—they've found a rare belly-tank racer, but unless they can get it to run, the find will have cost them more money than it's worth.
That's where museum founder and curator Dale Walksler, automotive enthusiast par excellence, comes in. In 1993, Walksler invited crowds and fellow bike buffs to join in the astonishing details of his obsession: more than 300 rare and historical classic motorcycles amid a collection of tens of thousands of related artifacts. Free from the ghosts of vengeful traffic cops, the double-decker garage resembles a fever-dream cycle showroom gleaming with vintage and contemporary models by Harley Davidson, Indian, and Excelsior, and one-of-a-kind machines that include the handsome Traub. The ahead-of-its-time machine was discovered bricked up inside a Chicago wall in 1967, built by a brilliant designer who apparently never built another bike before or after. Despite dating back to the 1910s, nearly all of the machines can still run—often zooming straight through the 40,000-square-foot museum floor¬—and lecture passersby on four-way intersection etiquette.
62 Vintage Ln.
Maggie Valley
North Carolina
828-926-6266
The early 20th century holds a certain charm. Even while peering through the apothecary's questionable brown bottles or cringing at the sound of the dentist's foot-powered drill, it's hard not to look back with wonder on men in straw hats and women with lacy parasols hopping onto streetcars as they clambered down cobblestone roads. With permanent exhibits set up to re-create such scenes—including an urban streetscape display with an original streetcar—the East Tennessee Historical Society allows visitors to literally take a stroll through state history. Since 1834, the organization has collected stories and artifacts from Tennessee residents, preserving many tales and genealogical records in the Calvin M. McClung Historical Collection. The society shares its findings through publications and ongoing lectures, conferences, and interactive school programs.
601 S Gay St.
Knoxville
Tennessee
865-215-8823
---