Sevierville, TN Outdoor Activities
---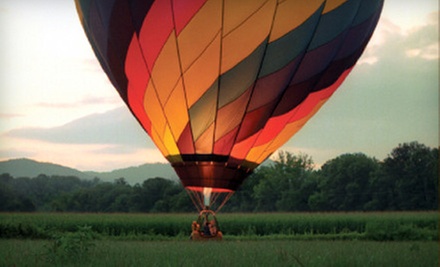 ---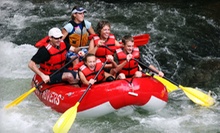 Adventurers learn raft handling and control before embarking on an 8.5-mile trip down the Nantahala River in a self-bailing raft
---
Recommended Outdoor Activities by Groupon Customers
---
A man runs through the forest, pausing briefly to take in his surroundings: rolling mountains and verdant trees as far as the eye can see. Suddenly, a twig cracks, breaking the silence, and the pristine view dissolves within a cloud of paint. The game is over.
At its outpost within the mountains, Smoky Mountain Paintball has converted the area's natural terrain into outdoor paintball fields. Here, players weave between trees and peak over walls in search of enemy combatants. The simulated battlefields are also a strategist's dream; referees take requests, and will set up almost any type of game provided that players adhere to the rules and don't require a human-sized chessboard.
Away from the colorful warzone, a pro shop brims with camouflage and Tippmann markers, In addition to paint-fueled grudge matches, combatants can also settle scores with Smoky Mountain Paintball's expanded arsenal of Airsoft and laser-tag battles.
12240 Chapman Hwy. 441/411
Seymour
Tennessee
865-577-7074
Two miles might seem like a negligible distance when you're driving a car. But when you're skydiving from two miles above the earth, you relish every foot that separates you from the ground. As the only safety net for their patrons, Skydive East Tennessee's licensed instructors escort divers up to 11,000 feet into the sky, where they enjoy aerial views of the Smoky Mountains, make white beards out of fluffy clouds, and embark on 45-second freefalls. Before ever stepping foot into the company's aircraft, the seasoned staff goes over all the details of the trip, ensuring jumpers know exactly what to expect as they leap from the plane and finish their fall with a scenic 5-minute parachute ride. A camera crew can document the whole experience, from the instruction period to the landing, and assembles the footage into a keepsake DVD set to music.
1542 W Dumplin Valley Rd.
Dandridge
Tennessee
Knoxville Food Tours' squadron of knowledgeable guides pilots pedestrians through downtown Knoxville's eclectic cache of local eateries, introducing locals and visitors alike to a smattering of tasty cuisine during tours that have garnered press from outlets such as the Knoxville News Sentinel. Each two-hour walking tour leads participants to a rotating lineup of local haunts, where they'll enjoy drinks and sample local fare such as pastries, pizza, sushi, vegetarian cuisine, and produce from nearby farmers. At each stop on the excursion, chefs and restaurateurs proffer friendly, insightful culinary conversation to bolster the enlightening nuggets of historical information dispensed by the well-informed guides or their sentient atlases.
310 S Gay St.
Knoxville
Tennessee
By engineering an indoor, upwards-facing wind tunnel, the brilliant minds behind Flyaway Indoor Skydiving have managed to recreate the adrenalized thrill of freefalling sans the previously required airplane. In the studio's unique flight room, ersatz divers hover several feet above ground as wind-powered force neutralizes the effects of gravity around them. While a typical outdoor skydive lasts only about a minute, Flyaway delivers a minimum of three straight minutes of simulated freefall, ensuring massive endorphin rushes and flashbacks to past lives spent as a Canadian goose. Before liftoff, the facility's experienced trainers fill visitors in on everything they need to know about body control, safety procedures, and effective screaming techniques. Classes begin every 30 minutes and operate on a first come, first serve basis. Height and weight restrictions apply.
3106 Parkway
Pigeon Forge
Tennessee
In addition to cultivating a rich assortment of herbs, Erin's Meadow Herb Farm welcomes visitors into its greenhouses, fields, and classrooms to learn the best uses for its multitudinous varieties of herbs. Inside, visitors can peruse a variety of gifts and products made using all-natural ingredients, or drop in for classes that include demos, spa-centric herbal recipes, and the recipe for creating a love potion disguised as peppermint tea.
132 England Ln.
Clinton
Tennessee
865-435-1452
Ski Scuba Center is an aquatic activity hub where undersea sojourners purchase gear and learn to reach new oceanic depths. With more than 50 years of diving experience among them, instructors prepare flippered feet to scuba, swim, and lifeguard, edifying water-goers and offering certification during private and group classes. The Center also sends its snorkel constituents to Florida and the Caribbean on scuba trips and presents a number of tips on equipment-servicing treatments, such as filling tanks with air and feeding sugar cubes to well-behaved goggles.
2543 Sutherland Ave.
Knoxville
Tennessee
865-523-9177
---