Restaurants in Sevierville
---
Recommended Restaurants by Groupon Customers
---
Hailing from Germany, owner and chef Dieter Homburg rewards Asheville residents with a true taste of his homeland. According to the Mountain Xpress, his methods are scrupulous, and he brings "all the attention to detail, craft and freshness to sausage that his former countrymen in Germany might expect." In the kitchen of The Bavarian Restaurant & Biergarten, Homburg—affectionately referred to as 'Doc'—crafts nearly 150 pounds of sausages per week, each link cranked out with a medley of secret spices, Himalayan salt, fresh garlic, real cheddar cheese, and beer. A variety of schnitzels also pile onto plates. Sautéed wiener schnitzel comes with paprika lemon slices or crowned with münster cheese, mushrooms, and fried onions.
Pausing for sips of imported beers and wines, diners feast on hearty German plates inside a rustic dining room decorated by old beer mugs and tapestries. Guests can also get cozy outside in the 80-seat beer garden where two different species of docile bees pollinate malt and hops flowers.
332 Weaverville Hwy.
Asheville
North Carolina
Hot Rods 50's Diner's checkered linoleum floors, white countertop, and automotive-themed decor transport guests back to a simpler time, when cars were red and shiny. Tunes drone from the jukebox as chefs whip up a sock-hopping menu of burgers, beer-battered onion rings, hoagies, and other midcentury classics. At the soda-fountain counter, staff members blend shakes and malts while gossiping above the bells and pained cries of pinball machines, Servers carry plates of classic American fare to the outdoor patio or formica tables surrounded by booths, all suspended in time by a collection of vintage photographs, license plates, and gas-station signs.
373 Hannum St.
Alcoa
Tennessee
865-984-7171
Sunspot has been voted Best Vegetarian, Best Brunch, Best Wine List, and Best Lunch Spot by Metro Pulse readers for the menu's gleeful collage of southwestern, Caribbean, and Latin American culinary traditions. Diners nosh on vegan, gluten-free, and omnivorous offerings including fried green tomatoes and sweet-potato tamales in low-key digs.
A large skylight casts warmth across walls the color of acorn squash, exposed brick, and a behemoth abstract mural of the sun. Servers pour from the kitchen, arms stacked with veggie burgers made in house and sandwiches stuffed with tofu and Jamaican-style jerk chicken. Behind the diner-style bar, bartenders sling 29 draft beers from brewers including SweetWater and Foothills and a substantial wine list of reds and whites by the glass or bottle. After polishing off a pan-seared tilapia in corn cream sauce, guests gaze at Sunspot's black-and-white wall photos. The restaurant is open until 2 a.m. on weekend evenings, serving food to night owls and people who trust the VCR clock.
1909 Cumberland Ave.
Knoxville
Tennessee
865-637-4663
At Lime Leaf Thai Cuisine, husband-and-wife owners David Cheng and Kanas Lam meld Thai and Asian fusion flavors to fashion lunch and dinner menus brimming with curries, noodles, and rice dishes. They infuse the lineup with six different types of curries, including red curry, gang pa, or panang neur, accompanied by tasty submersibles of pork, chicken, or beef. To sate cravings for Vietnamese flavors, they serve up bowls of pho in rich broth, simmering with delectable bites of seafood or beef. And their hibachi-style red snapper communicates with taste buds through a series of mouthwatering sizzles and Morse code fin flips.
Lime Leaf Thai Cuisine reserves Friday nights for live music in its chic lounge, which occupies the upper level of a two-story space complete with an on-site wine cellar and a private party room.
342 N Main St.
Hendersonville
North Carolina
828-692-3300
Inside La Parilla, bright sunflower-colored walls stretch from the rustic tiled floor to the lofty ceiling and overlook a spread of hearty Mexican dishes and fruity, top-shelf margaritas. In this light and airy eatery, chefs spin out all the south-of-the-border favorites, from cacophonously sizzling fajitas and fish tacos to seven types of enchiladas teeming with liberally spiced meat and floods of melted cheese. At the full bar, mixologists update the classic margarita with mango and strawberry flavors, imbuing drinks with a tropical essence usually achieved only by puréeing a box of miniature umbrellas.
11639 Parkside Dr.
Knoxville
Tennessee
865-966-3001
The bakers at Kitts Café fill their glass display case with house-made cakes, pies, and cobblers as cooks sizzle up platefuls of Kitts Café's homestyle diner fare. The kitchen staff fires up the griddle at 7 a.m. each morning, sizzling up fresh-cooked eggs and breakfast sandwiches before forging classic burgers and frito chili pie for lunch. To protect taste buds from fits of ennui, the café team whips up a rotating lineup of daily specials that changes each week.
A Knoxville business since 1993, Kitts Café keeps strong ties to the community with Kitts Market, a monthly event that transforms the restaurant into a trendy boutique with the work of local artists and crafters. The market's lineup of handmade gifts includes seasonal decor and enough children's clothing to dress an entire village in Loompaland.
4620 Greenway Dr.
Knoxville
Tennessee
865-522-7311
---
---
Restaurant Deals - Recently Expired
---
Famed burger chain uses premium ingredients in its third-pound burgers made from USDA beef
---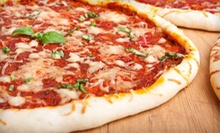 Boxcar sandwiches and signature pizzas with toppings that emulate tacos and loaded baked potatoes; gluten-free crusts available
---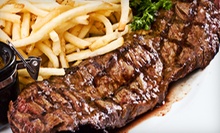 Chefs specialize in Southern dishes, such as crispy chicken livers and hickory-smoked spare ribs, but focus on Italian cuisine on Sundays
---
---