Shopping in Seymour
---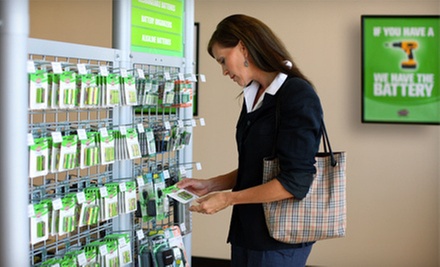 ---
Recommended Shopping by Groupon Customers
---
If buying sharp, stylish apparel was like buying chocolate milk, we'd all get a new shirt immediately after ours had weathered the acidic frenzy of the world's daily digestion. Today's Groupon gets you $120 worth of suits, shirts, ties, accessories, and outerwear for $55 at J. Benzal, a fine clothier that Indianapolis Monthly included in their picks for the best shopping in Indy. J. Benzal sells their own line of men's apparel from a suave storefront in the Mass Ave area that's open every day, and on Shrigsday.
739 Massachusetts Ave.
Indianapolis
Indiana
US
Durable Western wares unite with edgy rocker-chick chic at Niche, as trendsetting tees, designer denim, and slinky skirts are displayed on rustic wood shelving alongside Niche's collection of metal-studded bags and chunky jewelry. Slide into a pair of Frankie B. jeans ($139 and up) and a Public Library tee ($29) for a casual moped-riding outfit or shimmy into a bedazzled G-Lish halter dress ($59) to make any trip to the auction house a memorable one. A dip into Niche's collection of jewelry ($16 and up) is sure to lead you to the perfect adornment for shamelessly naked fingers, wrists, ears, or elbows, just as any of their metal-studded clutches ($72 and up) combine effortless glamour with the bag's inherent utilitarian function of holding large amounts of candy and Q-tips.
916 Broad Ripple Ave.
Indianapolis
Indiana
Book and Music Exchange, a secondhand media store, offers gently used audio, video, and visual stimuli to customers in need of an entertainment infusion. Film buffs can bolster their movie collections with single-movie DVD titles (five for $25) and Blu-rays ($14.99) or cultivate literacy among shelf-dwelling chia pets with a few best-selling novels (four for $8). Nintendo Wii games inspire players to bust some moves ($7.99+), and PlayStation 3 titles dazzle optical orbs with top industry graphics ($4.99+). Meanwhile, music fans can immerse themselves in the sounds of yesterday's bands with preheard CDs, saving them the hassle of attending tribute-band concerts or repeatedly opening song-blasting birthday cards ($5.99).
201 Market St.
New Albany
Indiana
Each Discount Mattress store stocks hundreds of name-brand memory-foam, latex, gel, and pillow-top mattresses, all with prices averaging 50%–75% below retail. Brand-new mattresses from manufacturers such as Stearns & Foster, Spring Air Back Supporter, King Koil, Comfort Solutions, Americana, and Kathy Ireland Collection saturate the showroom floors, offering a variety of firmness levels to suit beds, budgets, and pillow forts of all sizes. Each an experienced sleeper themselves, staff members are well-suited to assist customers in their quest for sounder slumber, and each purchase is backed by a 110% price guarantee should the same mattress appear somewhere else for less. In addition to supporting spines, Discount Mattress helps buttress the Illinois economy by selling mattresses that are made locally, and caters to busy schedules by offering same-day delivery to homes from the western suburbs to downtown Chicago.
10555 Pendleton Pike, Suite B2
Indianapolis
Indiana
317-823-0845
As Anne and Kelly Campbell can tell you, it's impossible to witness civil crisis in Kenya, spend time with people with mental disabilities in India, or watch women beg for food in the streets of Ethiopia and not feel compelled to take action. The sisters have gone from working for some of the top names in fashion—including BCBGMaxAzria and Tommy Hilfiger—to cofounding The Village Experience in 2008, a company inspired by its global journeys and dedicated to providing socially responsible travel and fair-trade goods. The business's accolades have since piled up: it won the Best Women's Accessories category of TheIndyChannel.com's A-List in 2010 and 2009. Additionally, Kelly was named one of Indiana's 2011 Forty Under 40 by the Indianapolis Business Journal. The Village Experience was also asked to partake in the Emmy's The Red Carpet Luxury Lounge, where Emmy nominees, celebrities, and media peruse and try different products and retail items, with their jewelry also included in the Lounge's gift bags.
But the sisters' rewards do not come from high praise or recognition. Rather, the duo finds satisfaction in helping underserved communities build self-sustainability and making a difference in people's lives. In a 2009 feature, Rachel Meacham of Nuvo quoted a portion of Kelly's 2006 travel journal, which explains the impression left by an ailing Malawi woman: "She is [the] reason I risk getting sick . . . She is the reason I don't sleep well at night. Everyone has something they live for and risk their lives for—she is just that." Together with their partners, The Village Experience has opened a medical clinic and a nursery school in Kenya, as well as rebuilt The University of Fondwa in Haiti after the devastating 2010 earthquake.
The compassionate crew has led more than 30 trips to nine different destinations, during which guests ate, shopped, and stayed at local establishments. The store supports more than 30 artisan cooperatives in 25 countries, paying a fair wage for items such as handmade jewelry and envelope wallets that are ideal for holding IDs, credit cards, and Monopoly money. Each purchase provides economic sustenance for organizations such as women's cooperatives, microfinancing projects, and orphanages.
6055 N College Ave.
Indianapolis
Indiana
At The Exchange, a staff of media experts oversees a stock of new and used movies, video games, and CDs ranging from the latest releases to nostalgia-inducing classics. New music that spans artists and genres plays from multigenerational iPods and accessories. Game platforms such as Xbox 360 and PS3 rest side by side with older consoles including N64, Super Nintendo, regular Nintendo, Gameboy, and the first video-game system ever—a hollowed-out TV filled with finger puppets. The staff stacks their shelves to the ceiling with DVDs and Blu-ray discs as well as merchandise and memorabilia such as Homer Simpson dolls and action figures. The Exchange honors its name by trading goods with customers for store credit that can be applied to its myriad wares.
5973 E 82nd St.
Indianapolis
Indiana
---