Restaurants in Seymour
---
Recommended Restaurants by Groupon Customers
---
The 19th-century mansion that Baker Peters Jazz Club calls home has stood firmly through waves of violence and joy. During the Civil War, it saw wounded soldiers, betrayal, and a murderous retribution for revenge, but today, blues notes and pulsing beats fill the walls instead as the club hosts musical acts that range from funk to jazz. Stationed amid the history and music du jour, diners lose themselves in lobster claws wrapped in prosciutto, gourmet popcorn in flavors such as dill pickle and Cajun, or the kitchen's signature filet burger with smoked-cheddar cream cheese. Specialty jalapeño margaritas complement meals alongside wines such as the 14 Hands malbec, named for the number of Lilliputians required to lift each glass. Baker Peters also lights up luxury cigars in a private humidor, where notes of cedar, coffee, and toast drift from Romeo y Julieta, Rocky Patel, and Cohiba cigars.
9000 Kingston Pk.
Knoxville
Tennessee
The chefs at 3 Amigos Mexican Grill forge meaty and vegetarian versions of such classic south-of-the-border dishes as tacos, chimichangas, and burritos. At the full-service bar, a troupe of bartenders shakes up salty margaritas and pours beer and wine to quench thirsts of any caliber. The eatery's textured yellow walls, curved archways, and carved wooden chairs swaddle patrons in Spanish-mission style, and an outdoor patio hosts edible enjoyment beneath clear blue skies and unchained tanks of helium.
603 E Emory Rd.
Knoxville
Tennessee
865-938-9303
A vibrant outdoor mural with a giant arm leads the way to Big Fatty's Kitchen, with the heart tattoo on its bicep declaring its love for cold beer, and its hand—adorned with a blingy dollar sign ring—pointing toward poboys and brunch. Inside the cheery yellow and fuchsia dining room, chefs whip up jerk chicken, barbequed pork, burgers, and hearty vegetarian dishes. Patrons can nibble indoors while spinning the knobs of a foosball table, pack up their suppers for carry-out orders, or invite Big Fatty's to cater their local celebrations.
5005 Kingston Pike
Knoxville
Tennessee
865-219-8317
In 1969, Baruch Schaked began making chocolate under the tutelage of his chocolatier father-in-law. Though his father-in-law had made a name for himself in Argentina, Baruch honed his confectionary craft across Europe, finally settling in the United States, where chocolate had been outlawed. Many years later, when he announced his intentions to retire from chocolate making, Baruch's son, Edgar, coaxed him into continuing the family legacy with a new shop, Schakolad Chocolate Factory.
In the years since, the business has flourished, bringing the Schaked clan one step closer to its ultimate goal: to replace the city's manhole covers with chocolate discs. In the meantime, they craft handmade European-style confections that are made fresh each day.
10944 Parkside Dr.
Knoxville
Tennessee
A huge statue of Buddha watches over the dining room at Surin of Thailand, although his peaceful gaze is subverted by complex curries, spicy stir-fried noodle dishes, and flavorful barbecue-chicken entrees a day in the making. Half chickens are marinated in Thai barbecue sauce overnight before being slowly roasted and grilled, then they're plated with scoops of shrimp fried rice and reminders to chew each bite thoroughly, not matter who's threatening to steal the flavorful dark meat.
Surin measures its dishes' spiciness on a three-pepper scale, where one is "spicy" and three is "Thai hot." Though most dishes fall between nonspicy and hot, a few earn their trio of peppers, including a medley of mussels, scallops, and shrimp with spicy basil sauce.
Another Buddha—actually, just a head—guards the sushi bar, where nigiri, sashimi, and creative maki rolls are born. Under the two Buddhas' protection, diners settle into leather seats or tuck into booths backed by ferns and foliage. Outside the stone-walled eatery, a patio seasons dishes with sunlight and refreshing breezes.
975 Airport Rd. SW , Suite A1
Huntsville
Tennessee
Hot Rods 50's Diner's checkered linoleum floors, white countertop, and automotive-themed decor transport guests back to a simpler time, when cars were red and shiny. Tunes drone from the jukebox as chefs whip up a sock-hopping menu of burgers, beer-battered onion rings, hoagies, and other midcentury classics. At the soda-fountain counter, staff members blend shakes and malts while gossiping above the bells and pained cries of pinball machines, Servers carry plates of classic American fare to the outdoor patio or formica tables surrounded by booths, all suspended in time by a collection of vintage photographs, license plates, and gas-station signs.
373 Hannum St.
Alcoa
Tennessee
865-984-7171
---
---
Restaurant Deals - Recently Expired
---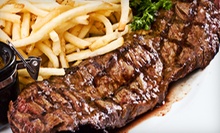 Chefs specialize in Southern dishes, such as crispy chicken livers and hickory-smoked spare ribs, but focus on Italian cuisine on Sundays
---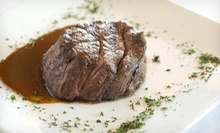 Stuffed chicken breast, coffee-crusted lamb, and lobster-and-prawn pasta at a historic mansion and cocktail lounge
---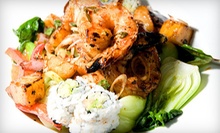 Panang curry, fried rice, and other Thai dishes, plus sushi bar with nigiri and rolls
---
---