Things to Do in Seymour
---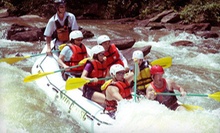 Guides lead rafts down Ocoee River on half-day adventures; rapids up to Class IV provide options for first-time and skilled rafters alike
---
Recommended Things to Do by Groupon Customers
---
In 2011, WBIR-TV reported that local racecar driver Trevor Bayne dropped by Oakes Farm to see his face carved into the corn. The farm had adopted Bayne as that year's maze theme, plotting its pathways to shape the corn into his portrait and an image of his racecar when viewed from above. On the ground, however, the maze was a tangle of curves and dead ends that often took guests up to 90 minutes to traverse on foot, or 10 minutes on the warpath.
This year, the corn maze has chosen to celebrate Extreme Makeover Home Edition. The farm updates its agricultural labyrinth annually to reflect a new motif but never fails to entertain explorers with its routes and their interactive games. Just as entertaining are the hayrides that ferry visitors to and from the pumpkin patch, the smell of autumnal sweets from the Cornfections stand, and the echoes of laughter from inside the Mine Shaft—a giant slide in the farm's Back 40 entertainment area. These attractions, alongside animal exhibits, pedal karts, and open zones for freeform play, draw families and reporters alike to the seasonal hotspot. In the days approaching Halloween, however, the farm endeavors to make patrons flee.
8240 Corryton Rd.
Corryton
Tennessee
A man runs through the forest, pausing briefly to take in his surroundings: rolling mountains and verdant trees as far as the eye can see. Suddenly, a twig cracks, breaking the silence, and the pristine view dissolves within a cloud of paint. The game is over.
At its outpost within the mountains, Smoky Mountain Paintball has converted the area's natural terrain into outdoor paintball fields. Here, players weave between trees and peak over walls in search of enemy combatants. The simulated battlefields are also a strategist's dream; referees take requests, and will set up almost any type of game provided that players adhere to the rules and don't require a human-sized chessboard.
Away from the colorful warzone, a pro shop brims with camouflage and Tippmann markers, In addition to paint-fueled grudge matches, combatants can also settle scores with Smoky Mountain Paintball's expanded arsenal of Airsoft and laser-tag battles.
12240 Chapman Hwy. 441/411
Seymour
Tennessee
865-577-7074
Knoxville Food Tours' squadron of knowledgeable guides pilots pedestrians through downtown Knoxville's eclectic cache of local eateries, introducing locals and visitors alike to a smattering of tasty cuisine during tours that have garnered press from outlets such as the Knoxville News Sentinel. Each two-hour walking tour leads participants to a rotating lineup of local haunts, where they'll enjoy drinks and sample local fare such as pastries, pizza, sushi, vegetarian cuisine, and produce from nearby farmers. At each stop on the excursion, chefs and restaurateurs proffer friendly, insightful culinary conversation to bolster the enlightening nuggets of historical information dispensed by the well-informed guides or their sentient atlases.
310 S Gay St.
Knoxville
Tennessee
Adventure Park at Five Oaks helps guests take in the natural splendor of the Smoky Mountains with leisurely horseback-riding trails and a towering network of adrenaline-inducing ziplines, which together span the park's 70-acre expanse. Staff members select from more than 50 horses residing at the park's stable, allowing them to make careful matches with customers based on their comfort and experience levels. Guests seeking solace can weave through wooded trails while bonding with noble beasts, whereas thrill seekers reach up to 50 miles per hour on a network of ziplines. The canopy-scanning lines are also open during evening hours, providing guests with ample opportunity to view starlit mountaintops and roast hotdogs in their homemade lunar ovens.
1628 Parkway
Sevierville
Tennessee
865-453-8644
Built in 1786, James White's Fort affords glimpses into the frontier lifestyles of America's forefathers while providing education on Knoxville founder and the fort's creator, James White. Each year, more than 10,000 visitors explore the residence, which was restored and opened to the public in 1970. Six cabins and a stockade wall surround the main two-story log house, where guests can experience hands-on interpretations of life as a pioneer by cooking on an open hearth or spinning retro cell-phone-charger cords on an antique loom. Special events held throughout the year keep a continuous line of visitors waltzing across the land of Tennessee's first capital, including an annual celebration of Cherokee heritage.
205 E Hill Ave.
Knoxville
Tennessee
865-525-6514
---
---
Things to Do Deals - Recently Expired
---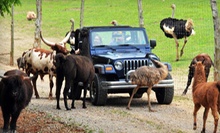 Cars of visitors explore the 105-acre park with 500+ exotic animals such as zebras and emus before heading over to the friendly petting zoo
---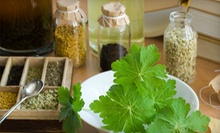 Demonstrative classes teach students to create all-natural beauty products or herbal health remedies and teach growing and preserving herbs
---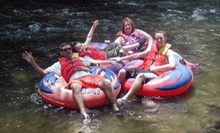 Guests strap on life jackets and float down Little Pigeon River past the Great Smoky Mountains and residential areas on a two-hour jaunt
---
---