Shaker Heights, OH Health and Fitness
---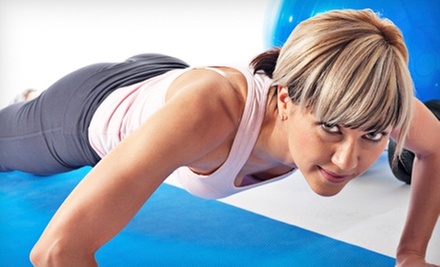 ---
Recommended Health & Fitness by Groupon Customers
---
A towering dome dedicated to golf practice looms over The Golf Dome's multifaceted grounds, serving as the gravitational center of a facility dedicated to recreational golf and baseball practice. Inside the vaulted white roof, golfers stroke drives from one of 34 hitting bays at the indoor, two-tiered driving range, where distance-reading software flashes instant readouts of shot trajectory and the pain inflicted on each practice ball. The dome further facilitates climate-controlled clubbing with a putting and chipping area and Full Swing golf simulators, which allow golfers to play digital recreations of more than 30 of the world's top courses.
Outside, a scenic, 20-foot waterfall draws players to the 18-hole miniature golf course, where contoured greens run between rocky outcrops, interrupted by water that comes into play on 14 holes. The din of sharply struck line drives echoes throughout the grounds, sonic evidence of the six adjacent batting cages, where players swing at high-arching softballs, baseballs hurled at up to 75 miles per hour, and tiny meteors raining from the sky.
8198 E Washington St.
Chagrin Falls
Ohio
440-543-1211
Climbing indoors is nothing like traversing a vertical sea of mutated jungle-gym obstacles. Cleveland Rock Gym's walls are covered with textured surfaces and challenging formations that will provide you with a calf-toning workout, so make sure to bring every baby whale you can find. More importantly, you'll be in a controlled environment where you can practice moves that will put public menace Spider-Man to shame. The introduction to climbing class will introduce you to the basics of wall ascension, so you'll be climbing through indentions, protrusions, overhangs, underhangs, and cracks in no time.
21200 Saint Clair Ave. , Building B3
Euclid
Ohio
216-692-3300
Inspiral Motion offers mat classes in yoga, Pilates, and GYROKINESIS, with instructors from the top schools in the country. The center's yoga mat classes are rooted in the Vinyasa yoga discipline, a flowing style with asanas, or postures, linked together by verbal cues. Pilates students just starting out are introduced to the fundamentals of breathing, flexibility, and pelvis stability in their quests to become top Pelvis impersonators, while advanced practitioners of the Pilatic arts can discover how to Boomerang, Jackknife, and Shoulder Bridge with the best. In GYROKINESIS, students will stir their senses through a dry-scrubbing body massage, jumpstart the body's energies through a series of movements, and further invigorate the body with mat exercises.
20620 North Park Blvd. , Suite 204
University Heights
Ohio
Jazzercise is 60 minutes of cardio, strength training, and stretching that incorporates moves from hip-hop, yoga, Pilates, jazz dance, kickboxing, and resistance training with handheld weights. Dancing With the Stars multiple-champion Cheryl Burke is a big fan of Jazzercise's improvisational workouts, though luckily you won't need her dance moves to get the most out of your class. If you're prone to first-class jitters, though, you can review the basic moves online before you go. Expect to burn off up to 500 calories with each go-round.
1 Monticello Blvd
Cleveland
Ohio
While critics laud Canadian-imported comedians, crooners, and hockey stars, Canada is also known for the liberal scientific-workout ethics that gave birth to a genetically engineered exercise more useful than square watermelons and seedless squares. Spynga is a hybrid exercise species of Canadian origin that combines the slow, focused poses and stretching of yoga with the heart-thumping intensity of cardio spinning. The two exercises are not performed simultaneously, as severe and violent tangling would be unavoidable; instead, they are performed one after the other. The skilled and motivational instructors at Buddhaful coach students through a stationary-bike session, revving hearts up to a maximum beating point. This calorie-burning workout is immediately followed by a yoga mat session on the studio's expansive hardwood floor. Muscles, joints, and tendons pushed to their limit by the bike session are stretched and relaxed, easing post-workout pain and tension while aiding in the development of core strength. The studio also offers classes that concentrate solely on yoga or spinning if students prefer to master the techniques separately before attempting a double major. Classes are offered daily; check the schedule and call to reserve a space.
1846 Coventry Rd.
Cleveland Heights
Ohio
Mouth bones are put through more wear and tear than any other exposed bone in the body. Keeping them pristine by ensuring that no cavities, gum disease, or event horizons have occurred is of the utmost importance to overall health. Dr. Fryer, who has over 20 years of dental experience, will look deep into your primary head hole and thoroughly examine and cleanse the toothen structures therein. X-rays will be taken, which is both a worthwhile and fashionable procedure, as leaded aprons were one of the most popular spring garments at NY fashion week.
2860 Bishop Road , Suite 1
Willoughby Hills
Ohio
---