Shopping in Shaker Heights
---
Recommended Shopping by Groupon Customers
---
For a clothing designer who never touched a sewing machine until about five years ago, Valerie Mayen is doing pretty well. With a Project Runway season under her belt and the continued success of her boutique Yellowcake, Valerie's bold colors and geometric patterns attract international renown. "We sell to high school girls in Canada, British fashionistas, [and] soccer moms in Kuwait," she says. Her women's apparel currently focuses on the sherbet cools and bold warm colors popular this spring, but Valerie and her team of interns are poised to roll out a children's and men's line within the month. "We're trying to take it slow," she says, but with a brand in hot demand, taking it slow may not be possible.
Valerie was raised with an eye for the arts. Her father was a homebuilder and often reviewed blueprints with his children. He taught Valerie "a lot about proper craftsmanship and the value of accuracy and precision." With these values instilled in her, Valerie chose to study illustration in school because she thought it would be more lucrative than designing clothes—though she now seems aware of the irony. In the end, her studies at Virginia Marti College of Art and Design veered back towards clothing. She even took three sewing classes, but dropped out—"I taught myself the rest."
After rising to the upper echelon of popular designers, Valerie makes it a point to give back to her community. Her team of interns has helped develop creative jobs in Cleveland, and 5% of all her profits go to City Mission, a local organization that fights hunger and poverty.
6500 Detroit Ave.
Cleveland
Ohio
216-236-4073
Whether you born and raised inside city limits or came to adopt Cleveland as the place you call home, CLE Clothing Co. provides custom apparel designed to help you show off your civic pride. Items are printed locally on American Apparel jersey tees, sporting Browns, Indians, and Cavs logos that bearers can proudly flaunt at games or run up a flagpole when the mayor comes for tea. Many designs also tip their hats to the city's roots in rock-'n'-roll history or pay homage to local hot spots, and can emblazon everything from T-shirts and hoodies to caps, bags, buttons, and girls' briefs.
342 Euclid Ave.
Cleveland
Ohio
216-736-8879
Winds of Change carries a number of designer fashion brands, including the Bohemian bliss of Free People, the pin-up inspirations of Betsy Johnson, and the sophisticated stylings of Eva Franco. Although your Groupon can only be used in-store, look on their site to get an idea of what they offer. Use your Groupon toward a pair of 80%20 Ruby knee boots ($89) or a ruffled Ella Moss top ($89). Top off your favorite dress with a boyfriend sports jacket ($98) and a vintage red bird ring ($69). Create an ensemble that will leave butlers impressed by the apparel piled up in your armoire, right next to your fashion rifle.
37 West Orange Street
Chagrin Falls
Ohio
Vision Source believes that eye doctors have the most success when they have a relationship with the patient and are free to make decisions about what is best for that patient. That's why, although it's a network with more than 2,300 offices across North America, all of its offices are independently owned and operated by family optometrists. Vision Source merely grants these doctors access to its shared expertise and resources.
Its doctors inspect eyes to test for disorders such as glaucoma, cataracts, and the effects of diabetes. They also diagnose retinal tears and repair most types of eye injuries, from embedded foreign bodies to general wear and tear from staring contests with headlights. The doctors use low-vision-therapy devices to help people suffering from degenerative eye diseases, teaching them how to maximize the vision they still have.
For basic services, they inspect eyes for overall eye health and visual acuity before fitting them with contacts and frames from the likes of Fendi, Calvin Klein, and Guess. Since Vision Source is a network of individual doctors, each office is different from the next and tailors its services to fit the needs of the community.
403 East Royalton Road, Suite 118
Broadview Heights
Ohio
---
---
Shopping Deals - Recently Expired
---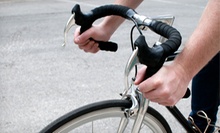 Bike techs adjust all bearing surfaces, brakes, and derailleurs and include wheel truing as well as drivetrain lubing
---
---