Restaurants in Shawnee
---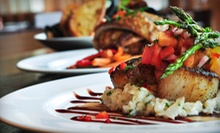 Chef Pete Peterman uses only local Missouri ingredients to recreate recipes inspired by his mother's home cooking
---
Recommended Restaurants by Groupon Customers
---
Authentic techniques are the key to French recipes. Understanding this, Chef Emmanuel Langlade honed his cooking skills in Marseille, France, before opening Aixois Bistro with his wife more than a decade ago.
Amid suspended orb lights and rustic, wrought-iron chandeliers, French flavors prepared by chef Pascal Larcher delight palates at all hours. As morning light spills through enormous windows, the staff brews fresh coffee to pair with piping-hot croissants for early-bird visitors. Lunchtime guests sample favorite French sandwiches, from the classic croque-monsieurs to the egg-crowned croque madames. For dinner diners, the kitchen dishes up an elegant menu that includes two varieties of moules frites (mussels with pommes frites), as well as seafood, steak, and oven-roasted chicken. Afterward, traditional desserts such as crème brûlée topped with fresh berries cap off meals and keep sweet teeth from rebelliously biting tongues.
251 E 55th St.
Kansas City
Missouri
816-333-3305
Husband-wife team Colby and Megan Garrelts met in Chicago at the five-star, five-diamond TRU. After traveling to Las Vegas and Los Angeles, the culinary duo opened Bluestem Restaurant, using it as launch pad for their explorations into progressive American cuisine. Locally grown produce joins with sustainable seafood and meat in their recipes—lauded by the James Beard Foundation and Zagat. And the menu makes every dinner a multi-course story, where smoked lamb belly with barbecue spice precedes beef with fermented grains and whipped bone marrow, before themed desserts pair strawberries with angel-food cake for a perfect ending.
In Bluestem's lounge, guests sink into a more relaxed dining environment, sampling such plates as hanger steak frites and garlic pomme frites while sipping wines and craft cocktails. Whether perched in the lounge, at the hardwood bar, or at an ironed tablecloth, simple elegance abounds. Small table lamps cast warm, homey glows or exposed brick walls that allow diners to work on perfecting their chewing technique.
900 Westport Rd.
Kansas City
Missouri
With a more casual dining experience, The Grille by Piropos in Parkville sets itself apart from its fine-dining sister establishment Piropos Restaurant. Nestled high in the hills of historic Parkville, it sits above the landscape, allowing diners to take in visions of Park University's beautiful gothic architecture or watch as the sun sets and the moon rises in the evening. Not only a restaurant for special occasions, it is also a favorite spot for everyday casual dining.
This vista-induced amnesia, however, doesn't tend to last very long, as the aromas of South American–inspired food soon draw diners' attention to the new casual-dining menu's signature dishes from Venezuela, Mexico, and Argentina. This cuisine makes itself at home inside the dining room, where large, colorful murals and lavish wood furnishings give the restaurant an upscale, rustic ambiance. The outdoor patio, meanwhile, features views of the horizon and a fireplace, meaning at a certain time and from a certain angle, the sun is setting into the fire.
1 W First St.
Parkville
Missouri
816-741-9800
Friday and Saturday evenings at Tassos, live musicians furnish a beat for belly dancers who shimmy across the dance floor, imbuing the casual eatery with a raucous, lively atmosphere. In the kitchen, chefs charbroil and skewer lamb and gyro meats and drizzle their tender exteriors with classic sauces such as béchamel and tzatziki. In addition to offering traditional cuisine, owners Tasso and Katina uphold their Greek heritage by hosting an annual toga party and even sell breaking dishes that diners can smash in celebration of marriage or in frustration at impossible Rubik's cubes.
8411 Wornall Rd.
Kansas City
Missouri
816-363-4776
Opera House Coffee & Food Emporium serves piping-hot coffee, espresso drinks, and smoothies from Classic Rock Coffee Co., whose specialty white chocolate coffee called Dirty White Boy is available. The Opera House space plays host to a diverse selection of eats that also includes breakfast dishes, such as the Bake Haus's cinnamon rolls and muffins, and the Paleo Grill's burgers and sandwiches. Speaking to The Pitch, co-owner David Anderson expressed his hopes that the upscale food court will make people feel "comfortable and at home." This sentiment is reflected in the decor, with art that embodies Americana lining the walls and a telescope pointed toward the sky.
500 Walnut St.
Kansas City
Missouri
US
816-888-4858
KC Grill 'N Kabob's owner, Hamid Tafreshi, is proud of his feature on Check, Please! Kansas City because it has raised awareness about Persian and Iranian cooking. The piece also shared nuggets of information about the eatery, including the fact that chefs there marinate halal lamb, chicken, and filet mignon kebabs for anywhere from 12–24 hours in turmeric, ginger, saffron, and cumin.
In the eatery, the aromas of grilling onions and tomatoes swirl up past a gleeful clutter of photographs, from which Iranian soccer players, cooks, and families grin. Skewered morsels of flame-kissed salmon and gyros draped with a thin lace of tzatziki sauce cover tables. After dipping bread in cool bowls of hummus and baba ghanouj, guests can venture to the all-you-can-eat weekend buffet to practice before competitive-eating contests or visits from detectives looking for candy smugglers.
8611 Hauser Court
Lenexa
Kansas
913-541-1900
---