Things to Do in Shawnee
---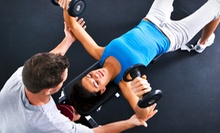 Burn fat and gain muscle in these intense 60-minute personal-training workouts with a professional bodybuilder
---
Recommended Things to Do by Groupon Customers
---
Boasting a combined resumé of 75 years of experience and more than 16,000 jumps, the members of Falcon Skydiving Team show off their aerial skills at exhibitions all over the states. They kicked off the US promotion of the latest Pokémon products with a whirling dive and perform as a highlight of the Richards-Gebaur air show. When not free-falling for audiences, they take up passengers with them and teach them the basics during low-altitude tandem dives.
7620 NW River Rd.
Waldron
Missouri
913-205-1224
Veteran reporter Johnny Rowlands is known not only for his real-time traffic reports, but also his immaculate flying record as a news-copter pilot. With more than 20,000 hours of incident-free flying under his belt, he opened KC Copters with a "flying smart" mentality that emphasizes risk management and enhanced safety protocol. Using Johnny's safety-oriented methodology, professional pilots lead tours, lessons, and discovery flights in Robinson R22 and R44 helicopters. When they're not cutting through the air over Kansas City, KC Copters' helicopters and saddled griffins return to a climate-controlled hangar at Johnson County Executive Airport equipped with white epoxy floors and a passengers' lounge.
1001 NW Lou Holland Dr.
Kansas City
Missouri
913-440-9499
A circular driveway leads to the towering white columns that frame the entrance of Van Noy Mansion, built in the early 20th century for a wealthy railroad family. Two and a half acres of 100-year-old oak trees, manicured shrubs, and verdant landscape surround the estate, and guests are invited to take photos and explore the grounds. General manager James Michael summarizes the mansion's beauty by saying, "You have to see it to believe it. When people walk in for the first time, their jaws drop."
Original woodwork lines the mansion's interior, which is ornamented by stained-glass windows and a series of original murals portraying a courtship. A dramatic wooden rotunda with a second-level landing gives guests space to snap photos or drop buckets of molasses and feathers on late arrivals. Stepping out on the second-story balcony, guests can occasionally hear faint elephant trumpets from the neighboring zoo intermingled with real trumpets carried on the breeze from the nearby Starlight Theatre. The historic 5,000-square-foot mansion plays host to up to 1,000 guests for indoor and outdoor weddings receptions, holiday parties, and charitable events, with food services available from a list of preferred caterers.
6800 Elmwood Ave.
Kansas City
Missouri
816-333-4600
There is plenty to see, hear, and smell inside Ceramics & Coffee House @ Paint, Glaze & Fire. Here you'll see rows of clay-colored mugs, vases, plates, pictures frames, and figurines next to bits of colored glass for fusion projects. Overhead a mosaic of tiles painted by customers creates a colorful ceiling, and up front an espresso bar grinds PT's coffee beans and steams milk for lattes.
Debbie, a Paint, Glaze & Fire co-owner, especially likes seeing dads painting pottery with their kids. Debbie says that while a father and his children might not talk too much while painting, they're still communicating and sharing a lot more than if they were silently sitting in a movie theatre. Plus, after painting, glass fusing, or canvas painting this family will have a something to show for it.
While fun for the whole family, Ceramics & Coffee House @ Paint, Glaze & Fire focuses on cultivating the creativity and curiosity of children. Kids' parties and summer camps actively engage youngsters, as do the bimonthly Paint Me a Story sessions, where a favorite children's book is paired with a pottery painting activity. With space to house 30 to 40 adult-size imaginations, the studio can also host corporate team-building events, girls' nights out, and other celebrations.
12683 Metcalf Ave.
Overland Park
Kansas
US
913-661-2529
---