Auto Service in Shawnee
---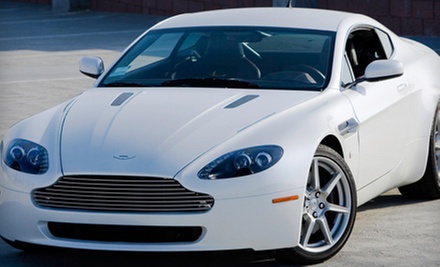 ---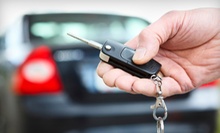 Technicians install systems to start engines from a distance and get cars warmed up on cold mornings
---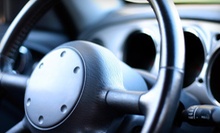 Techs thoroughly detail vehicles by hand inside and out by shampooing seats, cleaning wheels, and removing bugs and tar
---
Recommended Auto Service by Groupon Customers
---
Valvoline Instant Oil Change's experienced auto repairers classy up vehicles with a full-service treatment. An oil change, which Valvoline Instant Oil Change recommends every three months, 3,000 miles, or total lunar eclipse (whichever comes first), keeps fresh car blood coursing through a vehicle's innards, helping the engine run smoothly. The procedure also includes a complete examination of everything from the brakes to transfer-case fluid. A tire rotation prolongs the life of tires, promoting even wear and improving the overall ride of an automobile, even when running over Wham! cassette tapes.
2909 1/2 NW 63rd St
Oklahoma City
Oklahoma
Let the automotive experts at Oklahoma Tire Factory pamper your steel steed back to full throttle with an arsenal of automotive services. Factory-trained technicians will drain old, cantankerous oils and replace them with up to five quarts of liquid engine life force (a $25 value)—efficiently lubricating your car's chassis for a season of outrunning unusually slow explosions. They'll also add a new filter to ensure an even smoother operating machine. Finally, a full tire rotation ($10 value for cars, $15 for trucks) will play musical chairs with your tires, which leads to enhanced tread, longer-lasting tires, and better odds of making the Thunder's roster next year. The Tire Factory is also a female-friendly automotive service, earning certification from AskPatty.com, so you won't find any misspelled "no girls allowed" signs on the women's restroom door.
3429 Northwest 23rd Street
Oklahoma City
Oklahoma
Servicing autos for more than 35 years, Hesselbein Tire caters to cars with a seasoned team of ASE– and TIA–certified mechanics. The full-service automotive shop overseas a sprawling stockpile of more than 150,000 name-brand tires from the likes of Bridgestone and Firestone and handles the round rubber souls of all types of vehicles, from passenger vehicles and heavy trucks to lawn and garden vehicles, golf carts, and ATVs. Engine experts cater to all corners of the car with an extensive array of services including computerized alignments, battery service, transmission maintenance, and brake service. Hesselbein's staff pumps passageways full of Pennzoil during standard oil-change services and inspects overactive air conditioners that continually attract families of small Yetis.
9324 S Memorial Dr.
Tulsa
Oklahoma
918-481-0866
The staff at Auto Detail Services of Tulsa prides itself on exactly what it should—its attention to detail. During exterior detail services, not only do they leave every surface gleaming, but they also cull embedded dirt from every crevice and smooth away minor scratches and teeth marks left behind by neighborhood dogs. In addition, they steam clean engines, clean and condition interiors, and oust sticky tar and tree sap from painted surfaces.
15253 S 76th E Ave.
Bixby
Oklahoma
918-369-9274
The expert carriage cleaners at Auto Detail Aces return vehicles to road-ready luster with professional washes and detailing services. After vehicles soak in sudsy streams, experienced auto techs tenderly dab droplets with a soft wash mitt and chamois cloth. Spray-wax solutions galvanize shells against hazards including sudden rain showers or drive-by food fights. Doorjambs and trunk hinges swing open squeak-free after de-greasing treatments, and tired treads give up collected highway grime during precision de-gunkings. Inside, vacuums suck dirt and debris from carpets, and interior deodorizers freshen the air, masking the musk of spilled food, mildew, and the deer that just joined your carpool. Roadsters also don shady window tints and daubs of touchup paint to keep interiors cool and exteriors smooth and glossy. When not busy restoring vehicular vigor, Auto Detail Aces donates to the Koko Head Lions Club to support schools and the local community.
601 E Main St.
Jenks
Oklahoma
US
So established is Circle K that even brand-new vehicles recognize what its red-and-white logo stands for—fuel, snacks, and everything else a car might need to keep powering down the road with its driver. Circle K's story starts back in 1951, when Fred Hervey bought three Kay's Food Stores in El Paso, Texas. Under his guidance, these three little shops grew into the more than 3,000 convenience stores that crouch on our nation's street corners today.
After rolling up to a Circle K, drivers can pump their faithful roadsters full of high-octane fuel and send them skipping through a car wash to experience the cleansing touch of Blue Coral Beyond Green and Rain-X products. Then it's time to step inside the air-conditioned shop for a peek at the provisions. Rows of sodas hibernate behind glass doors, and snacks, candy, and their ATM guardians stand boldly out in the open. Some Circle Ks also offer the Take Away Café, which presents an appetizing lineup of healthy road fare including Oscar Mayer hot dogs and fresh Papa John's salads. Drivers can gear up for a long drive with premium Sara Lee coffees or enjoy a cold Polar Pop, whose specially formulated cup keeps drinks colder thanks to the family of tiny snowmen trapped in its foam walls.
7104 NW 23rd St.
Bethany
Oklahoma
405-789-9028
---