Restaurants in Sheboygan
---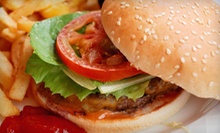 Waffle fries and burgers are washed down by cocktails on an outdoor patio; the eatery hosts live music and a weekly fish fry
Use Tuesday 11:00am - 2:00pm
---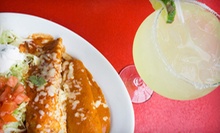 Use Sunday 11:00am - 10:00pm
---
Recommended Restaurants by Groupon Customers
---
Spitfire Pub & Grill hums with the sounds of trivia questions and live music from local bands and artists on open-mic nights. Amid the lively atmosphere, guests swig local beers and wine while devouring hot-dog sliders, fish 'n' chips, and shredded-beef flatbread with a smoky barbecue glaze. They relax at hardwood tables inside or beneath the blue umbrellas dotting the expansive outdoor patio, which plays host to numerous flat-screen TVs broadcasting the Brewers game or an intense staring competition.
N51W34911 Wisconsin Ave.
Okauchee
Wisconsin
262-567-4146
Ever since Jerry Murphy opened Murf's Frozen Custard & Jumbo Burgers in Brookfield in 1999, he and his team have been dishing up what he calls "local, quality eats." To him, that means burgers made to order and loaded with toppings; Friday fish frys; and sloppy fried-egg sandwiches piled with an egg, coleslaw, tomatoes, and french fries—and then served with a knife and fork. For dessert, there's small-batch frozen custard made fresh throughout the day.
At Murf's in Brookfield, the cooks use top-notch ingredients for everything they make. Their 5-ounce patties are made from a custom sirloin blend that Jerry obtains locally, and their burgers and sandwiches are served on lightly toasted Paielli's Bakery buns. "Local, quality eats," Jerry says. "Everything we serve is high-quality, fresh, and made to order."
Diners can order their food for the dining room or devour marinated and grilled chicken-breast sandwiches with piping hot fries out on the patio.
12505 W Burleigh Rd.
Brookfield
Wisconsin
262-814-6873
If the walls of The Port Hotel could talk, they'd tell a tale dating back to 1902. In that year, John F. Thill tore down an existing hotel and tavern and constructed a brand-new one comprised of 40 guest rooms, which is four times the number you'll find today. Thill installed electric lighting and warmed the rooms with steam heat—both luxurious features in those days. The hotel closed down in 1973, but the restaurant maintained a lively business.
The summer of 2005 saw the grand reopening of The Port Hotel, restored to its original state of elegance with 10 uniquely appointed guest rooms and chef-prepared breakfasts served in bed. Joseph Zankl and his family now operate this historic property, preserving its turn-of-the century charm while introducing modern amenities such as wireless Internet and plasma picture boxes.
101 E Main St.
Port Washington
Wisconsin
262-284-9473
Far from the bustle and hullabaloo of the city, The Jail House Restaurant's historic farmhouse towers over surrounding cornfields and golden pastures. Erected in 1845, the striking wooden edifice once housed a general store and tavern before being converted into the upscale steak house it is today. Inside, a logwood staircase leads to the dining room, surrounded by walls of rustic wood paneling. In the kitchen, grills sizzle with hearty new york strip steaks, prime rib, and seafood, along with a rotating selection of daily specials. Meanwhile, the staff of bartenders—renowned for their wit and trampolining skills—doles out fine wines and cocktails.
897 Pleasant Valley Rd.
West Bend
Wisconsin
262-675-9302
The bar formerly known as Donges Bay Clubhouse took on a new name—Laura's Donges Bay Clubhouse—to celebrate Laura's 14 years, and it installed outdoor volleyball courts, an outdoor smoking lounge, and brandished a newly revised logo. To make their eatery a fun destination, the staff hosts live entertainment on Saturday nights, car shows once a year, and doesn't correct mispronunciations of "magniloquent." Along with hosting softball, volleyball, kickball, and horseshoe leagues, Laura's Donges Bay Clubhouse also encourages competition among wings by offering hot, teriyaki, and barbecue varieties. The staff fries seafood during Friday night fish fries by sending walleye, perch, shrimp, and cod into the depths of flavor-imparting oil.
7520 West Donges Bay Road
Mequon
Wisconsin
US
262-238-1733
Attentive diners will notice a few things missing from Taste of Africa's meals—wheat, barley, and rye. The naturally gluten-free entrees also eschew dairy products, relying instead on tomato sauce or egg to thicken their sauces and stews. One such specialty stew, red red, blends fried plantains and baked beans; another mild option, pili-pili, combines cabbage, meat, and red beans to create an African-style chili. Traditional African spices ignite other meals, from plates of grilled goat to tilapia fillets. Not to be outdone, vegetarian dishes such as saffron or coconut rice soak up swells of the eatery's signature sauces, which are flavored with unsweetened peanut butter or egusi spice. Diners can also take home glass jars of these sauces to share with whatever friends they have left after the glue stick incident.
In addition to the authentically prepared cuisine on the menu, Taste of Africa sells gifts handmade by African artisans. Every $15 spent on the collection of clothing, jewelry, and raw shea butter provides a meal for a child in a Congolese or Senegalese orphanage.
117 E Main St.
Port Washington
Wisconsin
US
262-268-1007
---