Shelby Gyms and Fitness
---
Gym, Exercise, Weightloss Deals
---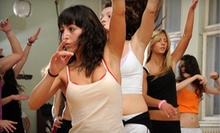 Use Friday 2:30pm - 5:30pm
---
Recommended Gym, Exercise, Weightloss by Groupon Customers
---
Born deaf and three months premature, Jordan Levin didn't hit the ground running. He had to work at it. After teaching himself to talk and read lips, he knew he could scamper toward any goal he chose. Now, this certified personal trainer and his wife, Hillary, propel others toward pride and achievement at their gym, CrossFit Bloomfield. During group workouts filled with weightlifting drills and gymnastics moves, clients morph into teammates who cheer one another toward personal bests. Cardio challenges such as rowing and running raise heart rates to increase endurance, and bodyweight exercises such as burpees and pull-ups build cores as stable as a barium isotope after years of psychotherapy. In addition to scaling the workouts to a variety of fitness levels, the Levins tailor programs to the needs of kids, first responders, and exercisers who are overweight or disabled. Clients can zero in on their goals in personal training sessions, in which a certified coach helps them hone their form and hurdle any obstacles hindering their success.
799 Industrial Ct.
Bloomfield Hills
Michigan
248-805-1567
Pointe Fitness cobbles bodies into sturdy, muscle machines with 21,000 square feet teeming with free weights, cardio equipment, one half of a basketball court, and an indoor batting cage. Skilled instructors guide students through cardio workouts, yoga sessions, and Zumba dance-offs, while specialized women's fitness programs promote healthy lifestyles with one-on-one teaching and inspiring group support. During breaks from chiseling physiques in the circuit training space, or building up enough core strength on the rowing machines to start a transatlantic canoe club, Moe⎯the business's canine mascot⎯frolics with guests to keep spirits high.
19556 Harper Ave.
Harper Woods
Michigan
313-417-9666
Most treadmills require sneakers, or a really rubbery pair of feet. But a special treadmill at The Rochester Athletic Club obliges athletes to don ice skates. The hockey treadmill sends 50 square feet of simulated ice whizzing beneath the skates of training players. Not only can players practice passes along the front lip of the treadmill, where a puck glides to and fro, but they can also tweak the speed and elevation of the treadmill to their skill levels.
This specially calibrated treadmill embodies the contemporary nature of the 28,000-square-foot gym. The modern space's programs include group fitness classes, personal training, and wellness courses for patrons more than 50 years old. Classes utilize abundant cardio equipment, a circuit of Cybex weight machines, and high-definition televisions. And with the Paint Creek Trail and Rochester Municipal Park next door, workouts can get back to basics during boot camp and other seasonal outdoor classes, such as how to outrun a squirrel.
637 N Main St.
Rochester
Michigan
248-650-6200
Comfort, convenience, and personal attention power Vital Performance Fitness, a 24-hour fitness studio owned by a friendly mother-daughter team. Here, calories melt and muscles ripple in a 3,000-square-foot studio equipped with fresh towels and free bottled water. Personal-training sessions teem with custom-built workouts and nutrition resources, which can help clients lose weight, build muscle tone, or enhance athletic performance. During group workouts, certified trainers guide up to three clients toward fitness goals with Power Plate machines and TRX equipment. TRX suspension straps gravity-powered bodyweight exercises that can be tailored to different levels of fitness. Power Plates' vibrating platforms help muscles contract 25–50 times per second, the frequency at which hummingbirds sneeze. As workouts wind down, the machines shift into massage mode, congratulating muscles on a job well done. Three recommended sessions a week can serve as a substitute for a regular exercise routine or a tumble inside a dryer.
29536 Northwestern Hwy.
Southfield
Michigan
248-327-7195
---