Gyms & Fitness Centers in Shelby
---
Gym & Fitness Center Deals
---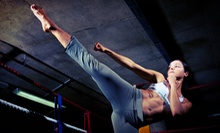 Boxing veterans Devon Stone and Lennox McFadyen lead guests through 45-minute workouts filled with high-octane phantom kicks and punches
Use Today 6:15am - 9:15am
---
Recommended Gyms & Fitness Centers by Groupon Customers
---
Snap Fitness's convenient locations buff bods and tone cores with Matrix fitness equipment, free weights, and a cardio TV theater 24 hours a day, seven days a week. An all-access keycard grants unlimited opportunities to punch a bag instead of a time clock or swing a kettlebell without inadvertently granting wings to a down-on-his-luck angel. Clients can arrive at Snap super late and pretend to be working out in an Edward Hopper painting or pound the treadmill at 5 a.m. and get pumped for 6 a.m. Regardless of the when, the where of Snap's friendly, unintimidating atmosphere provides a refreshing change of pace from packed, worn-out gyms or tough elementary schoolyards.
23000 Woodward Ave.
Ferndale
Michigan
248-399-4030
Madison Athletic Club ensures hot bodies. The facility cranks up internal thermostats with group exercise classes such as Zumba, total-body conditioning, and TRX suspension training held seven days a week, and through personal-training sessions. For those exercising solo, Hammer Strength fitness equipment ensures biomechanically correct movements, a 1,600-square-foot Cybex free-weight area pumps up muscles, and computerized cardiovascular fitness machines tempt exercisers with personal viewing screens and iPod connections. After the workout, gender-specific 104-degree jacuzzis, steam rooms, and saunas located within luxury locker rooms supply one last blast of toxin-evicting heat before the cooldown. Massage therapists help on this front, with modalities ranging from Swedish to trigger point to deep tissue. Before exiting back into the world, clients can stop off in tanning beds, which leave skin as bronzed and alluring as a memorial statue in a silk leisure suit.
The staff keeps all amenities clean, and its workout environment adult-friendly. Children younger than 12 can tag along and hang out in the dedicated kids' facility for $2 per day.
2 Ajax Dr.
Madison Heights
Michigan
What began in 1975 as one inner-city gym in Highland Park, Michigan, has since evolved into a global health-club organization with locations in 17 different countries. Powerhouse Gym equips weightlifters and cardio bunnies alike with all they'll ever need to keep—or create—a tight and toned physique. The gym offers equipment outfitted with personal TVs as well as a cast of certified and knowledgeable personal trainers. Depending on location, members will also have access to group fitness classes, such as yoga, Zumba, and Les Mills BodyPump, as well as 24-7 turnkey access to the facility.
400 E Brown St.
Birmingham
Michigan
248-885-8909
Pointe Fitness cobbles bodies into sturdy, muscle machines with 21,000 square feet teeming with free weights, cardio equipment, one half of a basketball court, and an indoor batting cage. Skilled instructors guide students through cardio workouts, yoga sessions, and Zumba dance-offs, while specialized women's fitness programs promote healthy lifestyles with one-on-one teaching and inspiring group support. During breaks from chiseling physiques in the circuit training space, or building up enough core strength on the rowing machines to start a transatlantic canoe club, Moe⎯the business's canine mascot⎯frolics with guests to keep spirits high.
19556 Harper Ave.
Harper Woods
Michigan
313-417-9666
Comfort, convenience, and personal attention power Vital Performance Fitness, a 24-hour fitness studio owned by a friendly mother-daughter team. Here, calories melt and muscles ripple in a 3,000-square-foot studio equipped with fresh towels and free bottled water. Personal-training sessions teem with custom-built workouts and nutrition resources, which can help clients lose weight, build muscle tone, or enhance athletic performance. During group workouts, certified trainers guide up to three clients toward fitness goals with Power Plate machines and TRX equipment. TRX suspension straps gravity-powered bodyweight exercises that can be tailored to different levels of fitness. Power Plates' vibrating platforms help muscles contract 25–50 times per second, the frequency at which hummingbirds sneeze. As workouts wind down, the machines shift into massage mode, congratulating muscles on a job well done. Three recommended sessions a week can serve as a substitute for a regular exercise routine or a tumble inside a dryer.
29536 Northwestern Hwy.
Southfield
Michigan
248-327-7195
Renaissance ClubSport amplifies muscle-expanding potential with group classes in a 75,000-square-foot facility boasting top-notch weight-training and cardio equipment, an outdoor lap pool, and six indoor squash and racquetball courts. With an array of more than 110 classes held each week, ClubSport citizens can road race on the never-ending pavement in a cycling class or shake lead-lined maracas in Brazillian Booty Camp's strength-and-conditioning workout.
3617 W. Maple Road
Bloomfield Hills
Michigan
US
---