Restaurants in Shelbyville
---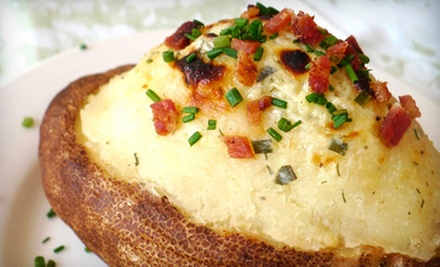 ---
Recommended Restaurants by Groupon Customers
---
Within the confines of the converted church and gospel hall, Euphoria mixes and mingles fresh, seasonal ingredients to construct creative, modern American appetizers and entrees. Peruse the sophisticated menu before nibbling on an appetizer of phyllo-wrapped goat cheese accented by a fennel, pear, red onion, and chestnut salad ($10). The succulent entreetainment includes seared lamb loin, which serenades taste buds with the help of a backing band of parsnips, golden beets, capers, and yellow curry spaetzle ($30). Pan-roasted monkfish shares plate space with demi-glazed mushrooms, golden raisins, and celery salad ($24), and a Gunthorp Farms maple-bourbon-glazed pork chop makes its table travels attended by an entourage of fall squash, grilled knob onions, and sycophantic yes-men ($28). Euphoria also offers a lighter bar menu and a rotating roster of cheeses, both ideal for snack-samplers looking to make a mouth-friendly match with a selection from the extensive list of wines.
337 W 11th St.
Indianapolis
Indiana
US
Practice the sublime art of sandwich eating with today's Groupon to J.S. Reutz Café: $5 gets you $10 worth of comforting cafe fare. Located in the John H. Boner Community Center, this charming lunch spot serves high-quality Boar's Head meats and cheeses and Charlotte's Bakery bread every Monday through Friday from 11 a.m. to 2 p.m. Let sweeping brushstrokes of pesto and architectural stacks of cheese adorn your internal art gallery at J.S. Reutz Café.The Breakfast Club: Director's Cut: The lost director's cut of this unforgettable musing on high-school stereotypes adds a cosmic perspective when the nerdish Brian (Anthony Michael Hall) falls off a desk during horseplay. Reaching out to correct himself, he tears a hole in the fabric of reality through which the cleansing light of heaven pours. The teens are trapped, not in detention, but in purgatory.
2236 E 10th St
Indianapolis
Indiana
US
Don't dismiss this comfort food cookery based on its location in the back of a filling station—the menu is packed with palate-pleasing selections. Raising 10 children on the south side of Indianapolis and working 30 years in St. Francis Hospital's cafeteria helped Maxine's namesake owner master her famed recipes and has also rendered her thoroughly immune to "guff." The signature dish pairs golden waffles with fried chicken and a generous dollop of whipped butter, giving diners the best of both worlds. Soul-food staples (crunchy cornbread, collard greens, fried green tomatoes) round out the menu.
132 N East St.
Indianapolis
Indiana
US
Our world has given rise to countless pairings, both inspired (buttered peanuts and jam) and unfortunate (construction sites and Optional Helmet Day). Today's Groupon offers one of the better pairings: $25 worth of eclectic bistro fare and drinks for $10 at Pearl Bistro. Pearl serves classic dishes from around the world in a casual, comfortable atmosphere. Its upscale cuisine is concocted with locally grown produce and healthier oils; all the ingredients are fresh and flavorful.
1475 W 86th St.
Indianapolis
Indiana
US
Born in Calabria, Italy, in 1888, Santora "Fred" Iozzo immigrated to New York City at the age of 17, hoping to create a new life for himself and the family he planned to build. After working on railroad lines in Massachusetts and Ohio, Fred landed in Indianapolis and quickly established an empire of grocery stores throughout the city. The economic onslaught of the Great Depression proved to be too much for this empire, though, and shop after shop began to close. Fred decided to begin anew yet again, founding a restaurant in 1930, naming it Iozzo's Garden of Italy, and heading up operations until its unfortunate closure in 1940.
Along with her husband, Greg, Katie Harris decided to honor the memory of her great-grandfather Fred by reopening the restaurant in 2009. The reimagined establishment incorporates a few modern touches, but it mainly draws inspiration from traditional Italian culture. The chefs form meatballs by hand and make everything from alfredo to bolognese sauces in-house. At the same time, they embrace a slightly more modern approach by offering whole-wheat and gluten-free pastas, throwing in menu curveballs such as maple-bourbon pork, and serving holographic chicken piccata. Their culinary diligence earned them a Best of Metromix award in 2011.
With its rustic brickwork, wooden floorboards, and Tuscan-yellow walls, the eatery's dining room exudes a rustic charm, and the pendant lamps and linen-draped tables add small touches of contemporary refinement. Outdoors, the courtyard area echoes the Old-World ambiance, recreating the feel of an Italian alleyway complete with a faux street lamp and cobblestone walkway.
946 S Meridian St.
Indianpolis
Indiana
317-974-1100
Premium applewood slow-smoked Barbeque and made-from-scratch side dishes. Hoggy's Restaurant & Catering provides dine-in, carry-out and full-service catering for your convenience. Visit us on the web at http://www.hoggys.com
2807 Town Center Blvd.
Crestview Hills
Kentucky
---