Shelbyville, KY Outdoor Activities
---
Recommended Outdoor Activities by Groupon Customers
---
Treetops sway gently as birds flutter over their branches, breezes waft around their trunks, and humans careen between them at speeds of up to 40 miles per hour. Mammoth Cave Adventures' series of seven ziplines across two courses trail from tree to tree, each line standing slightly higher than the last as visitors decked out in helmets and harnesses speed across the cables, teeter over two skybridges, and perch on platforms between each lofty tier. Seasoned guides lead the 90-minute excursions as they spout environmental and historical trivia about the rolling hills and dense forest of the 60-acre course, which is located just outside of Mammoth Cave National Park.
The company also puts cables to exhilarating use with a Giant Super Swing, which plummets strapped-in visitors from the top of two towering hickory trees into a free-falling arc that swings 40 feet above the ground. Its new Drop Tower allows guests to experience the scenic view of Mammoth Cave National Park while dangling 70 death-defying feet above the ground. For slower-paced adventures, a stable of gentle equines ferries guests along serene trails and countryside vistas during hour-long horseback rides, which are designed for all equestrians regardless of their skill level or the number of sugar cubes in their pockets.
1994 Roy Hunter Rd.
Cave City
Kentucky
270-773-6087
Life Adventure Center of the Bluegrass runs across 575 acres, half of which is preserved as one of the most heavily wooded areas in Woodford County. Several ponds, creeks, and miles of trails wind through the natural landscape, allowing hikers to bond with their environment before heading back to the farm's bustling equine, cattle-ranching, and crop-restoration programs. Life Adventure Center focuses on experiential education, encouraging others to practice hands-on learning in a natural setting through programs including survival clinics, nature photography, navigation, and horsemanship. Instructors strive to customize courses, accommodating each participant's needs, abilities, and talents for interpreting horse languages.
570 Milner Rd.
Versailles
Kentucky
859-873-3271
The Blue Grass Sportsmen's League is not just concerned with entertaining its members with various outdoor sporting activities; the nonprofit organization also dedicates itself to conservation, hunter education, and habitat restoration. At the expansive facility—which is tucked into the Jessamine County woods and bordered on three sides by the river—three separate ranges help hunters improve their accuracy before they participate in carefully managed hunting for deer, pheasant, and wild bull's-eyes. A spring-fed fishing lake with species limits is stocked with bluegill, catfish, and bass, and a dog-training field safely prepares canines for upcoming trips. Blue Grass Sportsmen's League also invites guests to practice tactical maneuvers and re-create Jackson Pollock's Autumn Rhythm on its two paintball fields.
2500 Handy's Bend Rd.
Wilmore
Kentucky
859-858-4060
Skydive Kentucky with a BBB rating of A+, encourages customers to jump out of airplanes—but only in pursuit of a heart-pumping adrenaline rush. The skydive outfitter— ranked #5 in top drop zones in the nation by Dropzone— offers tandem, solo, and accelerated freefall jumps from up to 18,000 feet above the ground. Instructors train and expect customers to pull their ripcord and about 80% of clients can do so without any prompting from their instructor. Skydive trains their students to do as much as reasonable on their first tandem jump. Whether a seasoned veteran, a nervous first-timer, or a bird that wants bragging rights among his flock, Skydive Kentucky can guide thrill-seekers on an exciting yet safe descent back to earth.
1824 Kitty Hawk Drive
Elizebethtown
Kentucky
---
---
Outdoor Activity Deals - Recently Expired
---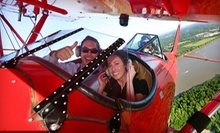 Certified pilots helm fire-engine-red biplanes to circle downtown Louisville, Churchill Downs, and Ohio River
---
---