Restaurants in Shelton
---
Recommended Restaurants by Groupon Customers
---
Flipside's brand new menu showcases thousands of different burger combinations, allowing diners to mix and match six different proteins with high-end ingredients including avocado and bacon, as well as creative sauces such as sweet relish and tarragon mayo. Farm-fresh sirloin patties anchor a dozen specialty burgers, including a Fat Daddy Reuben spackled in sauerkraut and onion rings. Slow-cooked pulled-pork sandwiches provide a sauce-smothered alternative to Flipside's signature creations, as do herbivore-friendly salads that may be repackaged in a whole-wheat wrap. Sudsy drafts caterwaul from a dulcet quartet of foam-flecked taps, spurring choreographed pours and surprise visits from Spuds McKenzie behind a triangular bar, where mixologists concoct specialty martinis and margaritas.
1125 Post Rd.
Fairfield
Connecticut
Having already earned back-to-back spots on Connecticut Magazine's Best of Connecticut in 2009 and 2010, Liquid Lunch keeps bellies full and spoons out of the unemployment line with a slurp-worthy twist on midday meals. Culinary Institute of America graduate and owner Fred Bialek and his wife, Michele, were inspired to open the first Liquid Lunch in 2004, when they'd grown tired of lunchtime standards such as pizza, burgers, and lightly salted printouts of old PowerPoint presentations.
Today, at Liquid Lunch's still-growing roster of locations, a rotating lineup of gourmet soups cascades across the menu alongside six staple soups, including vegetarian lentil and split pea with ham. For an extra crunch, diners can plunge fork-first into salads, or explore healthy Sammiches, which escort taste buds around the globe with names influenced by their ingredients and spear-pickles engraved with necessary passport information.
6 Research Dr.
Shelton
Connecticut
Christian and Antonio Setaro's parents immigrated to the United States from Salerno, Italy, in the 1970s and opened Antonio's Twin Oaks, an Italian eatery known for its homestyle cooking. Growing up around the kitchen, the brothers developed a liking for cooking that ultimately led to the opening of their own Italian eatery, The Original Antonio's in Woodbridge. Later, they added locations in Beacon Falls and Ansonia.
At each restaurant, pasta headlines the menu. Shreds of romano cheese dust orders of homemade cheese ravioli, pappardelle with duck ragu, and rigatoni with plum tomatoes and italian sausage. Cheese also bubbles atop specialty pizzas and accentuates entrees built around shrimp, salmon, chicken, veal, or pork chops. The drink menu lists a bevy of dessert drinks, beer, martinis, and wine, nine of which are available by glass or cupped hands.
208 Amity Rd.
Woodbridge
Connecticut
Led by their mom, Cassandra Arcano, brothers Mergim, Burim, Durim, and Agim turned a cache of generations-old family recipes into 4 Brothers Pizza & Mediterranean Restaurant. With these unique culinary formulas, the tight-knit clan infuses classic Mediterranean and Peloponnesian flavors into their sprawling lineup of Italian and Greek dishes, which includes flaky spanakopita, linguine with clam sauce, and creamy penne with chicken and broccoli. Each of the brothers also boasts a favorite pizza that bears their name, agreeing that whoever's pie is the most popular gets to claim the remote control forever times infinity.
415 Boston Post Rd.
Milford
Connecticut
Upon entering Tuscany Ristorante, guests are greeted by the sweeping country landscapes that pepper the bright-yellow walls, evoking summers spent under the Tuscan sun, sipping wine and dancing the tarantella until the INS showed up. The warm interiors paired with crisp white linens and hardwood floors infuse the restaurant with a casual elegance to match its classic, flavorful fare. The chefs whip up rich Tuscan dishes, including hearty pasta; prime, dry-aged steaks; and decadent housemade desserts. Pasta and risotto entrees showcase carb sculptures such as the rich rigatoni boccelli, which, like any marble statue, comes doused in pancetta and light vodka sauce. As guests dine, they can indulge in a bottle of wine plucked from the floor-to-ceiling wine rack that lines the walls with rustic wood planks and elegantly displays hundreds of bottles.
1084 Madison Ave.
Bridgeport
Connecticut
203-331-9884
Lauded in the New York Times for its "clean and delicate" flavors, Peking Duck House's menu earned the restaurant a coveted spot on the list of the 100 best Chinese restaurants in the country. The kitchen's Cantonese-style dishes come courtesy of Chef and owner Harry Wu, who––according to Times reporter Stephanie Lyness––often appears tableside to serve his signature Peking-duck dish. The namesake feast––available as a whole or half duck––arrives in two distinct courses, opening with crispy, grilled slices of duck, waiting to be snuggly wrapped up in homemade crepes, sprinkled with scallions, and drizzled with a special sauce. Then, colorful slivers of seasonal veggies are sautéed with more tender morsels of meat, and paired with a side of rice, which may be eaten or thrown at nearby newlyweds.
Other Cantonese favorites include classics such as kung-pao chicken and pan-fried dumplings as well as house specialties such as clams in a spicy black-bean sauce. Spicier dishes are noted with a tiny chile-pepper icon to warm sensitive taste buds or hungry snowmen, while five steamed entrees are prepared sans salt, oil, or cornstarch to cater to the calorie-conscious.
500 Boston Post Rd.
Orange
Connecticut
---
---
Restaurant Deals - Recently Expired
---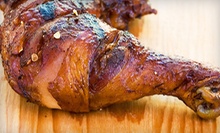 Juicy oxtail, foil-roasted fish, curried goat, and flavorful jerk pork
---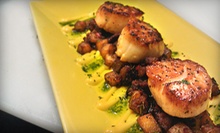 Angus beef burgers, seafood specialties, and thick sandwiches pair with wine amid surfboards and beach-house decor
---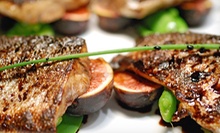 A chef who has cooked for President Obama, Oscar de la Renta, and other high-profile guests infuses olive oil into sweet and savory dishes
---
---