Restaurants in Sherwood
---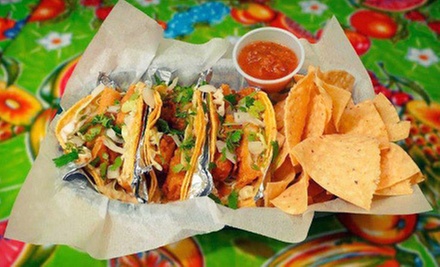 ---
Recommended Restaurants by Groupon Customers
---
Family-owned Le Star Pizzaria dishes up a menu of regular and thin-crust pizzas alongside traditional pastas and sub sandwiches. Ten specialty pies harbor distinctive combinations of more than a dozen savory toppings and seasonings, and housemade cakes and pies subdue stark, raving sweet teeth in fruit-based straightjackets. The pizza parlor hosts a weekday happy hour and provides discounts for active military and police personnel.
4216 E Kiehl Ave.
Sherwood
Arkansas
Wade Greenough honed his culinary chops at Viva, where he learned the art of preparing Mexican cuisine. In his own restaurant, Bumpy's Texmex Grill & Cantina, he uses fresh, local ingredients to forge a menu that combines Mexican and American favorites made from scratch. Fresh shrimp and marinated steak make star turns in tacos, enchiladas, and chimichangas, and house-made sauces gussy up stateside classics such as baby-back ribs and pizza.
The dining room's Texas-style decor showcases rustic wood accents and walls adorned with metal stars, flat-screen TVs, and signed headshots of the Alamo. From behind the full bar, bartenders blend six signature margaritas in addition to pouring specialty cocktails, wine, and beer.
400 N Bowman Rd., Suite 28
Little Rock
Arkansas
501-379-8327
Though the entrees at The Dixie Cafe make the biggest splash across its menu marquee, they're threatened with gastronomical upstaging by the southern-style eatery's 19 sides and scratch-made gravies. The chicken-fried steak, for example, is a tender, hand-breaded fillet that fully blossoms with flavor only after chefs smother it with cream gravy and cheddar cheese. And the Cajun grilled catfish's down-home taste isn't fully developed until it is paired up with bites of turnip greens, fried okra, or a homemade roll. The classic platter meals take advantage of this by pairing an entree with two sides, rolls, and jalapeño cornbread and can be ordered "light" for a portion that's smaller than the regular size and easier to toss in the air and catch in your mouth.
302 S Rockwood
Cabot
Arkansas
Shorty Small's menu tells the tall tale of a short, fat man with a knack for charming the ladies who inherited a saloon from his inveterate pancake-flipper of a father. Since eating was Shorty's most cherished habit, his namesake kitchen piles plates high with tender, slide-off-the-bone ribs, pulled pork, and traditional catfish backed by the tastes of tangy barbecue sauce or peppery blackening spices. Five types of burgers crown hand-cut patties with bacon, mushrooms, or melted swiss cheese before old-fashioned desserts such as apple pie and blackberry cobbler anoint taste buds with more nostalgia than devouring a perfectly frosted photo album. Meanwhile, each smoky aroma finds its flavor pairing with an assortment of milk shakes, margaritas, and draught beers.
11100 N Rodney Parham Rd.
Little Rock
Arkansas
501-224-3344
Amid the eclectic shops of the River Market District's Ottenheimer Market Hall, Rivershore Eatery owner Sam Kassees keeps busy behind the little shop's counter, slicing up local and seasonal ingredients. Sam joins forces with his brother Omar as the duo pulls from its combined years of experience in the deli and restaurant industry to craft a menu of fresh sandwiches, salads, and soups that has won praise from the Arkansas Democrat-Gazette. Much like the socks of any responsible bowler, hot entrees and soups change throughout the week.
400 President Clinton Ave.
Little Rock
Arkansas
501-244-2326
Curry in a Hurry invites hungry guests to slow down and taste from an ample menu of classic Indian cuisine. The vibrant menu presents a range of colorful dishes, many of which roast in a clay tandoor oven to achieve their ideal level of succulence—chunks of lamb and beef kebab, to name just two. This eatery—like King Edward the Confessor—is named after its core competency, but it also barbecues many of its cuisines. Mounds of tomato curry can join plates already bursting with lentils, potatoes, or cauliflower. The kitchen team also dresses many of its creations in thoughtful combinations of exotic spices, and their naan adorned with garlic or spinach can complement any entree.
11121 N Rodney Parham Rd., Suite 36B
Little Rock
Arkansas
---