Things to Do in Sherwood
---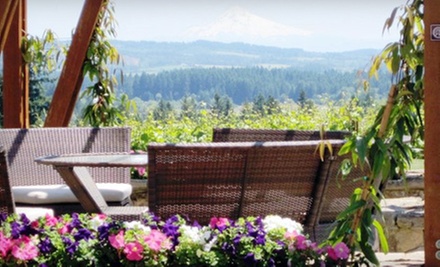 ---
Recommended Things to Do by Groupon Customers
---
In the more than 30 years he's spent at the helm of Four Seasons Bowling Center, George Mareina has learned that there's only one thing people like better than bowling: baby back ribs. The alley's Sports Look Restaurant and Sports Bar has been sizzling up the saucy eats since its addition in 1999, and the full-service restaurant is just one of many things that Mareina has added since taking over in 1978. Automatic scoring and pinsetters help keep the fun rolling by eliminating downtime between frames, and the nonsmoking environment makes it an appropriate hangout for bowlers of all ages.
Die-hard bowlers in need of new gear can also stop by the pro shop to browse accessories such as balls, bags, shoes, and corks with which to plug those pesky bowling-ball holes.
322 SE Washington St.
Hillsboro
Oregon
503-648-3139
Established in 1969, Floral Design Institute now prepares more than 1,000 students per year to achieve their career-minded floral goals or broaden their knowledge of their hobby. School director Leanne Kesler and her staff of florists oversee the diverse curriculum, which ranges from such business-oriented topics as floral-shop marketing and finance to floral design lessons for anybody. Though most lessons take place on-location, distance-learning classes allow students to participate even while bound inside venus fly traps.
1500 NW 18th Ave.
Portland
Oregon
800-819-8089
Stocked with fresh-baked bread, artisan cheeses, and wines from around the world, Blackbird Wine Shop initiates patrons to haute fare with customized tastings, wine-and-cheese pairing lessons, and cellars of bottles available for purchase. To preview the nose, bouquet, and sense of humor of wines, patrons can sample five self-selected vintages during evening tastings before committing to taking one home. For a more in-depth experience, groups of up to 10 can learn the most pleasing pairings of cheeses with eight regional wines, complementing each vintage's flavor with three cheeses, olives, bread, almonds, and fruit.
4323 NE Fremont St.
Portland
Oregon
503-282-1887
The sleek, wooden rink that houses Gresham Skate World has buzzed with the whir of wheels since 1974, when the facility first swung open its doors to a community that now encompasses multiple generations of skaters. The rink provides safe, family-friendly entertainment seven days a week, offsetting standard open skates with a lineup of special events, ranging from all-night sessions to cosmic skating on weekends. To help celebrate special events or dodge bounty hunters, reserve one of Gresham Skate World's private rooms. The center's onsite skate shop stocks an assortment of accessories, and the snack bar fuels full days of axels and dips with hot dogs, nachos, and pizza.
Since 1981, all 10,000 square feet of Hillsboro Skate World's rink has been filled with the whoosh of roller skates, which can be heard during public-skate sessions and private birthday parties, when skaters of all ages glide and spin underneath colorful lights and the hum of popular music. Late-night and all-night skate events transform the rink into a themed arena with decorations and activities for occasions such as a Spooky Friday the 13th. Between skates, legs can rest at tables or benches, while hands grab hot dogs, nachos, and other noshables from the snack bar.
4395 SE Witch Hazel Rd.
Hillsboro
Oregon
503-640-1333
Housed at the bottom of the roaring Willamette Falls, which comprises the confluence of Willamette and Clackamas Rivers, eNRG Kayaking's on-water shop and docks serve as the home base for instructional excursions in kayaking, rapids rafting, and standup paddleboarding. Head instructor Sam Drevo also helps those more experienced in watersports to attain a swift-water rescue certification or an ACA instructor certification, required credentials to shake hands with most river deities. Sam watches over all levels of kayakers with experience earned through years of competing, including a ranking as the world's sixth-best freestyle kayaker in 1998 and a first-place win at the Ford Gorge Games' Outdoor World Championships in 2001.
When Sam is not leading tours around the falls or down segments of either river, he guides extended expeditions to other northwestern and foreign waterways. His 16 international aquatic excursions have taken paddlers to rivers on four continents, through countries such as Canada, Costa Rica, Thailand, Laos, China, India, and Botswana. Sam and his staff aim to protect the rivers through eco-friendly exploration and sell a range of kayak models to help others to similarly respect the ecosystem or sneak up and tickle unsuspecting bass.
1701 Clackamette Dr.
Oregon City
Oregon
503-772-1122
---