Yoga in Sherwood
---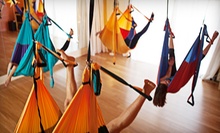 The studio owner leads students in antigravity poses while they are suspended in specially designed yoga swings
---
Recommended Yoga by Groupon Customers
---
This Groupon gently stretches your muscles and joints, a pleasant sensation primarily sought after by bungee cords and Laffy Taffies. For $50, you get 10 yoga classes at The Bhaktishop, an energetic studio offering more than 30 classes each week. It's perfect for Oregon Country Fair–goers who have undergone too much fair. Follow @Groupon_Says on Twitter.
2500 SE 26th Ave.
Portland
Oregon
US
Warm, humid air swirls in the blades of the ceiling fans of Bikram Hot Yoga Vancouver, helping to limber up the bending bodies during 90-minute classes. Bikram-certified instructors lead students of all skill levels through the style's 26 postures and two breathing exercises, each of which build on the last to strengthen muscles throughout the entire body. Their classes are set in a 105-degree studio with 40 percent humidity to enable students to sink deeper into stretches, release toxins via sweat, and imagine they're in the mouth of a peaceful dragon. To help foster a burgeoning community of yogis, the instructors open the studio every third Saturday of the month, inviting all newcomers to try a class for free.
1801 SE 164th Ave
Vancouver
Washington
360-254-9642
Heat permeates Bikram Yoga West Linn's sprawling studio, whose circling ceiling fans symbolize the constantly flowing movement that takes place in classes below them. The 105-degree temperature loosens muscles and releases toxins, as students flow through Bikram's 26 poses, taught by 16 instructors. In this setting, instructors helps students of all levels get the most out of Bikram yoga by building strength and developing the flexibility of an astronaut who can rap, cook, and touch her toes while freestyling about beef stroganoff. For 90 minutes, teachers help pupils control their breathing, resulting in more oxygenated blood.
1554 Garden St., Suite 101
West Linn
Oregon
503-387-5184
"Om Base is not here to change you, but simply to support your change." This feeling of support radiates from the cozy, cabin-like studio, where stone deities lift their hands in greeting just beyond the front door and a rotating, mini gallery of local artwork flanks the welcoming reception desk. Inside the rustic practice room, beams of sunlight shine across warm wood floors, while a wood-burning space heater melts inhibitions and keeps faces from freezing mid-lion pose. Designed with all ages and abilities in mind, classes can focus on slower movements that emphasize healing and introspection; active, fitness oriented routines; or modified moves for expectant mothers or those with mobility issues.
Several of OmBase's instructors are also masters of massage, energy manipulation, and acupuncture, and provide these services in addition to their yoga teachings.
6357 SW Capitol Hwy.
Portland
Oregon
503-922-3100
The mission of Body and Brain Yoga—alongside its affiliate yoga centers—is to make yoga accessible to everyone, everywhere. To this end, each team of instructors modulate movements based on Korean sun do to match each students' needs. Classes emphasize aligning the body and mind equally through stretches, breathing exercises, and meditation, and each session is capped off by a 10-minute tea time, during which students and instructors can socialize or reenact Alice in Wonderland's interview with the Easter Bunny.
1504 SW 6th Ave.
Portland
Oregon
For students of The Studio, flying is not only possible—it's therapeutic. Instructors in beginners' acro-yoga classes lead guests through the basics of gravity-defying poses and partner work, helping them balance upside down and infuse their yoga practice with trust and playfulness. During these and all classes at The Studio, the emphasis is on acceptance. The staff maintains a judgment-free atmosphere, where burgeoning yogis can feel comfortable attempting new postures without making everyone nearby crawl headfirst into a sleeping bag. The two classrooms—one heated for intense Vinyasa sequences and one kept at a standard temperature—are as calming and open as the minds within them, bordered by walls of large, panoramic windows. Under the supervision of certified teachers, most of whom have undergone hundreds of hours of yoga training, pupils hone their sense of body and breath awareness.
This welcoming ambiance helped The Studio earn the 2012 award for Best Yoga Classes in the Reno News & Review. However, the center is not solely focused on classes and views them instead as one component of a total-wellness regimen. Backing up the sessions, massage therapists untangle muscular knots in two private rooms with Thai stretching techniques or other classic modalities. In the lounge, plush floor cushions support patrons as they sip complimentary tea and peel clementines. Owner Rachelle often stands behind the raw-food and juice bar, prepping wholesome meals for lunch and keeping fruit from getting too full of itself.
6309 NE Highway 99
Vancouver
Washington
US
---